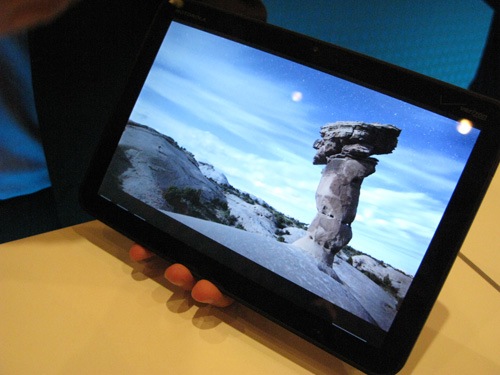 Come ben saprete una delle "feature" più pubblicizzate dei nuovi tablet (RIM, Toshiba o Motorola che siano) è il supporto pieno a Flash, cosa che li differenzia "profondamente" dal leader attuale del mercato, l'iPad. Nonostante sia piuttosto simbolico il percorso compiuto da iPad (14 milioni di device venduti, lo stabilimento de-facto di un nuovo form factor, l'apertura di un mercato di nicchia prima inesistente), e che questo dovrebbe far riflettere che tutto è stato ottenuto osteggiando fortemente Flash, non supportandolo (anche perchè nel momento in cui Apple ha cominciato a pensare ai suoi dispositivi Adobe non era interessata, anzi, ostacolava, il supporto a Flash sul mobile, in quanto, non avendo una strategia, era meglio l'immobilismo).
Considerazioni personali a parte, pare ora che questa feature tanto attesa da chi ha la necessità di utilizzare Flash in mobilità, potrebbe essere disattesa, almeno al momento dell'acquisto. Riporto integralmente dall'articolo di AppleInsider:
While the ability to run Adobe Flash has been touted as a feature that makes the Android-powered Motorola Xoom superior to Apple's iPad, Flash support is not expected to arrive for the Xoom until Spring 2011.

The news came as a result of a new advertisement for the Xoom on the website U.S. carrier Verizon Wireless. The ad touts the forthcoming tablet's 1 GHz dual-core processor, which is "fully Flash-enabled for video-rich web."

But in mentioning Flash, the site also contains fine print noting that Adobe Flash is expected in Spring 2011. Its apparent lack of inclusion on the Xoom when it launches this week would suggest that Flash is not yet ready for Google's Android 3.0 Honeycomb mobile operating system, which is tailored for tablet-style devices like the Xoom.
Io vi ricordo che Apple ha aspettato mesi prima di decidere di tralasciare il supporto a Flash, che la RIM ha grossi problemi di autonomia sul loro BlackPad a causa di Flash e che, anche in questo caso con Motorola, Flash sembra essere una pietra dello scandalo. Ma com'è possibile che un comune plugin per la visualizzazione di contenuti possa essere così difficile da portare decentemente su un'architettura mobile? La risposta è semplice: perché è una tecnologia fallimentare.