Un nuovo set dal film SOLO e i LEGO Brickheadz della trilogia classica di Star Wars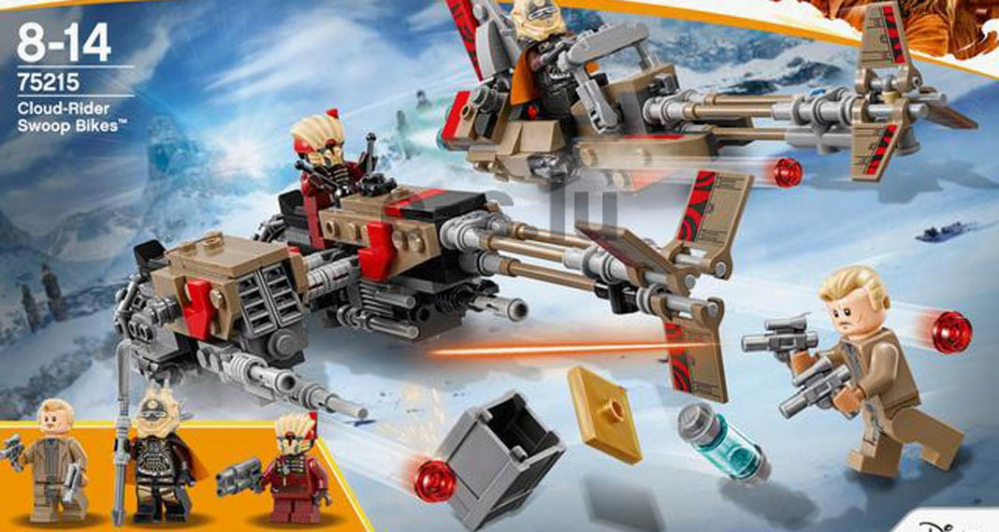 Emergono in rete in queste ore alcune nuove immagini relative ad un nuovo set LEGO tratto dal film SOLO A Star Wars Story e dei nuovi tre set Brickheadz sempre legati a Star Wars.
Tramite un sito di eCommerce lussemburghese, possiamo vedere le prime immagini del set LEGO 75215 Star Wars Cloud Rider Swoop Bikes.
Non solo ci sembra molto promettente come set, ma leggendo la descrizione emerge un dettaglio interessante. Infatti questo set potrà agganciarsi ai set 75217 e 75219, rispettivamente Imperial Conveyex Transport e Imperial AT-Hauler per dare vita, come dice la descrizione, al raid finale al treno ad alta velocità.
Questa la descrizione completa.
---
Help Tobias Beckett protect the precious Coaxium from Enfy's Nest and Weazel, who are getting smitten with their super-fast "Cloud-Rider Swoop Bikes" from the LEGO® Star Wars Set 75215! Each speeder has big engines for super fast rides and powerful shooters. Will Tobias be able to escape before the two greedy crooks steal the coaxium? You can decide for yourself with this exciting LEGO Star Wars set!
Includes 3 minifigures: Tobias Beckett, Enfy's Nest and Weazel.
Includes 2 sleek swoop bike speeder, each with a hinged minifigure cockpit and shooter. At one of the Speeder even a sidecar is attached to stow the canister with the Coaxium can.
Also included are Tobias Beckett's Blaster pistols, Enfy's Nest equipment and Weazel's Blaster.
Imagine the exciting adventure scenes from "Solo: A Star Wars Story".
Combines with the Imperial Conveyex Transport (75217) and Imperial AT-Hauler (75219) kits for the ultimate raid on a high-speed train!
Swoop bike with sidecar is 5 cm high, 21 cm long and 9 cm wide.
Swoop bike without sidecar is 9 cm high, 19 cm long and 5 cm wide.
LEGO, the LEGO logo, the minifigure, DUPLO, LEGENDS OF CHIMA, NINJAGO, BIONICLE, MINDSTORMS and MIXELS are trademarks of the LEGO Group. © 2016 The LEGO Group. All rights reserved. By using this website, you agree to the Terms of Use.
---
Emergono infine, grazie ad un tweet di LEGO, le prime immagini dei nuovi Brickheadz legati alla trilogia classica di Star Wars in cui vediamo Leia, Boba Fett, Yoda (spettacolare) e il giovane Luke Skywalker.
The Light Side of the Force is strong with the new #LEGOBrickHeadz – @StarWars Luke & Yoda, Leia, and Boba Fett. ⭐ Coming Soon. pic.twitter.com/zEbFVwZWVt

— LEGO (@LEGO_Group) June 12, 2018