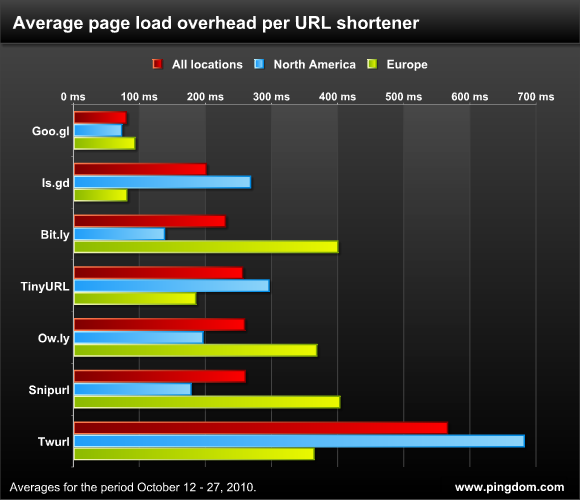 "… we do want it to be the stablest, most secure, and fastest URL shortener on the web."
Interessante test delle performance degli "URL shortener" che considera anche l'area geografica.
Tanto per cambiare Google ne esce vincitore alla grande su scala globale, anche se in Europa Is.gd è leggermente più rapido.
Dal punto di vista dell'uptime invece:

Forwarding reliability for URL shorteners, October 12 – October 27, 2010 URL Shortener Uptime Estimated downtime in a year (hours)
Goo.gl 100.00% 0.0
Bit.ly 100.00% 0.0
Is.gd 99.99% 0.9
TinyURL 99.95% 4.4
Ow.ly 99.95% 4.4
Snipurl 99.52% 42.0
Twurl 99.29% 62.2
Via RoyalPingdom.