LEGO festeggia i 20 anni di set LEGO Star Wars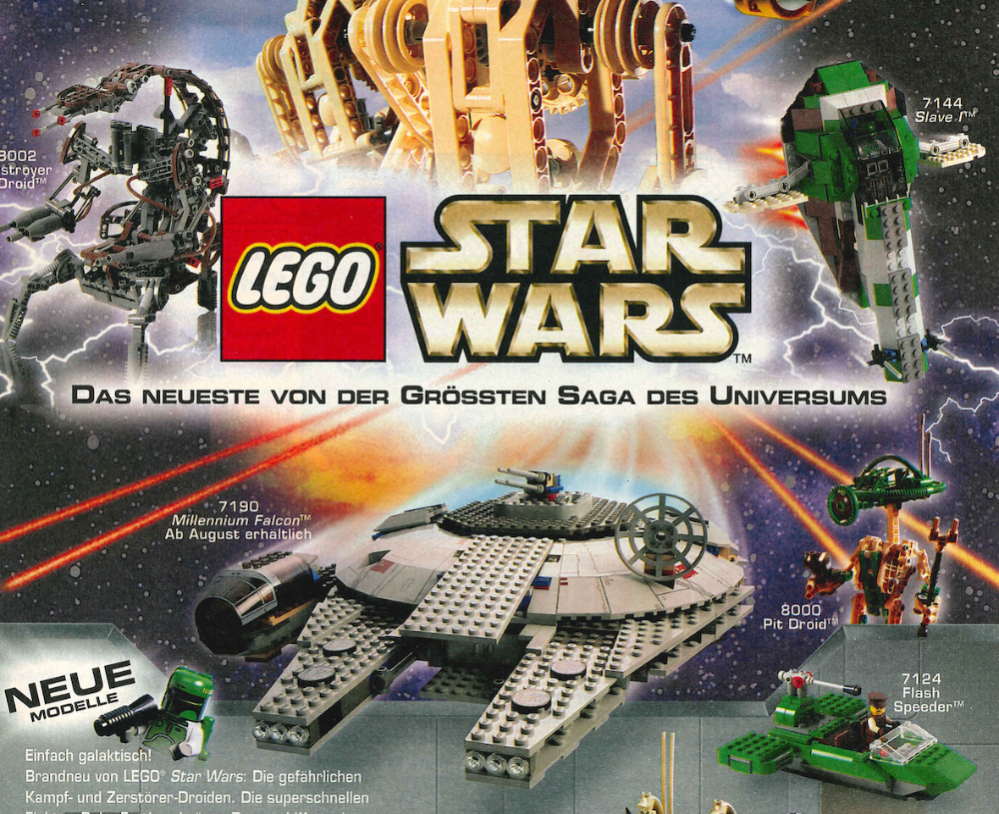 Il 9 aprile di 20 anni fa LEGO® metteva in vendita per la prima volta dei set dedicati all'universo di Star Wars e da allora tutto è cambiato. Oggi festeggia i 20 anni da quel fatidico giorno con alcune immagini e "fun-facts" legati a questa saga.
Ne avevamo già parlato ampiamente ed anche i set erano stati ormai ufficializzati da tempo. Oggi LEGO festeggia i 20 anni dalla messa in vendita del primo set di Star Wars condividendo con tutti gli AFOL alcuni aneddoti legati alla realizzazione dei set.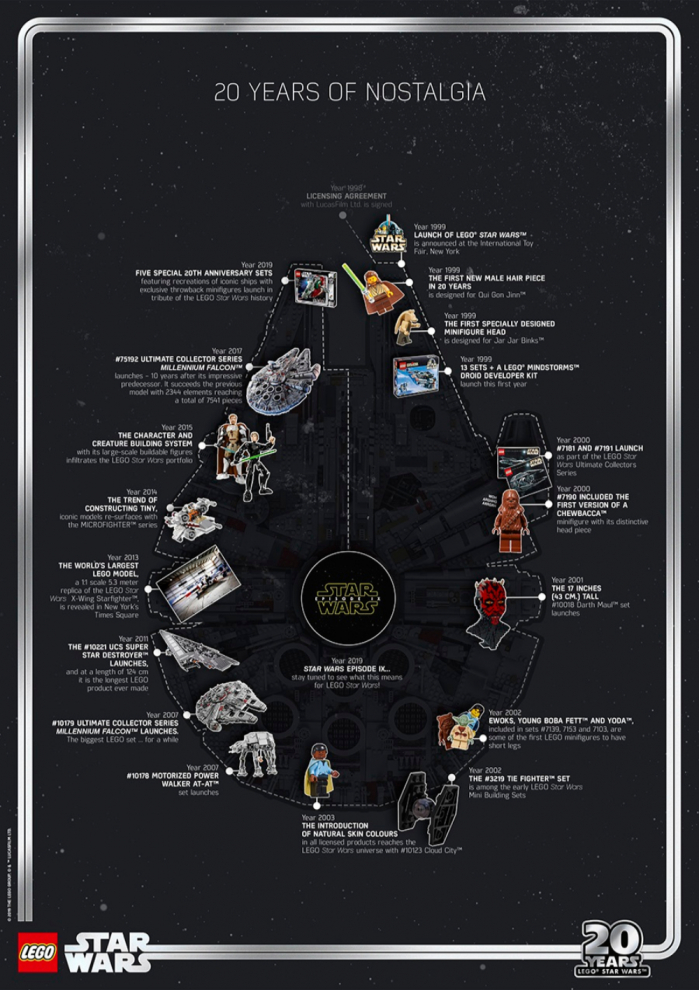 Riprendendo le parole di LEGO stessa, Star Wars è stato il primo franchising venduto sotto licenza della LucasFilm.
Il suo lancio è avvenuto alla New York Toy Fair del 1999 e da allora sono stati prodotti circa 700 set, più di 1000 minifigure, videogiochi, libri e serie tv e web.
Qui di seguito la press release rilasciata da LEGO.
---
The greatest battles built since 1999 – celebrating 20 years of LEGO® Star Wars™ fandom
The LEGO Group raises its lightsabers to toast the fans instrumental to the success of the LEGO® Star Wars™ 20-year legacy and launches five new special edition sets to mark the anniversary.
Billund, April 9: Twenty years ago, in a galaxy far, far away, the LEGO® Star Wars™ collaboration entered the lives of millions of children and fans around the world. Today, the LEGO Group is celebrating the 20th anniversary of the much-loved range that continues to unite fans of all ages and has inspired some of the greatest battles ever built.
LEGO Star Wars was the LEGO Group's first IP franchise and has since remained one of the most popular, allowing fans across generations and geographies to come together in fun and challenging building exercises. Around 700 different sets (including 1,000 LEGO Star Wars minifigures), five video games, several television and web series, and an abundance of other fun merchandise have been released since the initial launch.
Jens Kronvold Frederiksen, Creative Director of LEGO Star Wars, said: "LEGO play and Star Wars is a dream collaboration for us, and we feel privileged to have one of the strongest fan communities out there who continue to inspire and challenge us to push the boundaries. This 20-year milestone is really a dedication and testimony to our loyal fans who have built, re-imagined, battled and shared their LEGO Star Wars adventures with us for two decades. Twenty years on, the Force is still with us and there's still so much more to come."
LEGO Star Wars was first introduced at the International Toy Fair in New York in February 1999 and has been captivating fans ever since. An impressive 13 sets were launched that year, as well as a LEGO® MINDSTORMS™ Droid developer kit. Over the years, many crowd pleasers have been released, including the first version of the Chewbacca™ minifigure. This was a triumph in itself because of its challenging design. The design team came up with the idea of creating a head with fur covering the back and front of the torso, which has been used in many minifigure designs since.
Derek Stothard, Vice President of Licensing at Lucasfilm said: "Our collaboration with the LEGO Group remains a huge success because it allows people to explore the Star Wars galaxy in a very unique way. Whether you're meticulously building the Millennium Falcon for a display shelf or re-imagining the battles with LEGO Star Wars models, the LEGO Star Wars range allows us to engage with fans of all ages who find the Star Wars galaxy as special as we do."
Marking the 20th anniversary, the LEGO Group just released five special sets featuring iconic ships and exclusive throwback minifigures in tribute of the LEGO Star Wars history. The new sets – which debuted on April 1st – are a recreation of some of the most iconic and popular sets from the last twenty years, along with a new sub-theme: Action Battle. The LEGO System in Play means that Star Wars devotees can build and bring to life some of their most beloved themes and characters – from Wookiees to Ewoks, Princess Leia to Han Solo and more – for even more intergalactic adventures.
As for the scenes and characters that haven't yet been sent into the LEGO® Star Wars™ galaxy, stay tuned!
Fun facts only the most hardcore LEGO® Star Wars™ fans know:
The 1999 Jar Jar Binks minifigure was the first ever to have a unique LEGO® head sculpt
Yoda, Boba Fett and Ewoks were some of the first minifigures to receive short legs (2002)
Did you know that except for Luke Skywalker, Han Solo, clone troopers and battle droids, R2-D2 is the character that appears in most LEGO Star Wars sets
The Jedi Bob minifigure appears in just one LEGO® set, the 7163 Republic Gunship from 2002
The Darth Vader minifigure has changed many times over the years, but his helmet remained unchanged from 1999-2015
The 10179 UCS Millennium Falcon spent a day in a sauna, since it couldn't fit into the ovens used to quality check a product's resistance towards sunlight
The cockpit windshield element in the 7191 X-Wing Fighter™ is based on a mould for a 4.5-volt battery box from a LEGO train set
The 24 minifigures and droids included in the 10188 set enable fans to re-enact almost every single scene taking place on the Death Star™
The Zam Wesell minifigure from 7133 Bounty Hunter Pursuit was one of the first minifigures to have double sided face decoration
LEGO® Star Wars™ 20 years of nostalgia in a wrap:
1998: Licensing agreement with Lucasfilm is signed. This licensing agreement is the first of its kind for the LEGO Group
February 1999: The launch of LEGO® Star Wars™ is announced at the International Toy Fair in New York by the LEGO Group and Lucasfilm
1999: The first new male hair piece in 20 years is designed for Qui-Gon Jinn
1999: The first specially designed minifigure head is designed for Jar Jar Binks
1999: 13 sets + a LEGO® MINDSTORMS™ Droid Developer Kit were launched
2000: Two more advanced sets – #7181 and #7191 – launch the LEGO® Star Wars™ Ultimate Collectors Series
2000: #7190 included the first version of a Chewbacca™ minifigure. It was a challenging design, until the design team came up with the idea of creating a head with fur covering the back and front of the torso, which has been used in many minifigure designs since
2001: #10018 Darth Maul launches as a set exclusively available on LEGO.com and in LEGO stores – at a whopping 43 centimetres tall!
2002: Ewoks, young Boba Fett and Yoda, included in sets # 7139, 7153 and 7103, are some of the first LEGO minifigures to have short legs
2002: Only 12 elements are required to build the 2002 TIE Fighter™, #3219. The set is among the early LEGO® Star Wars™ Mini Building Sets launched in the beginning of the new millennium
2003: The introduction of more natural skin colours in all licensed products also reach the LEGO® Star Wars™ universe with #10123 Cloud City™ from 2003
2007: #10178 Motorized Walking AT-AT™ launches. The model can move its head and walk – forward and backward
2007: #10179 Ultimate Collector Series Millennium Falcon™ launches. The biggest LEGO® set … for a while
2011: The UCS Super Star Destroyer 10221 is launched. With a length of 124cm it is the longest LEGO product ever made
2013: The world's largest LEGO model, a 1:1 replica of the LEGO® Star Wars™ X-Wing starfighter, is revealed in New York's Times Square. The massive replica took 32 master builders, 5.3m LEGO bricks and over 17,000 hours to complete
2014: The trend of constructing tiny, but ever iconic models, re-surfaces with the MICROFIGHTER series. Small enough to fit into a hand – big enough to carry a minifigure
2015: The CCBS platform (Character and Creature Building System) with its large-scale buildable figures infiltrates the LEGO Star Wars portfolio from this year onwards
2017: #75192 Ultimate Collector Series Millennium Falcon™ launches – 10 years after its impressive predecessor. It succeeds the previous model by 2344 elements, reaching a total of 7541 pieces
2019: Five special 20th anniversary sets featuring iconic ships with exclusive throwback minifigures launch in tribute of the LEGO Star Wars history – a recreation of some of the most iconic and popular sets from the last 20 years
2019: Star Wars Episode IX… stay tuned to see what this means for LEGO Star Wars!