Teenage Mutant Ninja Turtles Stop Motion Intro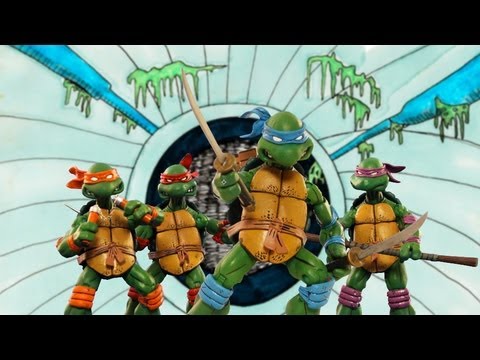 With over 4,000 individual pictures, Kyle Roberts and crew wanted to recreate the nostalgic 1987 Teenage Mutant Ninja Turtles cartoon introduction in stop motion. Artist, Nathan Poppe, created over 60 hand-drawn images to establish a bright and vibrant backdrop to complement Roberts' use of action figures. The original TMNT theme song was covered by Oklahoma native band, The Boom Bang, in their "garage surf punk" style. Each of these pieces can stand alone by themselves, but when infused together they create a radical tribute.
L'animatore Kyle Roberts, l'artista Nathan Poppe e la loro crew hanno creato una versione in stop motion della sigla del 1987 dei Teenage Mutant Ninja Turtles (aka "Le Tartarughe Ninja"), usando pupazzetti e sfondi disegnati a mano.
L'intero progetto è sponsorizzato dal Toy and Action Figure Museum di Pauls Valley, Oklahoma.
Via e moar info qua.
[more]Michelangelo♥ :res:[/more]