South Park Fan Experience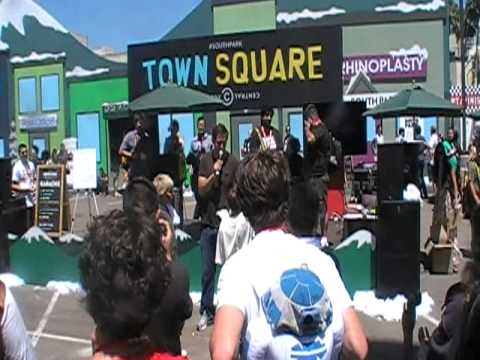 NEW YORK, July 18, 2011 — Fans will be transported into the world of "South Park" as they walk into the 15,000 square foot Ultimate Fan Experience located at 450 2nd Avenue (at 1st Ave. & J St.) just outside of the San Diego Convention Center). The "South Park" Year of the Fan Experience, a free and open to the public event, commemorates the series' 15th season. The festivities kick off with a "South Park" themed parade starting at 12:30 p.m. on Thursday, July 21 at 5th Ave. and K St. with the venue officially opening at 1:00 p.m. and running through Saturday, July 23. Fans can participate in a costume contest which will take place on Saturday, July 23 in the afternoon. The best character costumes will win a Kid Robot Mysterion figurine signed by Matt Stone and Trey Parker.

In occasione dell'anno del fan, al Comic-Con di San Diego, ecco che gli autori di South Park hanno deciso di ricreare la cittadina del Colorado con una scenografia a dimensione umana. Inutile dire che questo post è solo per dichiarare quanto io stia rosicando, e quanto vorrei essere la.
Ulteriori informazioni in quote, il resto le trovate su
southparkstudios.com
[more]
The "South Park" Year of the Fan Experience includes:

– A life-size replica of "South Park" Avenue.
– Interactive stations with social networking uploading capabilities including a Create Your Own Avatar station and an official badge by Foursquare (see below)
– A "South Park" photo booth and a face painting station featuring famous "South Park" characters including Mitch Connor.
– A museum with "South Park"-inspired artwork by Ron English and other curated artists on display, including fan-submitted artwork chosen by English as well as "South Park" staff artwork.
– Famous "South Park" memorabilia, including the gown Matt Stone wore to the Oscars in 2000 and the original cut-outs and story boards from the early seasons of the show.
– A screening of the original, un-aired "South Park" pilot and the "South Park Bigger, Longer & Uncut" movie on Friday night at 8 PM, followed by an informal Q&A with members of the production staff.
– A center stage with "South Park" karaoke, costume competition, trivia contests and more emceed by comedian Owen Benjamin.
– A Big Wheel pedal fan prix race track.
– A school cafeteria where special edition bags of Cheesy Poofs will be given away!
– A Voice of the Fan confessional booth where South Park will interview the fans about their favorite "South Park" moment, challenge them to sing the Cheesy Poof song or the "South Park" theme song. The best recordings may be used on COMEDY CENTRAL, South Park Studios.com or on the upcoming Year of the Fan DVD.
[/more]