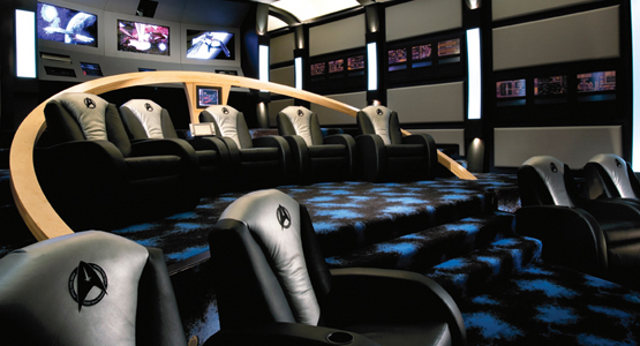 The theater represents one of the most distinctive, technically and structurally advanced private theaters in the United States. The client insisted upon a unique and specific set of criteria including extremely high volume levels within a tasteful and highly-detailed Star Trek-themed architecture. Other technical assemblies unique to residential environments include motorized sliding doors, intelligent concert-type lighting and related DMX512 controls, and commercial-level HVAC, all coexisting seamlessly and reliably for a typical homeowner.
Realizzato dalla Electronics System Consultants per un ricco bastardo facoltoso cliente amante di Star Trek, questo Home Thetre non credo abbia bisogno di molti commenti.
Lo vorrei uguale, solo senza quella cazzo di moquette che gli americani mettono ovunque, grazie.
[nggallery id=567]
– Set Phasers to Fun With This Star Trek Home Theater (geekosystem.com)
– I'm On A Spaceship!: Star Trek Themed Home Theater (geekologie.com)