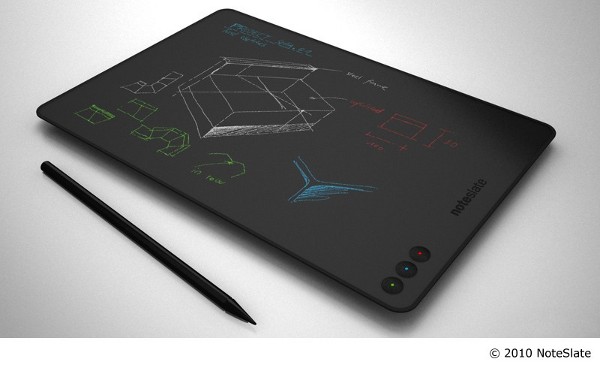 Basic Characteristics
– REAL PAPER look design
– ONE COLOR display
– ONE TOUCH ability just with pen / eraser
– 210x310x6mm thin body
– 13 inch matte monochrome eInk display
– 190x270mm active display, 750x1080pixels
– 180 hours battery life (almost 3 weeks of daily work !)
– 280 g weight !
– basic inputs: pen with eraser, USB mini, SD Card, Jack 3.5 mm, AC/DC 12V
– Wi-Fi module on request with order (no added charge (!)
– no web browsing !
– end price $99
– ONE POINT OF SALE – NoteSlate online e-store
Device interessante, sicuramente sotto l'aspetto del prezzo 99 dollari (circa 75 euro!).
Ovvio che paragonato a un tablet sfigura, ma se vi piace scrivere "a mano" (cosa che a me personalmente piace molto) è un oggetto interessante! Ovviamente è dotato di software OCR.
Fondamentalmente la grandezza è di un foglio A4 ed è spesso solo 6 mm.
È disponibile anche la versione con cover posteriore a pannelli solari.
Diversi i colori (non tutti in gallery), più una versione multicolore (foto a inizio post) e a parte quest'ultima, saranno commercializzate per giugno.
Per maggiori informazioni http://www.noteslate.com/