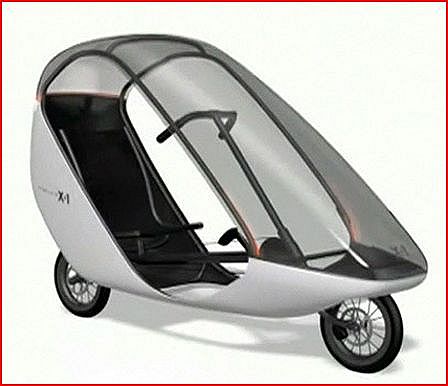 Sir Clive Sinclair, the English egghead that invented the revolutionary ZX Spectrum computer, and then went on the make the widely ridiculed C5 electric trike, is back with another, erm, electric bike.
Maybe Sir Clive was just way ahead of his time when he launched the C5 back in 1985, as this pod-like electric vehicle actually looks pretty smart today. The egg-shaped bubble is called the X-1, and works a lot like a recumbent, with a comfy seat, forward-mounted pedals and a nice, high, chopper-style handlebar. Then things get interesting.
The X-1 packs a 24v lithium-polymer battery which drives a slightly underpowered 190-Watt motor via a fixed-gear drivetrain. Disk-brakes front and back provide stopping power and built-in lights let the cars see you sat down in the road.
Sir Clive Sinclair
, l'uomo a cui molti di noi debbono l'iniziazione alla nerditudine è stato il creatore di quello che per tanti è stato il primo home computer, lo
ZX80
, seguito poi dallo
ZX81
e dall'amato
ZX Spectrum
e via via da alcuni prodotti sempre più "fuori mercato" tipo il
QL
(che secondo me era bellissimo!) o decisamente "fuori dal mondo" tipo lo scooter elettico
C5
.
Il C5 è stato lanciato nel 1985 e si può convenire che l'errore fu sopratutto di tempo: sebbene immediatamente successivo alla crisi energetica del 1979, forse il mondo all'epoca non era ancora pronto per il veicolo elettico (e forse quel veicolo elettrico, tecnologicamente, non era ancora pronto per il mondo).
Ora Clive Sinclair, a capo della Sinclair Research, ci riprova con l'X-1: una un po' bizzarra bicicletta elettrica coperta, con pedali, un motore da 190W e 30Kg di peso in tutto.
Il costo potrebbe essere la sua salvezza: £595, equivalenti a circa 680€, sono un prezzo ragionevole per un oggetto che potrebbe risolvere problemi di mobilità a chi accetta di usare una bicicletta ma ha bisogno di un po' di aiuto per le salite.
Esteticamente, IMO, non si salva.
L'articolo su Wired.