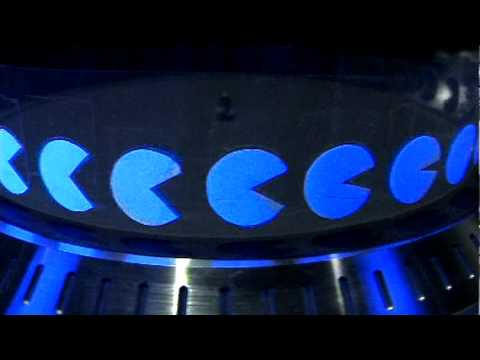 I used a Numark turntable set to 45 RPM and the camera was set to 24 FPS. The shutter speed was set to around 840. With that combination of settings a 30 frame animation would appear to stand still. I used the slider to increase / descrease rpms which caused the images to move foward or backward.
Questa figata mi ha lasciato a bocca aperta!
Il mitico brusspup fissato con le illusioni ottiche, che forse ricorderete per il controller nintendo murale, o i due dadi; settando i fotogrammi al secondo, della sua camera, in funzione della velocità del giradischi, ha permesso all'obiettivo di captare l'illusione ottica, o più precisamente, di evidenziarla.
Molto ben realizzata la sequenza in cui si può osservare l'animazione dell'uomo che salta sul cubo… realizzata riprendendosi mentre come un pirla salta nel suo salotto, catturando con Photoshop 30 fotogrammi e ritoccandoli su sfondo nero. infine stampati su pellicola.