Star Wars: L'Ascesa di Skywalker – ecco le prime reazioni americane al film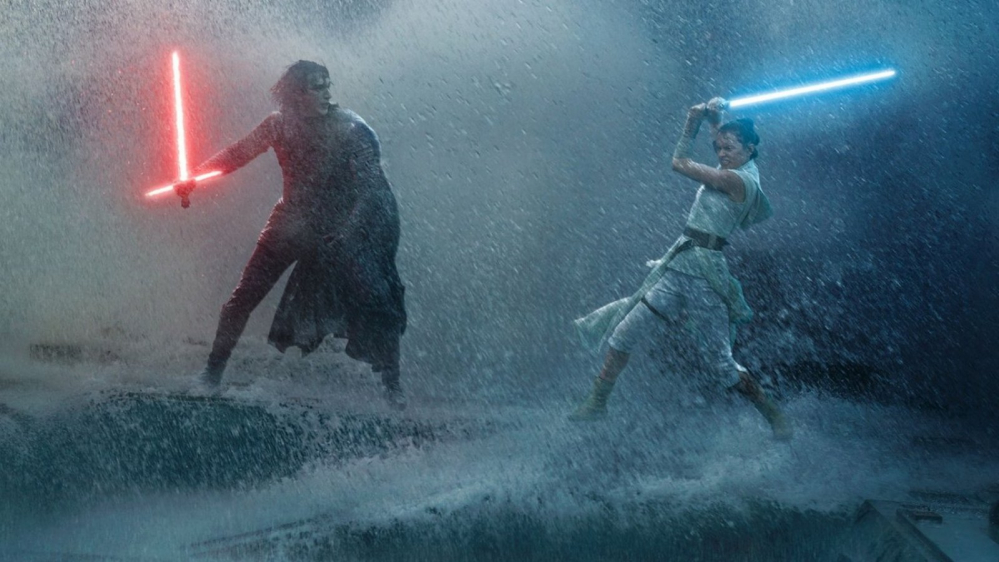 Il film che chiuderà la nuova trilogia di Star Wars è in sala dal 18 dicembre. Ecco le reazioni dopo la visione alla premiere americana.
L'attesa per l'uscita di Star Wars: L'Ascesa di Skywalker è tanta. Ma negli Stati Uniti si è già svolta la premiere del film. A Los Angeles il cast ha presentato il lungometraggio che chiuderà la nuova trilogia di Guerre Stellari, ed i giornalisti hanno potuto vederlo per la prima volta. Le reazioni al film sembrano essere estremamente positive. Ma andiamo a vedere nel dettaglio.
#StarWars #TheRiseOfSkywalker is a lot. It's a big, giant movie with a lot of spectacle and high stakes and it's definitely going to start a conversation (or a lot of conversations) among fans.

— BD (@BrandonDavisBD) December 17, 2019
#StarWars #TheRiseOfSkywalker is good. It's big and full of surprises and, in the words of Luke Skywalker, "This is not going to go the way you think." pic.twitter.com/nruJtzaMC4

— BD (@BrandonDavisBD) December 17, 2019
"Un grande film, gigantesco, davvero tanto spettacolare, e che cerca di creare un dialogo, o una serie di temi di dialogo con i fan. Si tratta di un film pieno di sorprese, e per dirla alla Luke Skywalker 'non va nel modo che voi pensate'".
I'm emotional, overwhelmed, surprised, shocked & stunned. More than anything, I'm happy. Thanks for coming through one more time, Star Wars.#TheRiseOfSkywalker

— Mark Ellis (@markellislive) December 17, 2019
"Sono sorpreso a livello emotivo, scioccato e sbalordito. Ma più di ogni cosa sono felice. Grazie per avercela fatta ancora una volta Star Wars".
Epic. All of it. #TheRiseofSkywalker is a terrific finale that is just stuffed with so much of everything. Action, adventure — answers!! — humor, heart, love, and grit. I spent the entire second half with tears in my eyes – a wonderful way to end the Skywalker story pic.twitter.com/K2NhHSGWzM

— Erik Davis (@ErikDavis) December 17, 2019
"Tutto quello che si è visto è stato epico. Questo è un grandissimo finale, pieno di qualsiasi cosa. C'è Azione, avventura, risposte, humor, cuore. Ho passato tutto il secondo tempo a piangere. Un modo fantastico per concludere la saga degli Skywalker".
I am still processing #TheRiseofSkywalker but omggggg I'm so happy and sad at the same time!!!!! JJ Abrams you're my hero! Thank you so much for this movie. pic.twitter.com/dMmv3k8N6Z

— Lauren Veneziani (@DCfilmgirl) December 17, 2019
"Sto ancora elaborando ciò che ho visto, ma, dio mio, sono così felice e triste al tempo stesso!!! JJ Abrams, sei il mio eroe! Grazie tanto per questo film".
All I can say is "wow."#StarWars: #TheRiseOfSkywalker is many things: horrifying, hopeful, violent, lowkey horny, and full of the right kind of fan service.

But most of all, it's a fitting ending for this incredible, 40+ year-long saga. pic.twitter.com/pd2GEwI7O3

— Dan Casey (@DanCasey) December 17, 2019
"Tutto ciò che posso dire è: wow. Questo film è molte cose: horror, violento, eccitante, e pieno della giusta dose di fan service. Ma, più di tutto, si tratta della conclusione ideale per questa incredibile saga che dura da 40 anni".
So, I'm not too surprised and at times I felt too much fan service was given, but #TheRiseofSkywalker is everything and nothing that you're expecting.

So I guess what my immediate reaction is: God I love this franchise and I'll miss the Skywalker saga.

— Yolanda Machado (@SassyMamainLA) December 17, 2019
"Non sono così sorpresa, ed allo stesso tempo sento che è stato fatto tanto fan service, ma questo film è tutto e niente rispetto a ciò che vi aspettate. La mia prima reazione è stata: oh dio quanto amo questo franchise, e quanto mi mancherà la saga degli Skywalker".
I'm gonna need a minute to digest #StarWarsTheRiseofSkywalker. There's so much movie in this movie. But its best moments are the quietest and most human. Giving this more of a think, though.

— Adam B. Vary (@adambvary) December 17, 2019
There was someone yelling "Yeah J.J." during key moments and it was hilarious. Lots of big reveals; tremendous action, imo. Poe steals the movie, as does Adam Driver. Both were favorites of mine

— Erik Davis (@ErikDavis) December 17, 2019
I'm emotional, overwhelmed, surprised, shocked & stunned. More than anything, I'm happy. Thanks for coming through one more time, Star Wars.#TheRiseOfSkywalker

— Mark Ellis (@markellislive) December 17, 2019
#RiseOfSkywalker has a bumpy start but finds its footing and when it does, it flies – especially the third act. Dug the conclusion of certain key storylines, some of which I didn't think I wanted. Random big likes – the use of Rey's theme, lots of lightsabers and D-O. #StarWars

— Perri Nemiroff (@PNemiroff) December 17, 2019
#RiseofSkywalker is rocky af at the start, but ultimately I had a pretty darn good time at the movies. It's a whole lot of movie that ticks a lot of boxes. Maybe TOO many boxes. It ticked many of mine! It may tick some of yours! There will be many opinions! This is one of them!

— Haleigh Foutch (@HaleighFoutch) December 17, 2019
Well… #TheRiseOfSkywalker is a drastic departure from TLJ, but also not as invigorating as TFA. It is a movie packed with action (it's seriously nonstop), but also jammed with fan service. @starwars fans – brace for the debates. pic.twitter.com/DjKo9ejRWw

— CinemaBlend (@CinemaBlend) December 17, 2019
Star Wars: #TheRiseOfSkwalker is TRULY a satisfying conclusion to the saga. It answers practically everything you want to know and more.. with some twists and turns. If you think you know what's going to happen, think again. #StarWars pic.twitter.com/72WsWzk21o

— Mansoor Mithaiwala (@MansoorAYM) December 17, 2019
I've seen #StarWarsTheRiseofSkywalker. It's… a lot. There's a lot I like and some I loved but overall my feelings are pretty mixed. It felt like an apology for The Last Jedi in some ways and a sequel to The Force Awakens in many, which I found frustrating. pic.twitter.com/6m8sOQWhTx

— Terri Schwartz (@Terri_Schwartz) December 17, 2019
Man does #TheRiseOfSkwalker MOVE. This film hits the ground running & doesn't let up. JJ's energy is all over this thing. A Last Crusade style adventure. The bromance between Poe & Finn steals the film. Felt a bit more concerned w/plot than character, tad rushed, good not great. pic.twitter.com/S4tbDhXG35

— Griffin Schiller (@griffschiller) December 17, 2019
Leggi la nostra multirecensione: