BRICKNAUTS
LEGO presenta il set Creator Expert 10269 Harley-Davidson Fat Boy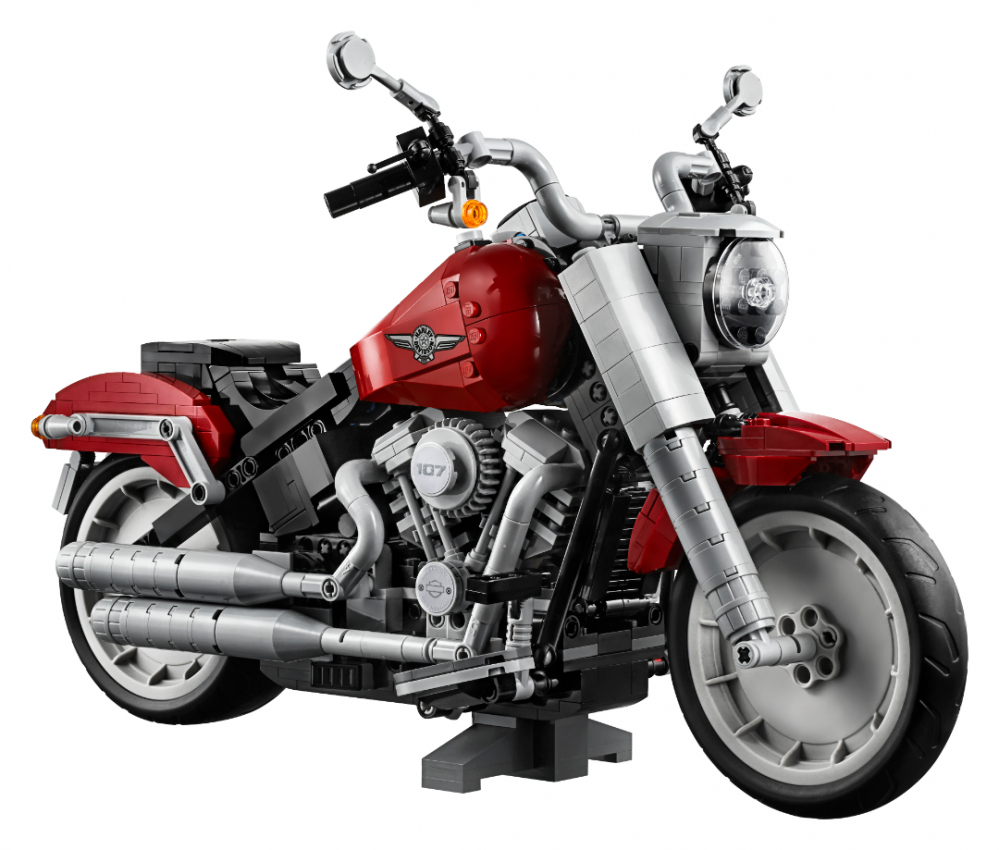 Dopo i tanti rumors e la foto emersa di recente viene finalmente annunciato ufficialmente da LEGO® il set 10269 Creator Expert, creato in collaborazione con la nota casa motociclistica statunitense di Milwaukee: la Harley-Davidson Fat Boy.
La moto, ideata dal designer LEGO Mike Psiaki, è composto da 1023 pezzi e con un numero limitato di adesivi. il modello finito sarà lungo 33 cm, alto 20 e largo 18.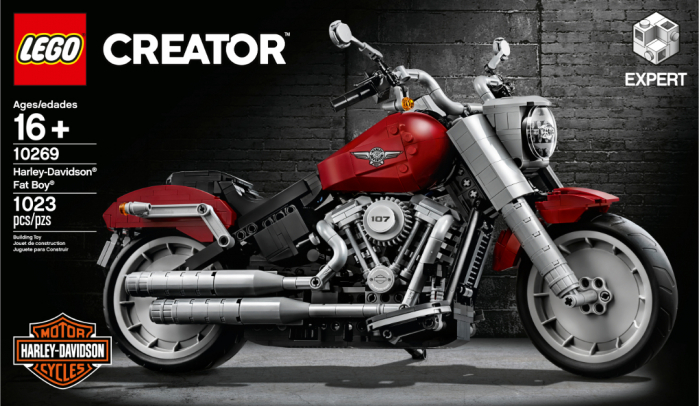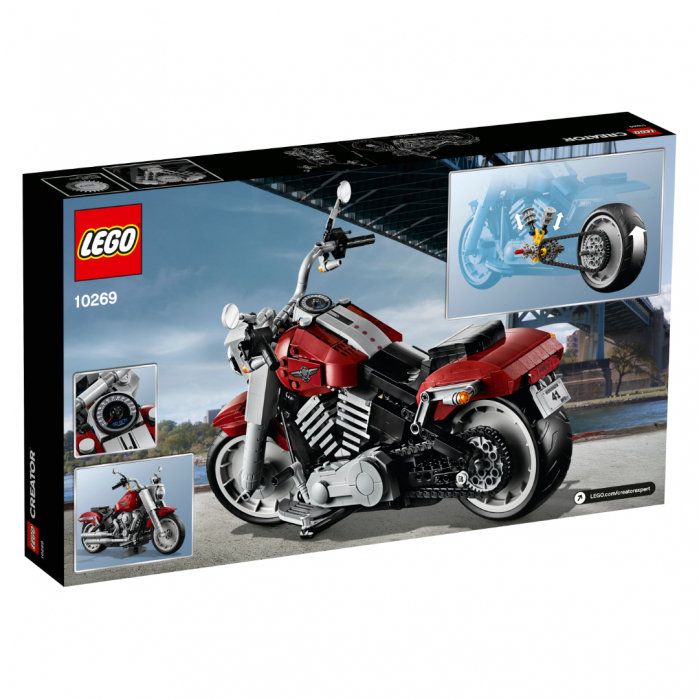 La base di partenza reale che ha ispirato il modello è la versione 2019 Fat-Boy con lo schema di colori chiamato "Wicked Red".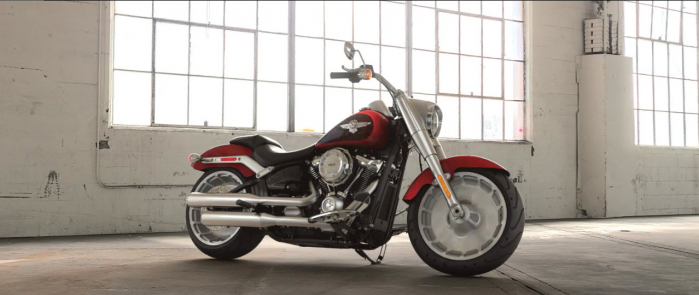 La ruota posteriore, tramite trasmissione a catena, farà muovere i pistoni presenti nel blocco motore Milwaukee-Eight®.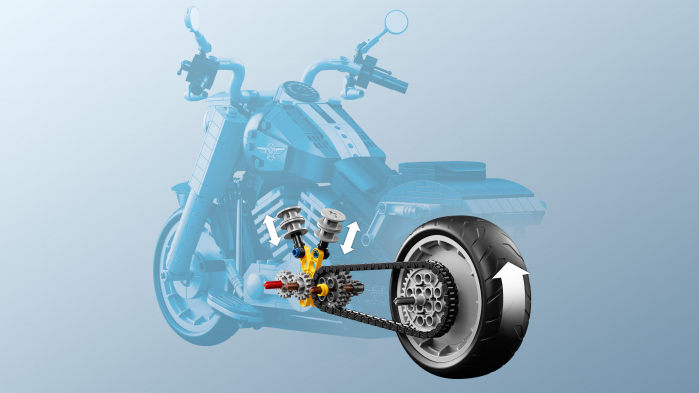 Presente il piedistallo per esporla, oppure premendo i pedali del freno e del cambio, si farà scattare il meccanismo che rilascia il cavalletto laterale, per poterla parcheggiare come quella vera.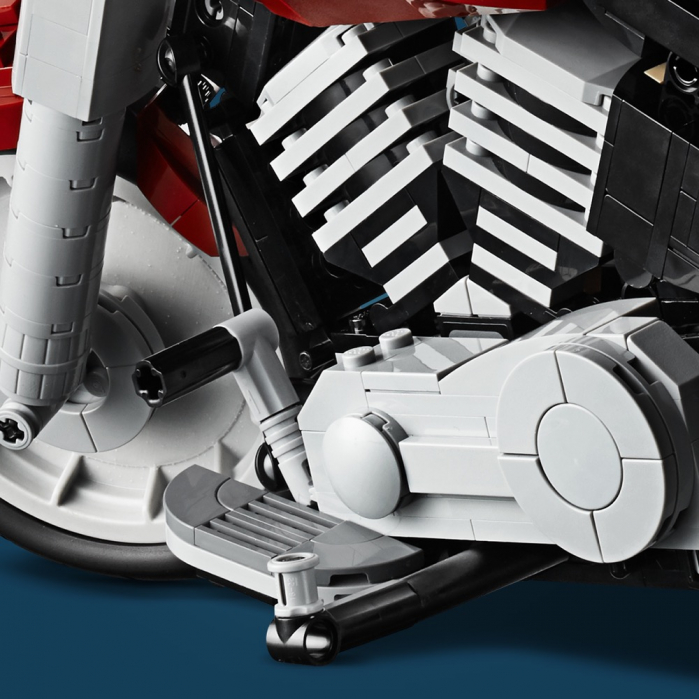 LEGO ha inoltre creato un modello in mattoncini a grandezza naturale, composto da 69569 pezzi, da esporre in vari luoghi, per la promozione del set in oggetto.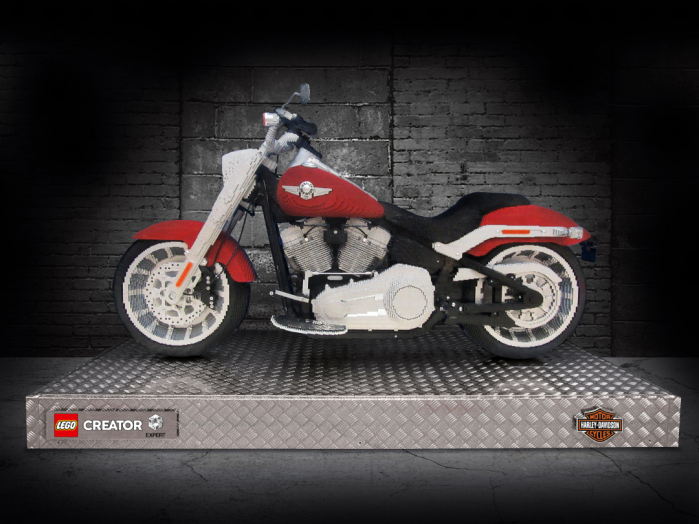 Il set sarà disponibile per clienti VIP a partire da mercoledì 17 luglio al prezzo di 94,99 Eur, mentre per tutti dal 1° agosto.
Di seguito la press release ufficiale.
---
RIDERS REJOICE AS LEGO GROUP INTRODUCES LEGO®CREATOR EXPERT HARLEY-DAVIDSON® FAT BOY®
Billund, Denmark (July 9, 2019) – Today, The LEGO Group revealed its latest LEGO® Creator Expert model –a Harley-Davidson® Fat Boy® that will cruise into LEGO Stores globally on August 1, 2019.
Developed in collaboration with Harley-Davidson, this detailed LEGO interpretation of the iconic Milwaukee motorcycle captures the beauty of the real-life machine with finishes, surfaces, and design elements crafted to replicate the full-size Harley-Davidson Fat Boy. Featuring1,023pieces, the model comes complete with solid-disc wheels, teardrop fuel tank, integrated speedometer, and dual exhaust pipes.
The finished model measures over 7 inches (20 cm) high, 7 inches (18 cm) wide and 12 inches (33 cm) long and features several moveable parts for owners to engage.Spin the rear tyre to see the Milwaukee-Eight® engine with moving pistons and dual exhaust pipes, spring to life. Turn the handlebar, move the gear shift and brake levers, and flip down the motorcycle's kickstand for easy parking. Finished with an authentic dark red and black color scheme withHarley-Davidson® logos on each side reflective of the 2019 Fat Boy motorcycle's Wicked Red paint scheme, it's a perfect display centerpiece for any home, office, or anywhere to channel the inspiration to ride.
"Bringing this Harley-Davidson motorcycle to life in brick form is incredibly exciting," said Mike Psiaki, Design Master at LEGO Group. "The model truly captures the iconic design, advanced engineering and attention to detail of this iconic motorcycle, offering an immersive building experience and a unique collector's item for Harley-Davidson enthusiasts and LEGO fans of all ages."
"It's been exceptionally exciting for Harley-Davidson to collaborate with the LEGOGroup-another brand that champions creativity and expression," said Heather Malenshek, Chief Marketing Officer at Harley-Davidson. "Not only do we want customers to be inspired by the end result, we want them to enjoy the building process."
"The authenticity of Harley-Davidson design comes by sweating the details from start to finish." said Brad Richards, Vice President of Styling &Design, Harley-Davidson. "We looked at every nut and bolt on the bike, all the finishes, and every small detail. Working with the LEGO team on this project allowed us to bring that same attention to detail to a collaborative product, and to celebrate a brand that inspired the imagination and creativity of many of us at Harley-Davidson from a young age, including myself."
To celebrate the launch, LEGO Master Builders created a life-size model of the motorcycle, complete with silver coated parts, Wi-Fi animation control, sound and light effects to imitate a real Harley-Davidson® FatBoy® and 6,000 special LEGO elements. The extraordinary creation took 865 hours to build, is made of 69,569 pieces and will be on display atselect LEGO stores and Harley-Davidson events for fans to see.TheLEGO Creator ExpertHarley-Davidson® Fat Boy®model is available directly from LEGO Stores and shop.LEGO.com exclusively for LEGOVIP members beginningJuly 17, 2019, with general public availability beginning August 1, 2019.