LEGO annuncia la riedizione della turbina eolica Vestas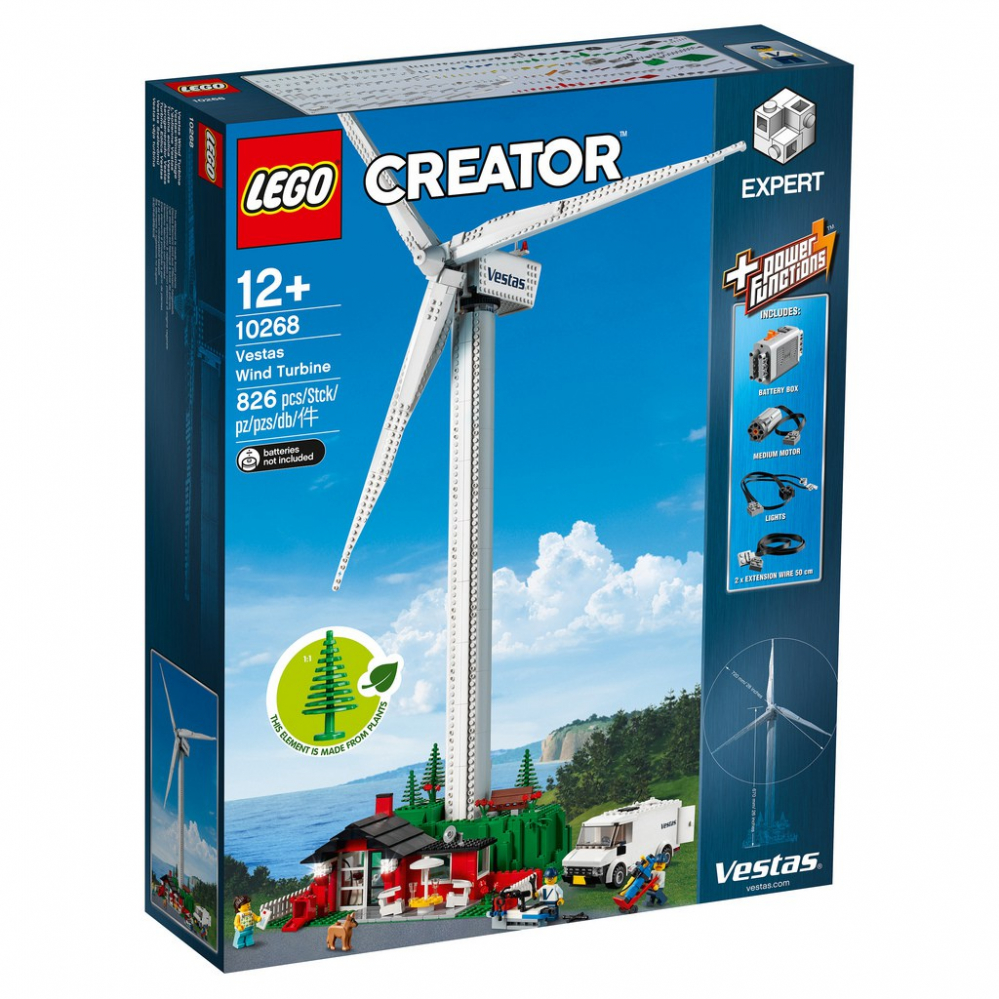 Annunciato da LEGO pochi minuti fa il set "riedizione" 10268 Vestas Wind Turbine. Dopo il Taj Mahal ecco arrivare un altro set della linea Creator primo nel suo genere grazie alla canna da zucchero.
Il set infatti è pressochè identico al suo predecessore 4999 rilasciato ben 10 anni fa, nel 2008, e con un numero di pezzi molto simile.
Come ma quindi LEGO ha deciso di riproporlo? Semplice è il primo set in vendita contenente i famosi pezzi ecologici ricavati dalla canna da zucchero.
In particolare tutti i pezzi della vegetazione di colore verde sono stati creati grazie a questa nuova tecnica a bassissimo impatto ambientale.
Di seguito la spiegazione presente nel comunicato stampa LEGO.
Il modello da 826 pezzi si erge per quasi un metro sopra una collina boscosa, con il nuovo abete "Plants from Plants". Realizzato in plastica vegetale proveniente dalla canna da zucchero, l'inclusione di questi elementi il primo di una serie di passi che The LEGO Group sta intraprendendo per l'utilizzo di materiali sostenibili nei prodotti entro il 2030 e imballaggio entro il 2025.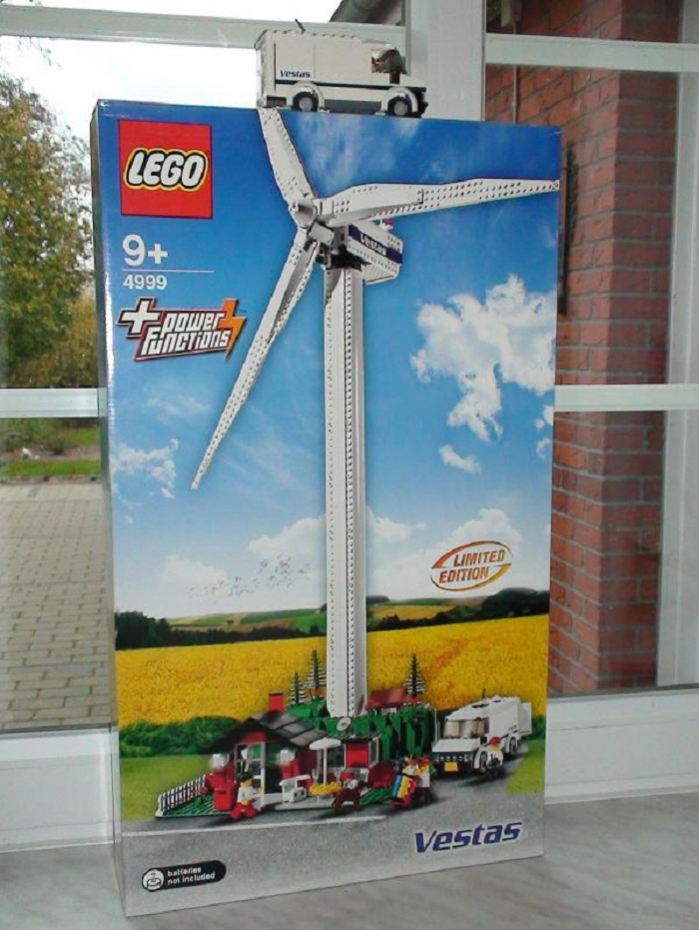 Il 4999 infatti aveva 809 pezzi mentre il nuovo set, il 10268, ne contiene 826.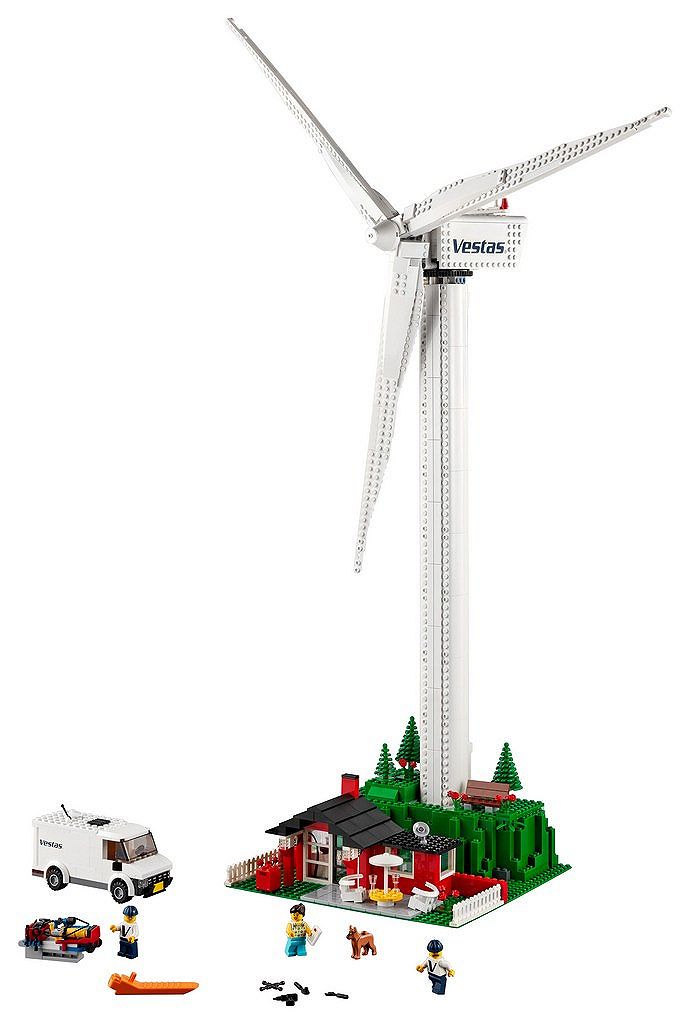 Il set sarà messo in vendita sul LEGO Shop dal 23 novembre, senza prevendita VIP, al prezzo di 179,99 Eur. 
Interessante comunque notare come questo set, copia esatta di un set 
nato come set promozionale
 richiesto da 
Vestas

, 
risulti
ora un set "normale" a tutti gli effetti.
E' dotato ovviamente di power function e luci led.
Qui di seguito la press release recuperata dagli amici di CandidBricks.
---
OUT OF THE VAULT & available soon to fans – The NEW LEGO® Creator Expert Vestas® Wind Turbine

•  The first-time consumers can purchase a LEGO set featuring new 'Plants from Plants' elements – made from plant-based plastic sourced from sugarcane
•  A key collaboration between the LEGO Group and Vestas®, the world leader in sustainable energy solutions
•  Through investments in wind power the LEGO Group balances 100% of the energy used to make LEGO bricks with energy from renewable sources.
•  Available from Black Friday (November 23rd)
Germany 179.99 EUR
Austria 179.99 EUR
Australia 329.99 AUD
Belgium 199.99 EUR
Switzerland 239.0 CHF
China 1999.0 CNY
Czech Republic 4699.0 CZK
Denmark 1499.0 DKK
Estonia 219.99 EUR
Spain 179.99 EUR
Finland 219.95 EUR
France 179.99 EUR
United Kingdom 159.99 GBP
Hong Kong 1699.0 HKD
Croatia 179.99 EUR
Hungary 56999.0 HUF
Italy 179.99 EUR
Japan 27980.0 JPY
South Korea 279900.0 KRW
Malaysia 923.01 MYR
The Netherlands 199.99 EUR
Norway 1999.0 NOK
New Zealand 399.99 NZD
Poland 829.99 PLN
Portugal 179.99 EUR
Romania 899.99 RON
Russian Fed. 14999.0 RUB
Sweden 1999.0 SEK
Singapore 329.9 SGD
Slovenia 179.99 EUR
Slovakia 179.99 EUR
Turkey 899.9 TRY
Taiwan 6999.0 TWD
Ukraine 5799.0 UAH
South Africa 2999.99 ZAR
USA 199.99 USD
Brazil 1399.99 BRL
Canada 249.99 CAD
Mexico 3299.0 MXN
[26th September 2018] While the world-renowned New York Climate Week (24 – 30 September) is live, the LEGO Group has today unveiled the latest LEGO Creator Expert set to come 'Out of the Vault' – Vestas® Wind Turbine following popular demand of the original and to celebrate play, creativity and imagination whilst also raising awareness about sustainability and renewable energy in partnership with Vestas®. This is the very first set available to purchase that features one of the all-new sustainably sourced plant-based plastic LEGO elements, Plants from Plants. This renewable energy focused set will be available directly in LEGO Stores and shop.LEGO.com this Black Friday (23rd November 2018).
The LEGO Creator Expert Vestas® Wind Turbine has been designed in partnership with the sets' namesake and world's leading provider of sustainable energy solutions, Vestas®, who have installed 65,000 wind turbines in around 80 countries.
The 826-piece model stands nearly a meter-high towering over a wooded hill, featuring the new 'Plants from Plants' spruce tree. Made from plant-based plastic sourced from sugarcane, the inclusion of these elements is part of the first steps in the LEGO Group's ambition to use sustainable materials in products by 2030 and packaging by 2025.
This latest instalment in the LEGO Creator Expert Series has been designed to provide a challenging and rewarding building experience with a touch of nostalgia, with builders discovering a house complete with a furnished patio and a working porch light and powered wind turbine, as well as three LEGO Vestas® servicemen Minifigures and a LEGO dog.
The set measures 100cm high, 72cm wide and 31cm deep and features adjustable wind blades (not as big as the real thing of course, which measures more than 2m longer than a London double-decker bus, but impressive none the least), detailed tower, movable nacelle with aircraft warning lights and power functions to automate the set.
The LEGO Vestas® Wind Turbine celebrates creativity in addition to the LEGO Group's commitment to making a positive impact on the environment. Through investment in wind power the LEGO Group balances 100% of the energy used to make LEGO bricks with energy from renewable sources.
Tim Brooks, Vice President, Environmental Responsibility at LEGO Group commented: "We strive to make a positive impact on the environment and are committed to climate action and to use sustainable materials in products and packaging. This wind turbine celebrates our first steps in bringing these ambitions to life and we hope it will inspire builders to learn about renewable energy. In August we released the first LEGO elements made from plants and now our fans around the world can buy a LEGO set containing these unique elements."
Morten Dyrholm, Group Senior Vice President of Marketing, Communications and Public Affairs at Vestas® said: "Today, wind energy is the cheapest source of energy in many markets, which have made wind turbines a sustainability icon across the globe and we are proud to partner with the LEGO Group on this relaunch. The original Vestas® wind turbine LEGO model was specially created for Vestas® to promote wind energy to a small audience within energy and as such, today's relaunch to the global LEGO community tells the story of how wind energy have gone from niche to mainstream, not just within energy but the entire world."
The LEGO Creator Expert Vestas® Wind Turbine is the latest in the Creator Expert line of products and will be available to buy on Black Friday (23rd Nov) directly from LEGO Stores and shop.LEGO.com.
Available directly from LEGO Stores & shop.LEGO.com from 23rd November
About LEGO sustainability ambitions & Plants from Plants
• The Vestas® Wind Turbine features LEGO tree elements made from plant-based plastic. This is the first-time consumers around the world will be able to buy a LEGO product which contains LEGO elements made from sustainably sourced materials
• In 2015, the LEGO Group announced its ambition to use sustainable materials, products and packaging by 2030
• In 2018 the first LEGO elements made from sustainably sourced materials were released. LEGO botanical elements such as leaves, bushes and trees are now made from plant-based plastic sourced from sugarcane
• The LEGO Group aims to use sustainable materials in packaging by 2025. Ambitions include replacing single-use disposable plastics and finding recycled or sustainably sourced bio-based materials for all plastic based packaging
About Vestas®
Vestas® is the energy industry's global partner on sustainable energy solutions. We design, manufacture, install, and service wind turbines across the globe, and with 94 GW of wind turbines in 79 countries, we have installed more wind power than anyone else. Through our industry-leading smart data capabilities and unparalleled 79 GW of wind turbines under service, we use data to interpret, forecast, and exploit wind resources and deliver best-in-class wind power solutions. Together with our customers, Vestas® more than 24,300 employees are bringing the world sustainable energy solutions to power a bright future.