Golden Globes: tutti i vincitori della 75esima edizione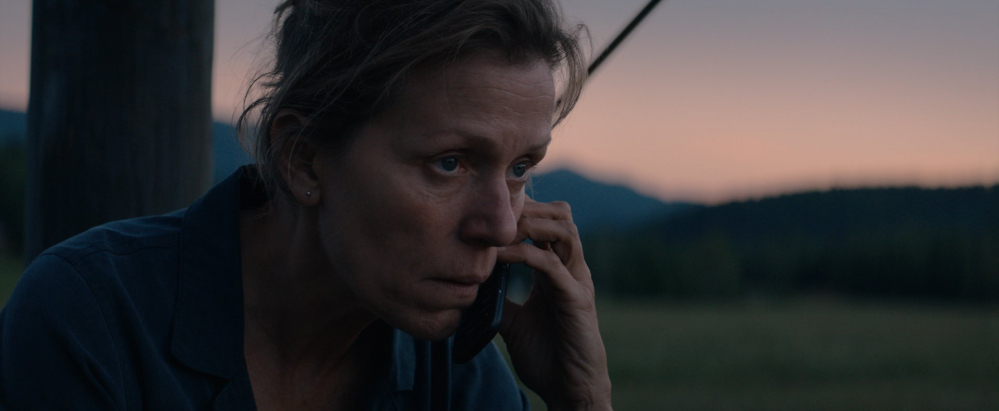 I Golden Globes festeggiano la loro 75esima edizione, dove a trionfare vediamo in assoluto Tre Manifesti a Ebbing, Missouri di Martin McDonagh, seguito da Guillermo Del Toro e Gary Oldman. Invece, un po' di delusione resta per Call Me By Your Name di Luca Guadagnino e il Dunkirk di Nolan.
Le tematiche forti, le grandi donne ma anche il fantasy e il biopic sono le pellicole e i volti noti che hanno trionfato a questa 75edizione dei Golden Globes, i quali si sono svolti nella notte (per noi) del 7 Gennaio a Los Angeles, presentati da Seth Meyers.
I premi, assegnati Hollywood Foreign Press Association ( un gruppo di giornalisti della stampa estera a Hollywood), hanno visto molti talenti diversi alternarsi sul palco, alcuni prevedibili, altri, invece, riservando delle piacevoli sorprese.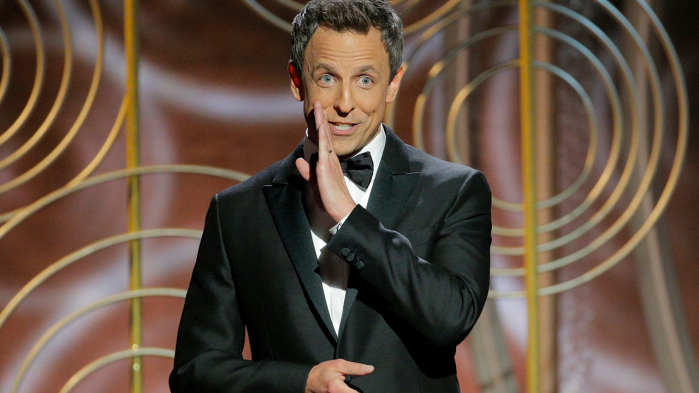 Considerando chi assegna i premi, difficile fare una stime se questi Golden Globes influenzeranno più o meno gli Oscars, c'è da dire che molti dei film che si davano per la maggiore, come per esempio Dunkirk o il pluricandidato Call Me By Your Name, non sono stati per nulla menzionati nel corso della serata.
Piacevole sorpresa, invece, per il trionfo di un film come Tre Manifesti a Ebbing, Missouri, amato dalla critica nel corso del Festival di Venezia e del Toronto Film Festival, portandosi a casa il premio come Miglior Film Drammatico, Miglior Attrice in un Film Drammatico e Migliore Attore Non Protagonista.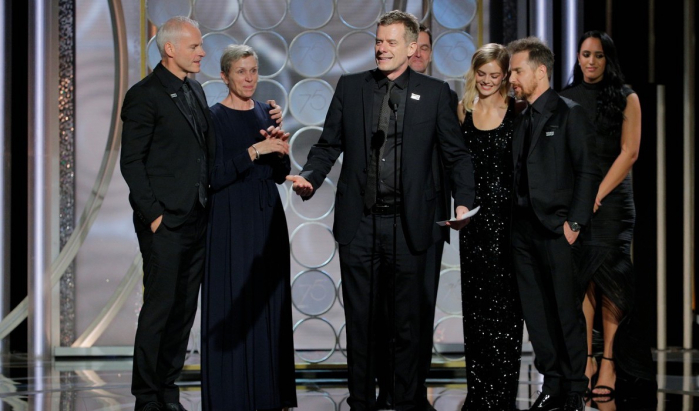 Sebbene la serata sia stata piuttosto sottotono, non sono mancati i momenti più divertenti, come la premiazione di James Franco come Migliore Attore in una Commedia o Musical per The Disaster Artist, in cui si è visto salire sul palco anche lo stesso Tommy Wiseau, prontamente bloccato dallo stesso Franco prima di "intrattenere" la platea con qualche imbarazzante discorso poco logico.
James Franco stops Tommy Wiseau from speaking on stage at the #GoldenGlobes https://t.co/AevCojIid8 pic.twitter.com/HUfjHk2fcL

— The Hollywood Reporter (@THR) January 8, 2018
Non sono mancati nemmeno i momenti più toccanti, come il discorso di Gary Oldman, vincitore del Globe come Miglior Attore Protagonista per The Darkest Hour, ma soprattutto quello di Oprah Winfrey, a cui è andato il Cecil B. DeMille Award, legato al tema portante della serata, la violenza contro le donne.
Molte delle donne della serata, infatti, erano vestite di nero per sostenere l'iniziativa #TimeIsUp, per sensibilizzare una campagna contro le molestie e le violenze sulle donne, in particolare a fronte dello scandalo cominciato con Harvey Weinstein e che ha avuto un enorme impatto su tutta Hollywood.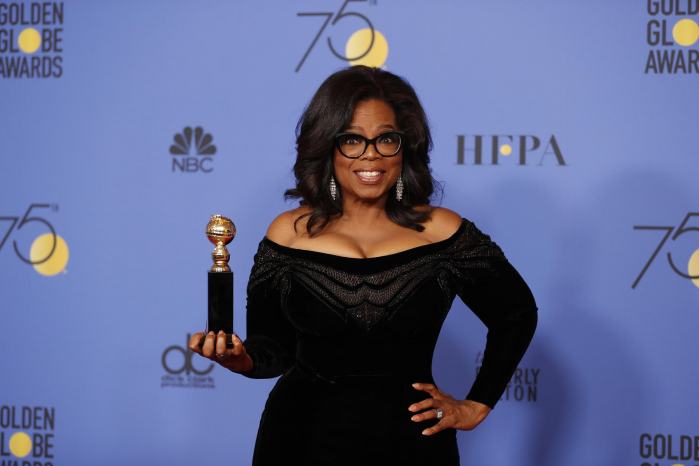 A fine discorso Oprah ha affermato che siamo entrati in una nuova era, un'era in cui si sta lavorando per entrare nel fatidico giorno in cui nessuno dovrà mai più dire #MeToo.
Andiamo, adesso, a vedere tutti i vincitori di questi attesi 75esimi Golden Globes:
CINEMA
Miglior film drammatico:
Miglior film commedia o musical:
Miglior attrice drammatica:
Jessica Chastain, "Molly's Game"
Sally Hawkins, "The Shape of Water"
Frances McDormand, "Three Billboards Outside Ebbing, Missouri" (VINCITRICE)
Meryl Streep, "The Post"
Michelle Williams, "All the Money in the World"
Miglior attore drammatico:
Timothée Chalamet, "Call Me by Your Name"
Daniel Day-Lewis, "Phantom Thread"
Tom Hanks, "The Post"
Gary Oldman, "Darkest Hour" (VINCITORE)
Denzel Washington, "Roman J. Israel, Esq."

Miglior attrice (Musical o commedia)
Judi Dench, "Victoria & Abdul"
Margot Robbie, "I, Tonya"
Saoirse Ronan, "Lady Bird" (VINCITRICE)
Emma Stone, "Battle of the Sexes"
Helen Mirren, "The Leisure Seeker"
Miglior attore (Musical o commedia)
Steve Carell, "Battle of the Sexes"
Ansel Elgort, "Baby Driver"
James Franco, "The Disaster Artist" (VINCITORE)
Hugh Jackman, "The Greatest Showman"
Daniel Kaluuya, "Get Out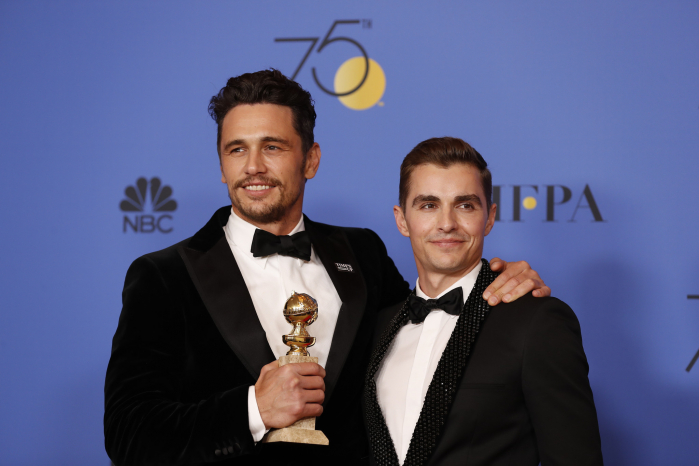 Miglior attore non protagonista:
Willem Dafoe, "The Florida Project"
Armie Hammer, "Call Me by Your Name"
Richard Jenkins, "The Shape of Water"
Christopher Plummer, "All the Money in the World"
Sam Rockwell, "Three Billboards Outside Ebbing, Missouri" (VINCITORE)
Migliro attrice non protagonista:
Mary J. Blige, "Mudbound"
Hong Chau, "Downsizing"
Allison Janney, "I, Tonya" (VINCITRICE)
Laurie Metcalf, "Lady Bird"
Octavia Spencer, "The Shape of Water"
Miglior sceneggiatura
"The Shape of Water"
"Lady Bird"
"Molly's Game"
"The Post"
"Three Billboards Outside Ebbing, Missouri" (VINCITORE)
Miglior regista:
Guillermo del Toro, "The Shape of Water" (VINCITORE)
Martin McDonagh, "Three Billboards Outside Ebbing, Missouri"
Christopher Nolan, "Dunkirk"
Ridley Scott, "All The Money in the World"
Steven Spielberg, "The Post"
Miglior film straniero
"A Fantastic Woman"
"First They Killed My Father"
"In the Fade" (VINCITORE)
"Loveless"
Miglior cartoon
"The Breadwinner"
"Boss Baby"
"Coco" (VINCITORE)
"Ferdinand"
"Loving Vincent"
Miglior canzone
"Home," Ferdinand
"Mighty River," Mudbound
"Remember Me," Coco
"The Star", The Star
"This Is Me," The Greatest Showman (VINCITORE)
Miglior colona sonora
"Three Billboards Outside of Ebbing, Mo."
"Dunkirk"
"The Post"
"Phantom Thread"
"The Shape of Water" (VINCITORE)

TV
Miglior attore serie o film tv:
Robert De Niro, "The Wizard of Lies"
Jude Law, "The Young Pope"
Kyle MacLachlan, "Twin Peaks"
Ewan McGregor, "Fargo" (VINCITORE)
Geoffrey Rush, "Genius"
Miglior miniserie e film tv
"Big Little Lies" (VINCITORE)
"Fargo"
"Feud: Bette and Joan"
"The Sinner"
"Top of the Lake: China Girl"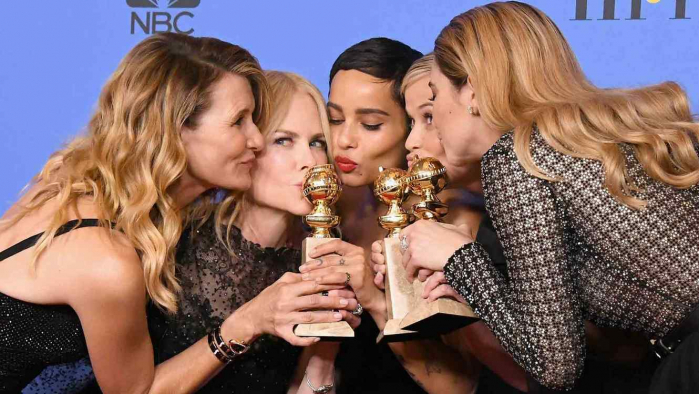 Miglior attore non protagonista in miniserie o film tv
Alfred Molina, "Feud"
Alexander Skarsgard, "Big Little Lies" (VINCITORE)
David Thewlis, "Fargo"
David Harbour, "Stranger Things"
Christian Slater, "Mr. Robot"
Miglior attrice in serie tv (Musical o commedia)
Pamela Adlon, "Better Things"
Alison Brie, "Glow"
Issa Rae, "Insecure"
Rachel Brosnahan, "The Marvelous Mrs. Maisel" (VINCITRICE)
Frankie Shaw, "SMILF"
Miglior attrice non protagonista in miniserie o film tv
Laura Dern, "Big Little Lies" (VINCITRICE)
Ann Dowd, "The Handmaid's Tale"
Chrissy Metz, "This is Us"
Michelle Pfeiffer, "The Wizard of Lies"
Shailene Woodley, "Big Little Lies"
Miglior attore in serie tv (Musical o commedia)
Anthony Anderson, "Black-ish"
Aziz Ansari "Master of None" (VINCITORE)
Kevin Bacon, "I Love Dick"
William H. Macy, "Shameless"
Eric McCormack, "Will and Grace"
Miglior attrice in miniserie o film tv
Jessica Biel, "The Sinner"
Nicole Kidman, "Big Little Lies" (VINCITRICE)
Jessica Lange, "Feud: Bette and Joan"
Susan Sarandon, "Feud: Bette and Joan"
Reese Witherspoon, "Big Little Lies"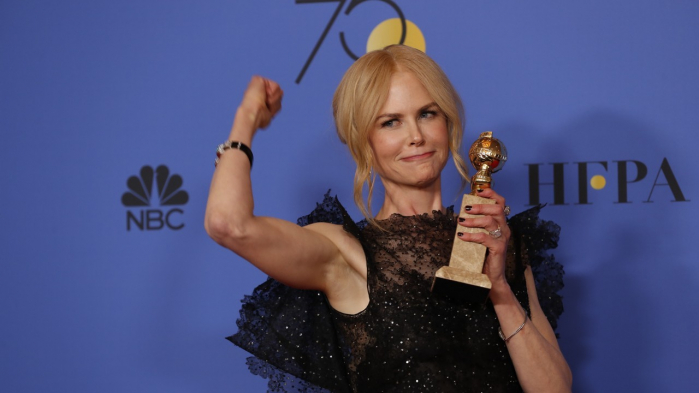 Miglior serie tv (commedia)
"Black-ish"
"The Marvelous Mrs. Maisel" (VINCITORE)
"Master of None"
"SMILF"
"Will & Grace"
Miglior serie tv (dramma)
"Game of Thrones"
"The Handmaid's Tale" (VINCITORE)
"Stranger Things"
"This is Us"
Miglior attore serie tv (dramma)
Sterling K. Brown, "This is Us" (VINCITORE)
Freddie Highmore, "The Good Doctor"
Bob Odenkirk, "Better Call Saul"
Liev Schreiber, "Ray Donovan"
Jason Bateman, "Ozark"