Tarantino XX: 20 anni di Tarantino in 8 film e 10 Blu-Ray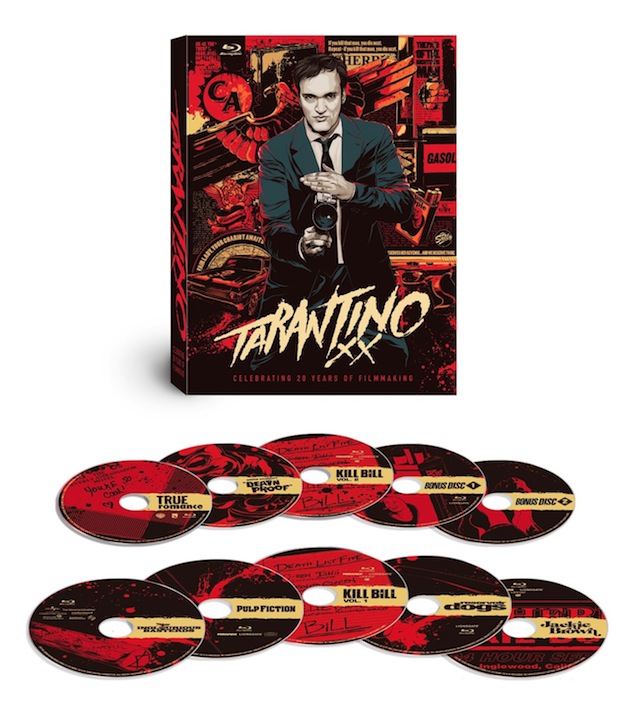 In uscita il prossimo 20 novembre negli Stati Uniti, questo mega cofanetto contiene:
– Reservoir Dogs (Le Iene)
– True Romance (Una vita al massimo)
– Pulp Fiction
– Jackie Brown
– Kill Bill Vol. 1
– Kill Bill Vol. 2
– Grindhouse – Death Proof (Grindhouse – A prova di morte )
– Inglourious Basterds (Bastardi senza gloria)
Oltre ai contenuti speciali:
Over 5 Hours of Never-Before-Seen Special Features Include:
Critics Corner: The Films of Quentin Tarantino In-depth critics' discussion piece exploring Tarantino's films that redefined cinema and the impact of one of the most influential writers/directors of our time.
20 Years of Filmmaking
Take a look at Tarantino's career from the beginning, with interviews from co-workers, critics, stars and master filmmakers alike as well as a tribute to his greatest collaborator, Sally Menke.
Costerà 120 dollari negli USA, su Amazon.com è già in pre-order scontato a 83 dollari. Non sono riuscito a trovare una data di uscita / prezzo per l'Italia.
#incautoacquisto inevitabile.