Lego Game Boy Transformer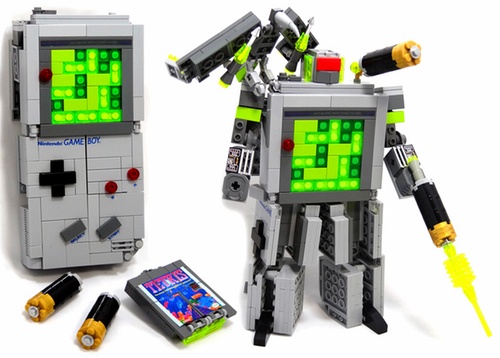 Queste creature si chiamano rispettivamente Domaster (nome che è un miscuglio proveniente da "Dot Matrix with Stereo Sound", la scritta che si trova sopra la parte superiore dello schermo dei vecchi Game Boy) il GB e Tetrawing il volatile piccoletto che sarebbe la cartuccia di Tetris.
Il creatore Julius von Brunk dice di avere impiegato un mese circa per progettare il Domaster.
Sì, ok, il vecchio Game Boy si puppava quattro pile stilo like a boss invece che due come si vede qua, ma direi che possiamo non farne un dramma.
Sotto approfondimento, moar details di Brunk:
[more]
I spent about a month or so (give or take) working on this Game Boy and cartridge — the latter of the two took freakin' forever to engineer properly. The final touches of the Game Boy came the custom water-slide clear decals that I printed for the first time ever, and surprisingly didn't screw up a whole lot (aside from the obvious crooked Nintendo Game half above the right thigh of the robot). Also, the "Dot Matrix" label printed out much darker than expected on my laser printer, ergo it's hard to see — but the blue-on-gray text for the buttons and Game Boy logo look damn fine! As for Tetrawing, his sticker is actually a high-res computer printout on glossy paper, cut apart like a puzzle and decoupaged to his LEGO frame with the help of Elmer's Glue.

The 2 AA battery blasters are a nice touch, if I must say so myself. It wasn't really difficult trying to engineer a sturdy but hollow system for the back of the legs to keep the two batteries encased; if anything, the head and arms took the longest to build on the robot. The arms turn sideways and fold behind the screen, whilst the head is attached to a series of hooks and hinges to fold back. The robot's feet fold at 90-degree angles and then slide into the lower legs. The legs rotate and form the bottom of the Game Boy. I used tiles to create the D-pad, A & B buttons, and the Select/Start buttons — which also took some time to figure out; originally I had planned to use thin, small gray bars to be the Select/Start buttons, and even tried using the small headlight clips from Star Wars Clone Trooper helmets.
[/more]
C'è altro da aggiungere? Vi lascio alla gallery, enjoy!
[nggallery id=464]