Big Sister costume from Bioshock 2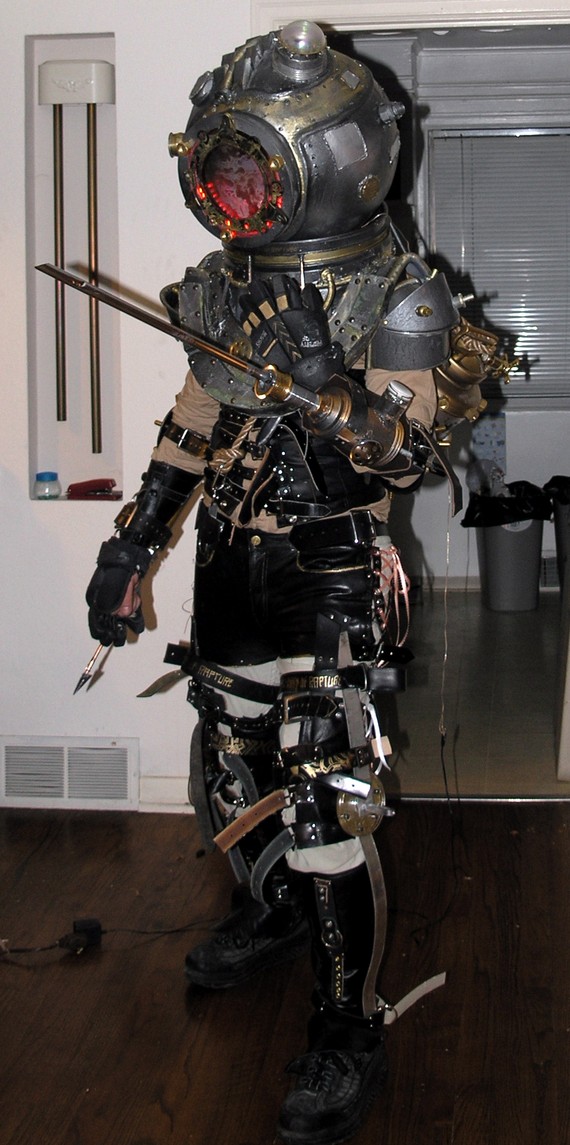 CUSTOM MADE BIOSHOCK 2 BIG SISTER COSTUME!
Do you want to have the best cosplay costume hands down? Well, you're looking at it.

Alright here it is, a custom made Big Sister costume from Bioshock 2. The main body is real leather with custom leather straps, metal buckles, rivet and sewn construction.
The Helmet is a combination of fiberglass, kevlar, metals, and has a plexiglass front "window" with red LEDs to make it glow.
The Chest plate is a combo of plastics, metals, foam, and more.
The arm "spike" is real chrome plated metal with a glass tube to keep the Adam in.
Custom leg braces are only on the outside of the leg to not inhibit walking and movement like actual leg braces do. These were also custom made.
Un fantastico costume hand made di Big Sister tratto da Bioshock 2. Potete acquistarlo QUI alla modica cifra di $600.
Qui sotto trovate la lista delle parti che compongono il costume:
1x Big Sister Helmet
1x Big Sister Chest piece
1x Big Sister "air tank" (non functional)
1x Leather corset/shirt
1x leather pants (upper and lower sections)
1x pair of leather boot spats (wear over your shoes and they appear as boots)
1x pair elbow pieces
1x pair wrist leather sections
1x pair gloves (only cover top of hand so one size fits all)
1x pair leg braces
1x large spike/needle attachment
1x small spike/harpoon wrist attachment
Via FuriaBazinga mattutina di Code2.