Memeopoly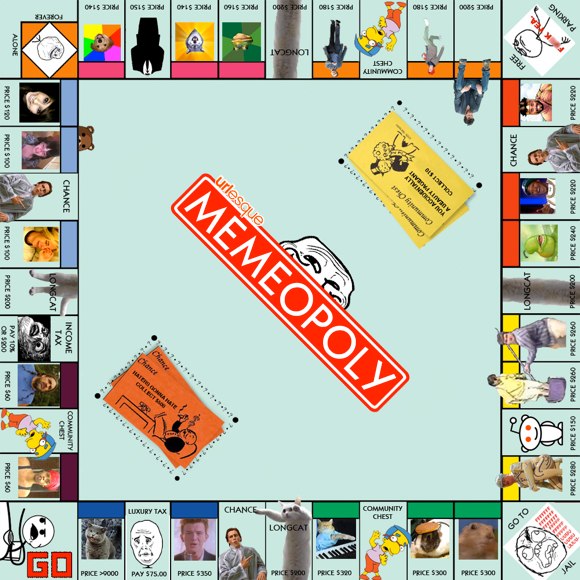 It's the first ever board game dedicated to buying and selling valuable internet content. Experience the rush as you build a Tumblr with all of the internet's favorite faces.
Chris Olivieri e Urlesque hanno creato una skin per il classico boardgame Monopoly, in questa versione a sostituire i classici "Vicolo Corto, Vicolo Stretto, Parco della Vittoria…" vi sono "tutti" i meme della rete!
Non sarà un must ma è un'idea molto carina che sicuramente verrà apprezzata da noi InternetBullshit-addicted! :D
Versione ad alta qualità, stampabile qui!
Vediamo se li conoscete tutti!:
[more]
* VIA: Cereal Guy
* Antoine Dodson
* Community Chest: Milhouse Is Not a Meme
* Double Rainbow Guy
* Income Tax: Raisins/Super FFFUUU-
* Railroads: Longcat
* Chris Crocker
* Chance: Doubles Guy
* Jessi Slaughter
* Boxxy
* Jail: Forever Alone
* Advice Dog
* Electric Company: Anonymous
* Courage Wolf
* Foul Bachelor Frog
* Strutting Leo
* Prancing Cera
* Sad Keanu
* Free Parking: Fuck Yea Guy
* Cool Story Bro
* U Mad
* LOL WUT
* Star Wars Kid
* Grape Lady
* Water Works: Reddit
* Tron Guy
* Go to Jail: FFFFUUUUUU
* Dramatic Chipmunk
* Oolong
* Keyboard Cat
* Rick Astley
* Luxury Tax: Okay Guy
* Happy Cat
[/more]
Altre versioni del boardgame citate su Lega Nerd:
Monopoly
Monopoly per donne
Queue: il Monopoly comunista
The original Monopoly game board
Anti-Monopoly
Monopoly for trekkies!
Monopoly… 75 anni dopo