Star Wars X Adidas Originals Ultrastar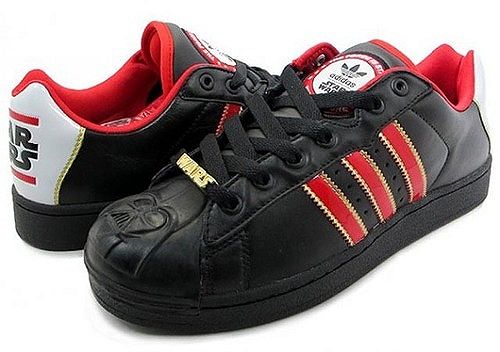 This pair of Ultrastar deserves a closer look. Before jumping into conclusion or postulating that the Star Wars x adidas Originals collaboration is running out ideas, the Ultrastar might offer a revelation to the upcoming releases. This time with an infusion of hip hop culture. Though for the most part, with the exception of the toe guard in the form of Darth Vader, the Ultrastar does represent hip hop's golden era in a subtle way. Turn to the heel tab of the show and there is your subtle reference – Star Wars lettings mounted in the form of Run DMC logo, a clever addition without deviation on the originals theme. The Star Wars x adidas Originals Ultrastar is currently for sale at select retailers worldwide.
Se non vi bastano le altre millemila scarpe di Star Wars e se siete veramente invasati di Darth Vader, ve lo potrete godere in bassorilievo sulle vostre calzature.
Articolo e altre immagini qui