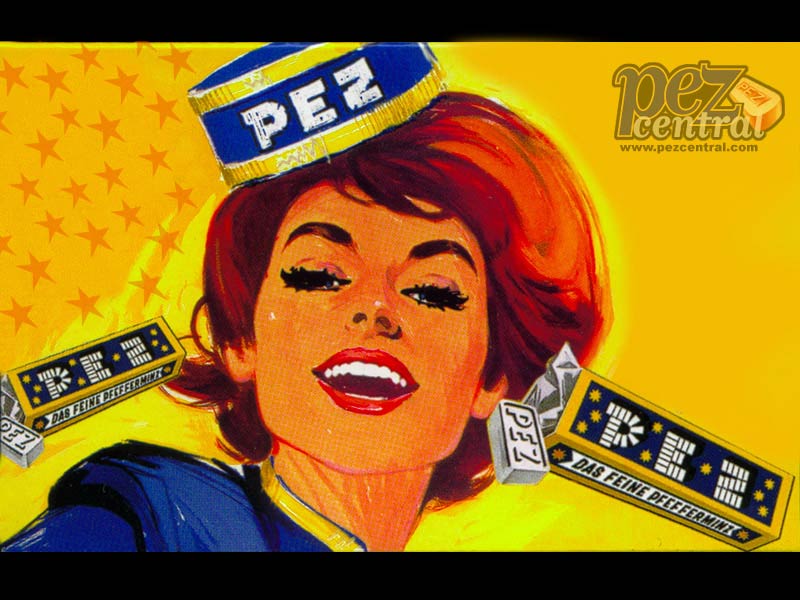 Pez was first marketed as a compressed peppermint sweet or candy in Vienna, Austria. It was invented in 1927 in Vienna by a confectioner named Eduard Haas III. Haas invented peppermints using family owned baking powders, and decided to serve the mints in small, hand-size containers. He manufactured a small tin to hold the mints, similar to the modern Altoids tins. The first Pez mint dispensers, known as "regulars," were similar in shape to a cigarette lighter, and dispensed an adult breath mint marketed as an alternative to smoking. They were invented by Oscar Uxa. Haas Food Manufacturing Corporation of Vienna, Austria, was the first to sell Pez products.

World War II slowed marketing and production. In 1945, manufacturers devised and promoted the Pez Box Regular. In 1952 Eduard Haas introduced his product to the United States, and Curtis Allina headed Pez's U.S. business. In 1955, the Pez company placed heads on the dispensers and marketed them for children. Santa Claus and Mickey Mouse were among the first character dispensers. Since 1950, over 1500 different Pez dispensers, including the original character dispensers have been created.

In 1973, Pez built their factory in Orange, Connecticut. In 1983, Scott McWhinnie became the president of the Pez company. He would retire in 2003, transferring the presidential position to Joe Vittoria in 2004. Around 2005 the size of the original factory was doubled and the Pez dispenser line was expanded. In the mid 1990's peppermint flavored Pez candies were reintroduced along with remakes of the 'regulars.'

In early 2006 the family of the original founder of the company bought back 32.5% of the stock from investment company PGH for €18M. They now own 67.5% of the company. The headquarters are in Traun, Austria. The Pez candies are produced in Traun and Orange, Connecticut, while the dispensers are produced in Hungary and China.
Molti di voi probabilemnte non li conoscono, altri invece li conoscono appena e alcuni sentiranno un sussulto al cuore. I PEZ fanno parte di noi e sono intorno a voi dal 1927, in vari formati e fattezze. Li conosciamo in particolar modo per la forma che riprende vagamente un accendino e per via dei molti caracter usati per contraddistinguerli. Nell'ormai lontano 1979 avevo 5 anni e non mi separavo mai dal mio PEZ@Pluto verde fluorescente :)
Wikipedia – PEZ
Wikipedia – Eduard_Haas
MIT – Haas
Museo PEZ
Haas
Dyr
–
DoYouRemember
è la rubrica che scava nei meandri della tua mente e riporta alla luce ricordi ormai sopiti da tempo.