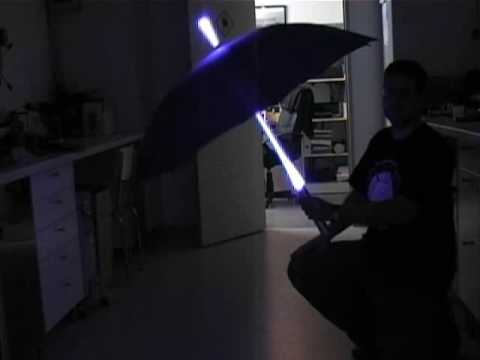 Here's a Blade Runner umbrella build that is done just a little bit too right. It delivers a double-dose of geekery with its lightsaber-gone-rain-protector look but where we think it crosses the line is at the built-in audio system. When you turn it on it plays recordings of popular lines from Blade Runner, something that might not fly in public. But the quality is in a different galaxy compared to the dollar store illuminated umbrella that we looked at last year.

[Erv' Plecter] replaced the central support rod for the umbrella with a clear polycarbonate tube. An optic cable snakes through the hollow tube, illuminated by a Luxeon LED in the handle. The custom PCB and 900 mAh battery are both housed there as well.
SBAV! potrebbe essere l'attrezzo cool di questo autunno-inverno!
Via Hack-a-day