L'incredibile Ecto-1 di Blitzway è disponibile per il preorder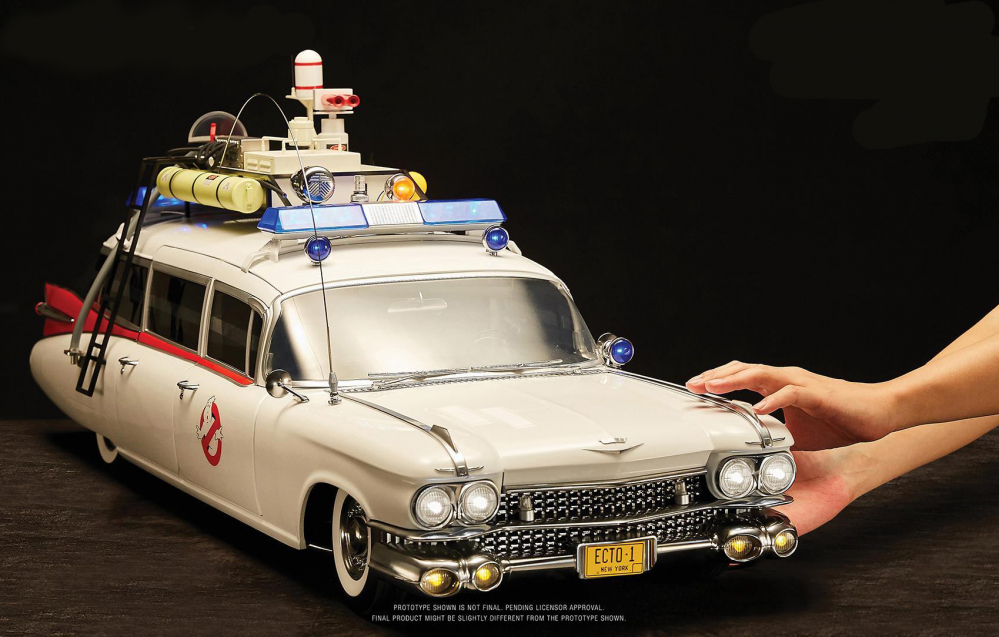 Vi abbiamo mostrato questo incredibile modello in scala 1:6 della Ecto-1 creato da Blitzway già mesi fa, ma ora è arrivato l'annuncio che aspettavamo: è possibile preordinare questa meraviglia in arrivo a fine 2018 e vedere molte più foto, date un'occhiata.
Finally, we are officially unveiling the other hero ECTO-1 of Ghostbusters! We highly appreciate your patience. Blitzway spent quite a lot of time to develop an immortal masterpiece that no one has ever seen before.

Accurate dimension, shape and structure evidenced to 1959 Cadillac. Precisely and exquisitely designed details of exterior and interior, along with realistic structures and props of ECTO-1.
High-end of fantastic lighting system and rotating light bar.
Embedded with Digital Audio Player with siren.

World's best automobile model ECTO-1 of measuring more than 40 inches in length and at an unbelievable quality. We confidently reveal this luxurious and elegant vehicle that will become the leader of your collections.
Ghostbusters Ecto-1 by Blitzway

L'incredibile Ecto-1 di Blitzway è disponibile per il preorder! Dettagli e galleria fotografica qua:https://leganerd.com/2017/11/20/ecto-1-blitzway#Ghostbusters #Blitzway #Ecto1

Posted by ToyCult on Monday, November 20, 2017
Sotto vi riportiamo le caratteristiche tecniche e una grande galleria fotografica su cui sbavare in attesa di aver messo da parte i quasi 1400 dollari necessari per portarsi a casa questo modello davvero enorme: oltre un metro di lunghezza!
License : ECTO-1 – Ghostbusters, 1984
Licensor: Sony Columbia Pictures
Product No. : BW-UMS10401
Product Type : Premium UMS (1/6th Scale Vehicle)
Product Size : Approximately L 1160mm W 450mm H 500mm
Release : 3Q-4Q 2018
Features
Highly Detailed likeness of ECTO-1 from the Ghostbusters, 1984
Highly Detailed likeness of the 1959 Cadillac Miller-Meteor Ambulance
Accurate roof rack and exterior structures
Precise and detailed engine and underside
Realistically designed structures and props
45 LED Light-up functions on the exterior & interior
Rotating light bars with 2 motors
Effect of Siren sound
Features audio paly with USB & micro SD plug-in
Fully openable of 5 doors and bonnet
Interlocking of front wheels and steering wheel
Turnable 4 Wheels
1 Movable Stretcher
Possible to riding 4 Ghostbusters Figures
Possible to setting up 4 Proton packs on the Movable Stretcher
★ Production details might be subject to change without any prior notice.
★ Prototype shown, final product may be slightly different
★ Ghostbusters Figures & Proton Packs are not included.
★ Battery is not included. 8pcs x AA Batteries are required.
Credits
Chief Producer : Won Choi
Chief Director : K Kwon
Marketing : Won Choi
Production Management : K Kwon
Art director & Supervisor : Hai Lim
Assistant Producer : Hyeok Jeon
3D Modeling : Konkuk Kim
Painting : Master-B
Electric Device & Lighting : Hyeok Jeon
Photographer : Shingiru Studio
Package Design : Hongbaksa
Editor of Photography : Hongbaksa
Special Thanks to Typhoon Kim-5PROSTUDIO
The Blitzway Design & Development Team
Manufactured by : BLITZWAY