Il Padrino in un minuto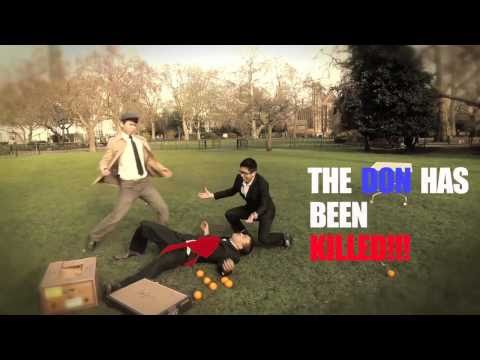 I fratelli Goto, due talentuosi filmakers inglesi di origini giappe, hanno partecipato con questo favoloso video al The Accenture Film Season, un contest indetto dalla Accenture, un'azienda globale di consulenza direzionale, servizi tecnologici e outsourcing, nel quale verrà premiato il miglior one-minute remake con un premio di £5,000.
If you're a talented thinker who can distil complex issues into innovative solutions, chances are you could succeed at Accenture. So why not show us exactly what you've got by entering our One-Minute Remake competition. Get all the details on the Remake Competition tab.

This is your chance to give us a star performance of your own – and win £5,000. Get your friends together, choose from the list of our favourite Oscar-winning films, and create a one-minute remake of it. It can be as original as you like. In fact, the more creative the better.
[more]
Directed and Written by Elizabeth Sia, Takahiro Goto and Yoshio Goto

Produced by Elizabeth Sia and Yoshio Goto

Camera and Editing – Takahiro Goto

Music – Zac Gvirtzman

Violin and Drums – Ed Hiller

Dubbing and 2nd A.D – Dilz Hussain

Props – Dilz Hussain, Elizabeth Sia and Yoshi Goto

Cast –

The Godfather – Shahan
Michael Corleone – Tee
Sonny Corleone- Dilz
Kay Adams-Corleone – Suwan
Tom Hagen – Ben
Johnny Fontane – Jeshua
Jack Woltz – Alex
Virgil "The Turk" Solozzo – Harkrishan
Mark McCluskey – Simbarashe
Enzo Aguello – Isteaque
Connie Corleone – Polina
Carlo Rizzi – Nikola
Priest – James
Michael's daughter – Risha
Nurse – Liz
Gangster 1 – Imran
Gangster 2 – Howard
Gangster 3 – Zhi Wei
Gangster 4 – Yoshio
Hitman 1 – Kok Ming
Hitman 2 – Peiyi
Hitman 3 – Alex
Hitman 4 – Jeshua
Policeman 1 – Chern Wei
Policeman 2 – Yu Shen
[/more]
Qui potete trovare la pagina facebook con tutti i dettagli del contest, mentre qua tutti i video inviati.