Webcomic At The Speed Of Light

Q: What programs do you use to draw your comics?
A: EVERYTHING IS LEGAL. GO AWAY, ADOBE.
Questo simpatico
webcomic
è Amazingsuperpowers. A dire il vero mi sembra molto strano che non se ne sia parlato ancora sulla Lega, è abbastanza spassoso e vecchio per meritarsi almeno un repost. Esce il lunedì ed il mercoledì. Gli autori sembrano poco ripetitivi, e con una notevole cultura pop, i riferimenti ai nostri decenni si sprecano.
Fruibile su
Amazingsuperpowers
Spoiler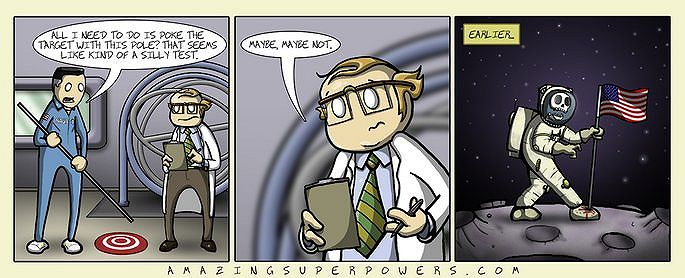 tip1: sul sito, se mantenete la freccetta sul comic, comparirà un ulteriore battuta riguardante il fumetto.
tip2: se invece cercate alla destra della strip, dovreste trovare una lucetta che clikkata vi aprirà un hidden comic sempre a tema.
Spoiler
Sono molto contento di avere la possibilità di condividere con voi cazzat notizie interessanti :D