Jan Calleja – The Munny Custom Master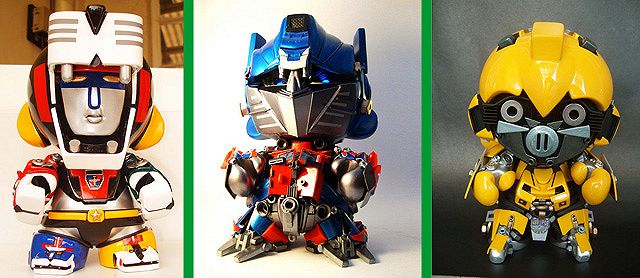 Jan Calleja comes from Pasig, Philippines which is best known for I don't actually know.

Back in the day, you thought of toys as ordinary playthings or something that's just nice to look at. Today you see them as ingredients for my design kitchen.

As a kid my favorite toy was my LEGO sets.

My first 'real' job was merchandising designer for Gift Gate.

Your favorite designer toy (by another artist) is the custom Mekanda robot Qee by Spencer Ong of Rotobox Vinyl Anatomica… creators of Ganmetall Celsius.

I choose to work with designer toys because all my weird / un-connecting ideas meet in this world. And because I can practice materials-handling with them.

The best blank platform to work on is a Munny or Ganmetall Celsius.

The most exciting moment in your career thus far has been my first commissioned work, which was for Pat Carlos (Iron Man Munny)… and, if I may add my upcoming project with Justin Cook (my first foreign commissioned work).

I dislike it when things don't go well with my works.

I love it when, after all the hardships of coming up with a piece, people like it when it's done.

The thing that inspires me most is my family.

Found objects, especially plastics, have been most influential media on my art.

The most underrated designers / artists today are my fellow artists here in the Philippines.

If I weren't making toys, I'd probably be doing my everyday job (graphic designer) doing nothing else at day's end. The excitement comes after midnight. That's when I tinker with my toys in my design kitchen (our little garage).

One thing most people don't believe about me is that I only got into customizing toys about three years ago.

When my fans read this questionnaire they will hopefully be happy that you featured me on your site. Happy enough for them to ask me to make them a custom toy that is…

All good ideas start with experience, inspiration, and the Peter Pan inside you.

My ultimate professional assignment… I don't know, I haven't thought of this one yet…

My day is not complete until I finish thinking ahead about projects that need more planning; like how to neatly paint a problematic joint area…

Filling out this D.I.Y feature survey was very enlightening.
Per me lui è un vero Maestro della customizzazione ed il suo Flickr lo può testimoniare!