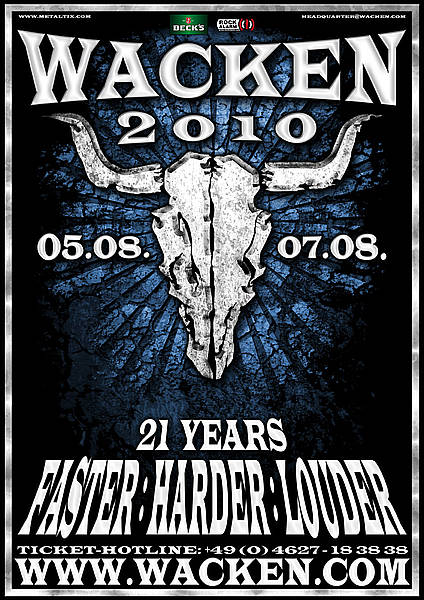 Il Wacken Open Air (W:O:A) è il più grande festival del genere musicale heavy metal al mondo. Viene organizzato ogni anno dal 1990 nel piccolo paesino di Wacken, al nord della Germania, a circa 70 km da Amburgo. L'evento attira ogni anno una folla numerosa di fan della musica metal (nel 2006 sono stati venduti circa 100.000 biglietti) provenienti da ogni angolo di Europa e anche dal resto del mondo.
Mancano 6 giorni all'inizio della 20esima edizione.
Se siete amanti del genere e se riuscite a rimediare ancora qualche biglietto eccovi una lista dei gruppi che potreste vedere:
5 agosto – 7 agosto: 1349, Alice Cooper, Amorphis, Arch Enemy, Astral Doors, Atrocity, Broilers, Caliban, Candlemass, Cannibal Corpse, Corvus Corax, Crucified Barbara, Debauchery, Degradead, Delain, Despised Icon, Die Apokalyptischen Reiter, Die Kassierer, Edguy, Ektomorf, Endstille, Equilibrium, End Of Green, Eternal Legacy, Evile, Fiddler's Green, Ghost Brigade, Gojira, Grave Digger, Hackneyed, Hanggai, Hells Belles, Holy Grail, Ihsahn, Ill Niño, Immortal, Imperium Dekadenz, Iron Maiden, Kampfar, Kataklysm, Lake of Tears, Letze Instanz, Maroon, Metsatool, Mötley Crüe, Nightmare, Orden Ogan, Orphaned Land, Overkill, Raven, Schelmish, Secrets of the Moon, Slayer, Smoke Blow, Solstafir, Stratovarius, Suicidal Angels, Tarja Turunen, The Devil's Blood, The New Black, The Other, Tiamat, Torfrock, Tyr, U.D.O., Unleashed, Varg, Voivod, W.A.S.P.