DBC 184: Beyond the Sun, RPG Digest, Moriarty, Freedom: the Underground Railroad
Due giochi davvero speciali, un sorprendente e originale librogame e un nuovo episodio del MaC's RPG Digest: una rubrica che è tutta una premessa!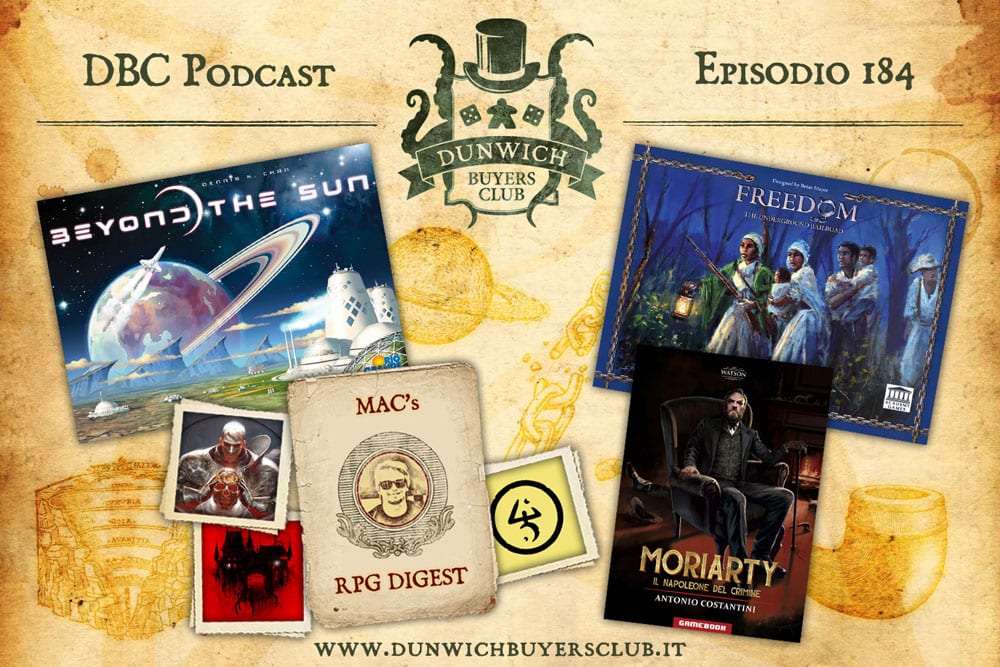 Questa settimana, al Dunwich Buyers Club:
Apertura inconsueta con l'atteso RPG Digest da parte del DucaConte, che comprime nel suo intervento tre eccellenti QuickStart. Da non perdere. Manuali? Chi ha bisogno di manuali? Dove andiamo, non abbiamo bisogno manuali!
Palla a Banda che ci presenta un gioco che ha sorpreso tutti, e in positivo. Beyond the Sun è un titolo tutto da scoprire, tra futuristiche folli tecnologie, pianeti da esplorare e un meccanismo semplice e brillantissimo. Ascoltare per credere!
Originale e sorprendente sono due aggettivi che ricicliamo volentieri anche per Moriarty – Il Napoleone del Crimine, il librogame che questa settimana il Capitano Rubbo porta a casa vostra. Non fisicamente, sia chiaro. Però potrebbe. Non abbiamo mai capito cosa faccia Ale a notte fonda. Chi lo sa. Occhio al campanello.
Freedom: The Underground Railroad è un gioco importante. Per diversi motivi. Scopriteli con Jack e buttatevi a pesce in un periodo storico travagliato, per un'esperienza cooperativa che non vi lascerà indifferenti.
Buon ascolto e come sempre… ci vediamo dall'altra parte!