The Secret Life of LEGO Bricks è il libro vincitore del contest LEGO Ideas [AGGIORNATO]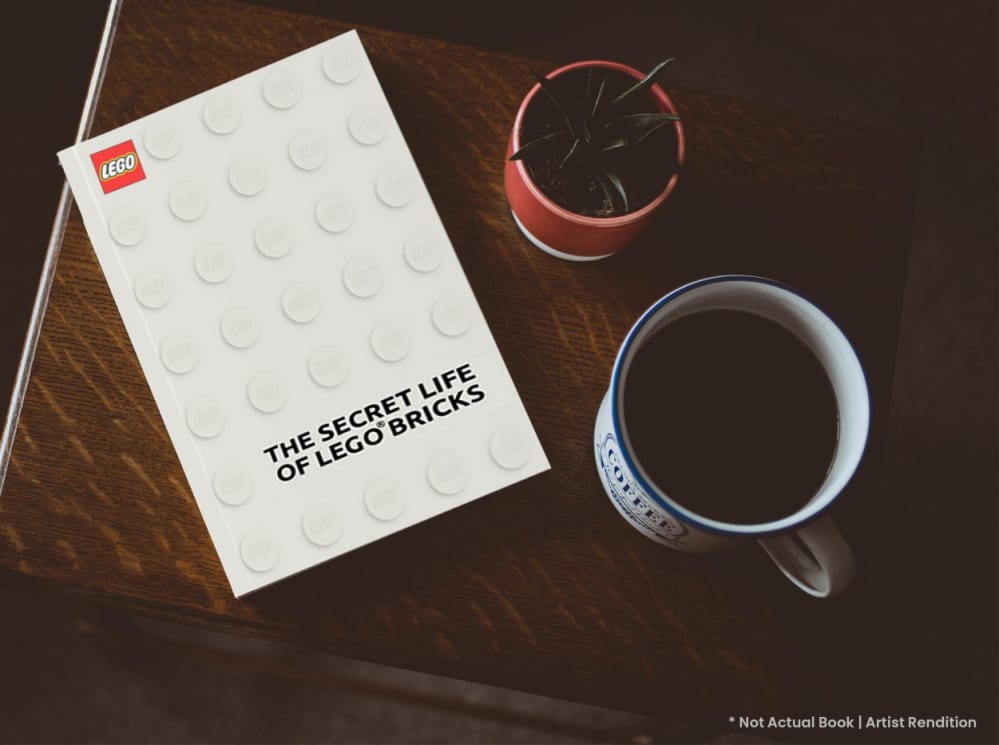 Il libro scelto dagli AFOL e vincitore del contest indetto su LEGO Ideas è stato annunciato e sarà: The Secret Life of LEGO Bricks.
AGGIORNAMENTO: sono emersi nuovi dettagli, non presenti nella press release, legati al libro The Secret Life of LEGO Bricks. È stata aggiunta la sezione "PROJECT SYNOPSIS" in cui Daniel racconta la storia dietro all'idea del libro e sul finale ci da qualche dettaglio sulla versione finale che ha in mente:
A full colour, high quality hardback with printed endpapers
279 x 229mm portrait with head and tail bands
At least 350-400 colour and black and white photographs
Approximately 368-400 pages, and 60-70,000 words
*Book designs, cover and other images are for illustrative purposes and may differ from final design.
---
A fine luglio era stato annunciato l'inizio di un nuovo contest col quale gli AFOL avrebbero dovuto votare uno dei tre libri dedicati agli AFOL LEGO, la cui votazione si è chiusa il 9 agosto. Oggi LEGO ha annunciato il nome del vincitore ovvero: The Secret Life of LEGO Bricks scritto da Daniel Konstanski, l'editor americano di Blocks Magazine.

Il libro, in ballottaggio assieme a The LEGO Brick Museum e LEGO history in 100 bricks, è disponibile già da ora sulla piattaforma di crowdfunding Unbound.com dove, in modo del tutto simile a come siamo già abituati a fare su Kickstarter, potrete preordinare la vostra versione del libro scegliendo il "pledge" che vorrete offrire in base alle scelte disponibili.
Di seguito la press release di Unbound.
Unbound launches the first-ever official LEGO®️ book created in partnership with Adult LEGO Fans
Unbound is excited to announce a major new initiative with AMEET, the LEGO Group's global strategic publishing partner, to launch the first official direct-to-consumer book created in partnership with Adult Fans of LEGO®️ (AFOLs).
Developed with input from a group of AFOL ambassadors and voted for via a public competition on LEGO®️ Ideas, The Secret Life of LEGO Bricks is a LEGO history like no other. Showcasing the extraordinary variety of LEGO elements, from monorail tracks and wheels to smart bricks, the Mask of Life from BIONICLE®️, and many more, The Secret Life of LEGO Bricks will feature interviews with the designers, managers and technicians who brought them to life, as well as artefacts from the LEGO Archive in Billund, Denmark.
The book will be written by Daniel Konstanski, the US Editor for Blocks Magazine and a passionate, lifelong LEGO fan. He is an ardent student of the LEGO Group, its portfolio of beloved products, and the AFOL community, having researched and written hundreds of articles covering every aspect of the hobby. Daniel is considered one of the most knowledgeable and authoritative voices in the fan community on the company and its products.
This is an exclusive, once in a lifetime opportunity to own a piece of LEGO history; The Secret Life of LEGO®️ Bricks will only be available through Unbound, and every fan who pre-orders will get their name printed in the back of the book. A range of additional must-have rewards from the LEGO Group include a print of the famous LEGO wooden duck dating from 1958 and retired LEGO sets retrieved exclusively from the 'LEGO basement', with more to be revealed.
Robin James Pearson, Head of Publishing at the LEGO Group, said: 'We are thrilled to be working closely with the AFOL community to identify, co-create, and publish unique books that satisfy the great thirst for knowledge of our adult fans. There have been a number of books published about the LEGO Group and the LEGO brick over the years, but this is the first time we have had the opportunity to work directly with the adult fan community to discover what titles they would like to see on their bookshelves.'
Unbound CEO Dan Kieran said: 'Unbound is a global publishing platform where superfans can come together to fund books that are too niche for the conventional mainstream marketplace. Along with the book itself, Unbound and their partners also create exclusive merchandise, experiences or tickets to events that will not be available in any shops. We're thrilled to be opening up Unbound to an iconic, global brand like the LEGO Group.'
AMEET Vice President and Publisher Eric Huang said: 'This collaboration with Unbound allows AMEET to expand its publishing to a new audience, reaching adult fans for the first time. We hope this is the start of a long and successful publishing venture.'
The crowdfunding campaign will launch on Monday 17th August at 3pm BST and will be accepting pledges until early 2021. Books are expected to arrive with pledgers by spring 2022.
This truly is a book for AFOLs, by AFOLs, with the full support and involvement of the LEGO Group.
More details can be found at the project page on Unbound here: https://unbound.com/books/lego/