LEGO Wooden Duck annunciato ufficialmente assieme alla nuova linea esclusiva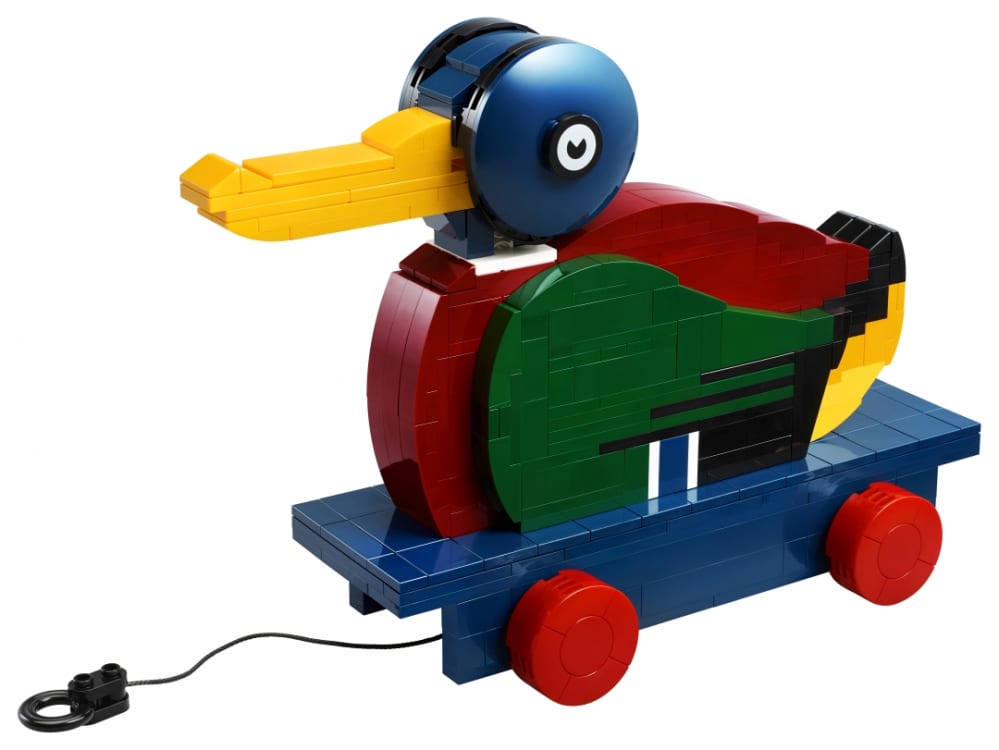 Dopo averne visto le istruzioni qualche settimana fa LEGO annuncia ufficialmente Wooden Duck (40501), il prossimo set esclusivo in vendita alla LEGO House ed il primo della nuova linea esclusiva del museo LEGO.
Con la riapertura della LEGO House prevista per il 22 giugno, LEGO si prepara, annunciandolo ufficialmente ieri, alla messa in vendita del nuovo set esclusivo, acquistabile solo preso la struttura di Billund, il 40501 Wooden Duck.
Il set è un omaggio ad uno dei primi giochi in legno creati da LEGO, un'anatra dotata di ruote che, se trascinata, apre e chiude il becco.
Anche la versione LEGO (così come quella di due anni fa di Jason Allemann) funziona allo stesso modo.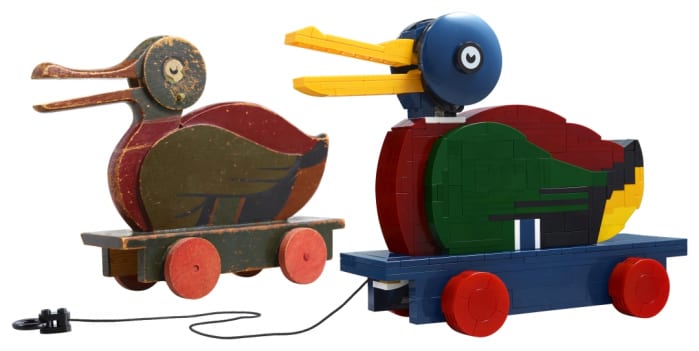 A differenza dei precedenti set esclusivi, il 21037 LEGO House Architecture, il 4000026 l'Albero della Creatività e il 40366 Dinosaurs, questo è il primo della nuova serie dedicata appunto al museo, chiamata, The LEGO House Limited Editions.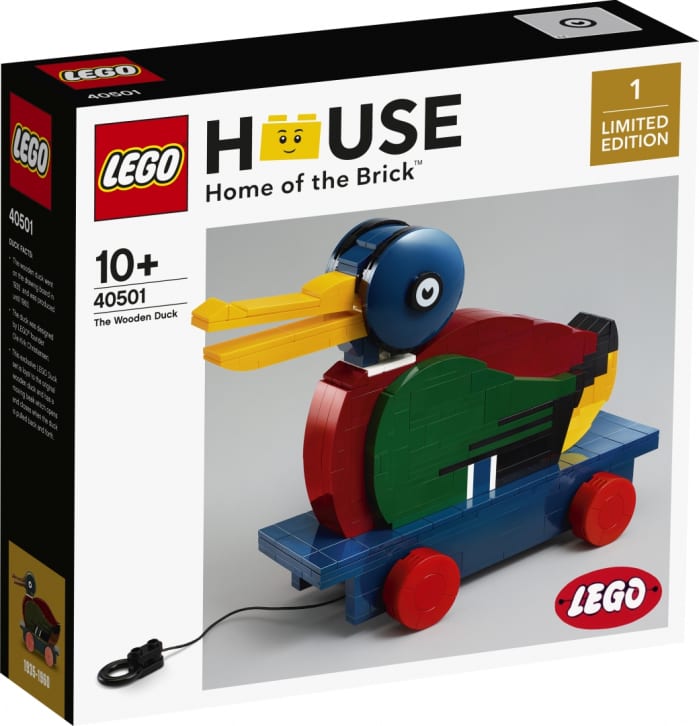 Lo erano anche i set precedenti, intendiamoci,  ma non avevo una serie ben definita, bensì, semplicemente (problemi di coronavirus a parte) i set erano in vendita esclusiva alla LEGO House solo per decisione di LEGO, non per altro. Ora invece LEGO ha deciso di creare una apposta linea dedicata al museo.
Il set sarà in vendita dal 22 giugno quindi al prezzo suggerito di 80 Eur.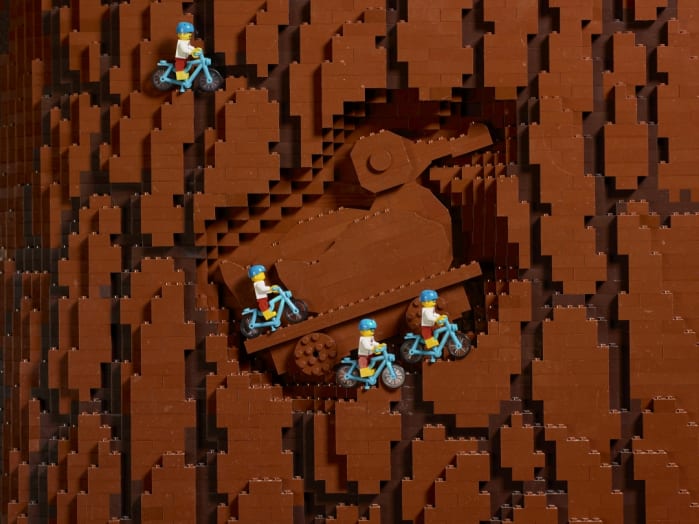 Di seguito la press release dell'annuncio.
LEGO House launches new exclusive series
An iconic piece of LEGO® building heritage is now available in Billund, Denmark. Ever since the opening of LEGO House in 2017 creating exclusive products has been important as they add significantly to the experience of visiting LEGO House – the pinnacle LEGO experience.
LEGO House is now introducing a new series called: The LEGO House Limited Editions. The Wooden Duck (40501) is the first in this exclusive range of collectable products celebrating key moments in LEGO history.
The original wooden duck is one of the most iconic features in the LEGO history and you can find the wooden duck replicated in LEGO bricks many places throughout LEGO House – in the Tree of Creativity in World Explorer and even in the Red Zone.
The first three exclusive products were the LEGO House Architecture set, the Tree of Creativity and the LEGO House dinosaurs.
---
The story behind the LEGO® duck
More than 100 years ago, 24-year-old Master Carpenter Ole Kirk Kristiansen buys a wood workshop in the tiny town of Billund, Denmark. From the very first toys coming out of Ole Kirk's workshop, the dedication to quality and functionality is obvious. The design and the carving, sanding, and painting of each piece of toy is done to perfection because Ole Kirk is convinced that children deserve toys of high quality, made of the finest materials, so that they will last for many years of play.
In an interview from 1982, Ole Kirk's son, Godtfred Kirk, shares the following story about his father's focus on quality:
Working in his father's workshop as a boy, Godtfred Kirk is laying the finishing touches on a consignment of wooden LEGO ducks. This means applying coats of varnish, and finally bringing the boxes with the finished toy ducks to the train station for dispatch. Back at the workshop, Godtfred proudly announces to his father that he has done something really clever and saved the company money.
"How did you manage that?" asks Ole Kirk.
"I gave the ducks just two coats of varnish, not three as we usually do," is Godtfred Kirk's answer.
Back comes his father's prompt response:
"You will immediately fetch those ducks back, give them the last coat of varnish, pack them and return them to the station! And you will do it on your own – even if it takes you all night!"
"That taught me a lesson about quality,"
Godtfred Kirk recalls and continues to explain how he then carved out wooden signs with his father's motto "Only the best is good enough" to hang on the walls of the workshop to remind himself and the rest of the employees never to compromise on the quality of a LEGO product.
Throughout his life, Godtfred Kirk remembers his father's words and to this day, "Only the best is good enough" – because children deserve the best.
---
Duck Facts:
Between 1932 and 1947, the LEGO® company solely produced wooden toys.
From 1947 onwards, the LEGO company produced both wooden and plastic toys before switching solely to plastic in 1960.
The wooden duck went on the drawing board in 1935 and was produced until 1960.
The duck was designed by LEGO founder Ole Kirk Kristiansen.
Through the years, the wooden duck has been produced in various sizes and shapes.
The most popular duck was the same type as the one in the exclusive LEGO House set: It has a moving beak which opens and closes when the duck is pulled back and forth.
Facts about The Wooden Duck:
The Wooden Duck recreates an iconic moment from LEGO® history. This display model perfectly captures the handmade style of the original.
The 621-piece model measures over 8" (20cm) high, 7" (22cm) long and 1" (3cm) wide and stands on a base measuring over 5" (13cm) square.
Base comprises printed tiles with the words ' LEGO® House' and 'The wooden duck'.
Ideal for fans of LEGO® building and collectors of toy memorabilia. Suitable for ages 10 and up.