Stranger Things 4: la lunga lista dei film che hanno ispirato la nuova stagione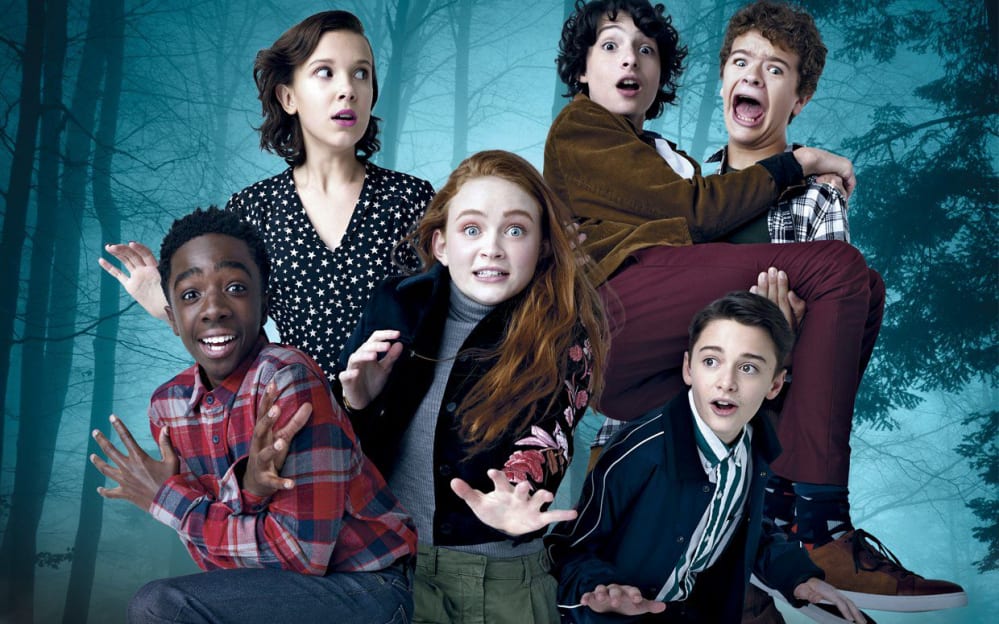 Gli sceneggiatori di Stranger Things 4 hanno raccolto su una lavagna bianca tutti i titoli dei film che hanno ispirato la quarta stagione dello show su Netflix.
Stranger Things è sicuramente una delle serie più popolari di Netflix, sia per il fatto di essere in grado di tenere incollati i suoi spettatori alla TV, sia per quel suo tocco nostalgico anni '80 che va molto di moda. Palese è la sua ispirazione ai lavori di Stephen King e Steven Spielberg, ma ora gli sceneggiatori hanno rivelato una lunga lista di film che in qualche modo hanno influenzato i lavori sulla quarta stagione della serie.
Si tratta di una sorta di giochino iniziato su Twitter lo scorso ottobre dagli sceneggiatori, quindi poco dopo l'annuncio con il primo teaser di Stranger Things 4, in cui ogni venerdì organizzavano una sorta di "serata cinema", rivelando cinque dei vari film che hanno guardato insieme e che hanno ispirato la quarta stagione. Adesso hanno raccolto tutti i titoli in un unico listone, che hanno reso pubblico proprio su Twitter.
I film sono veramente tanti e molto diversi tra loro: si va da titoli usciti negli anni '80 a lavori più moderni come Thor: Ragnarok, da Quei Bravi Ragazzi a film d'animazione come Inside Out. Insomma, un bel miscuglio di generi.
Ecco la lista:
The Peanut Butter Solution
The Fisher King
Bill and Ted's Bogus Journey
You've Got Mail
Ordinary People
Hellraiser 2
Billy Madison
The Fast and the Furious: Tokyo Drift
Harry Potter and the Chamber of Secrets
Black Swan
Young Sherlock Holmes
Ace Ventura: Pet Detective
Hackers
Silence of the Lambs
The Good Son
Amelie
Paradise Lost
Pineapple Express
The Girl with the Dragon Tattoo
Drop Dead Fred
Fallen
Starship Troopers
What's Eating Gilbert Grape
Mystic River
Assassin's Creed (the movie)
12 Monkeys
High School Musical
Let the Right One In
A Goofy Movie
The Matrix
Edward Scissorhands
Backdraft
Karate Kid
It's a Wonderful Life
Congo
The Cider House Rules
Mimic
Twister
Bram Stoker's Dracula
What Dreams May Come
Scrooged
Little Women (1994)
Die Hard
Home Alone
Dreamcatcher
Primal Fear
My Cousin Vinny
Nightmare on Elm Street 3: Dream Warriors
The Birdcage
Welcome to Marwen
Lost Boys
Clueless
Crank 2: High Voltage
Girl, Interrupted
Who Framed Roger Rabbit
Casablanca
Reality Bites
The Crow
The Guardian
Orphan
Thor: Ragnarok
The Pumaman
47 Meters Down: Uncaged
Constantine
War Dogs
Indiana Jones and The Temple of Doom
Jupiter Ascending
Labyrinth
Splice
Step Up 2: The Streets
I Am a Fugitive from a Chain Gang
Papillon
The Great Escape
Stalag 17
The Shawshank Redemption
The Book of Henry
The Cell
Enter the Void
True Lies
Tangled
The Blair Witch Project
Unleashed
Paddington 2
Speed
Mad Max: Fury Road
Babe: Pig in the City
The Hobbit: The Desolation of Smaug
Jurassic World: Fallen Kingdom
Star Wars: The Empire Strikes Back
Terminator 2: Judgement Day
Timeline
The 13th Warrior
Never Been Kissed
The Truman Show
North by Northwest
Zoolander
Total Recall (1990)
Skyfall
Tombstone
The Long Kiss Goodnight
Open Water
The Visit
Sky High
The Lord of the Rings Trilogy
Death to Smoochy
Shooter
American Sniper
Batman v Superman
The Visit
Italian Job
Mask of Zorro
Dukes of Hazard
Hell or High Water
Castaway
The Fly
Teenage Mutant Ninja Turtles
Aristocats
Analyze This
I Am Legend
Armageddon
Pan's Labyrinth
Batman Begins
Spy Kids
Magnolia
Swingers
2001: Space Odyssey
Burn After Reading
The Prestige
Saving Private Ryan
Reservoir Dogs
The Neverending Story
The Mummy
Leon: The Professional
Goodfellas
Raiders of the Lost Ark
Almost Famous
Men in Black
Zodiac
Little Miss Sunshine
Doom
Sword in the Stone
Wayne's World
The Craft
The Rock
Ravenous
Cabin In the Woods
Hidden
Forrest Gump
Knives Out
Inside Out
Con Air
In Cold Blood
Inception
Toy Story 4
Road Warrior
The Crazies
The Shape of Water
The Mist
The Revenant
Rogue One
The Ring
Fargo
The Green Mile
Stoker
War Games
Misery
Red Dragon
Swordfish
Superbad
Hellraiser
To Kill a Mockingbird
Ocean's 8
No Country For Old Men
Orange County
28 Days
Society
Ex Machina
Ferris Bueller
Deep Blue Sea
Full Metal Jacket
The Shining
The Perfect Storm
Dogma
Swept Play
The Dark Knight
Pulp Fiction
Ocean's 11
Ocean's 12
What Women Want
Predator
Good Will Hunting
Welcome to the Dollhouse
High Fidelity
Wet Hot American Summer
The Descent
Kingsmen
Prisoners
Hurt Locker
Princess Bride
Arrival
Sicario
Minority Report
Source Code
Se7en
Godzilla: King of Monsters
Basketcase
Willow
Mr & Mrs Smith
Hunger Games
Interview with the Vampire
What Lies Beneath
The Terminal
Unforgiven
James Bond (all)
Beetlejuice
Crank
Unbreakable
True Romance
Terminator: Dark Fate
Peter Pan
The A-Team
One Flew Over the Cuckoo's Nest
Ghostbusters
Wizard of Oz
Inner Space
Wanted
The Natural
The Fifth Element
Beverly Hills Cop
King Kong (Peter Jackson's)
Highlander
Silver Bullet
The Birds
Splash
Beauty and the Beast
Event Horizon
Titanic
Avengers: Age of Ultron
Altered States
Into the Spider Verse
Emma (2020)
Broken Arrow
Crimson Tide
Island of Doctor Moreau
Behind Enemy Lines
The Lighthouse
Dancing with Wolves
Get Out
Don's Plum
The Raid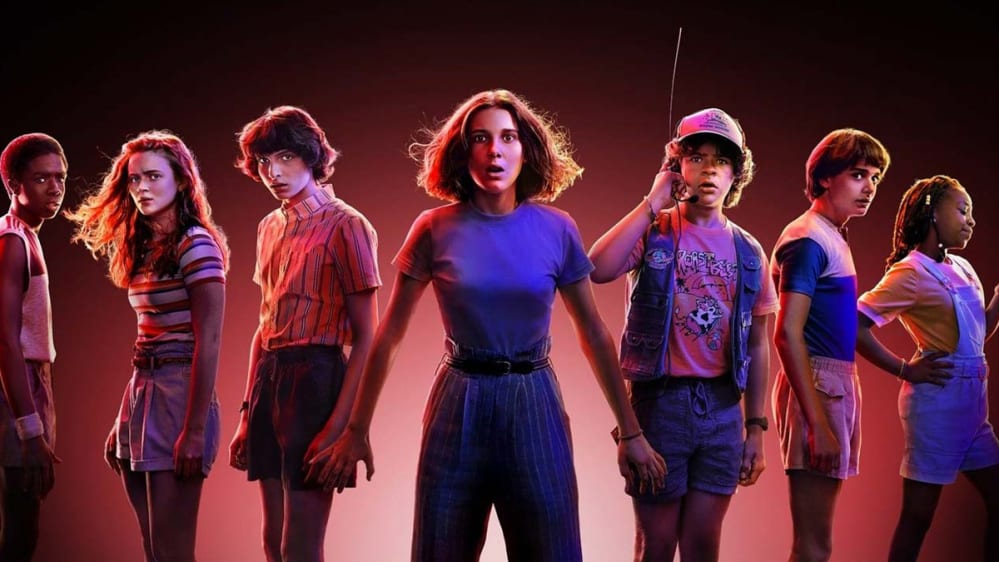 Questo però non vuol dire che Stranger Things 4 avrà per forza elementi riconoscibili da tutti questi film, ma magari potremo divertirci a scovarne qualche citazione una volta che sarà uscita.
Che ve ne pare? Cosa vi aspettate dalla quarta stagione della serie dei Fratelli Duffer?