Macy's Thanksgiving Day Parade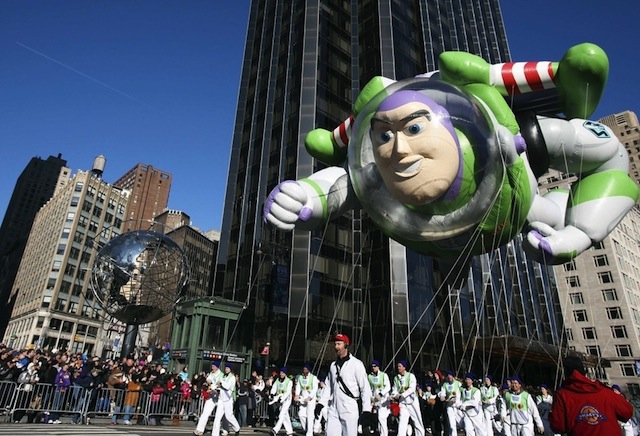 The Macy's Thanksgiving Day Parade, often shortened to Macy's Day Parade, is an annual parade presented by Macy's. The tradition started in 1924. The three-hour event is held in New York City starting at 9:00 a.m. EST on Thanksgiving Day.
Fin dal 1924 i grandi magazzini Macy's organizzano a New York per il giorno del ringraziamento una incredibile parata di enormi gonfiabili rappresentanti vari simboli della cultura americana e non.
Le origini sono attribute ai primi dipendenti di Macy's che negli anni venti erano in gran parte emigrati dall'Europa e volevano con questa idea celebrare gli Stati Uniti e al tempo stesso ritrovare il genere di parata e festa tipica dei loro paesi di origine.
Ecco un po' di foto storiche della parata, veramente strepitose:
[nggallery id=237]
Mentre per i primi anni della parata ci si affidò ad artisti circensi e si fecero sfilare gli animali dello Zoo centrale di New York, dal 1927 si cominciò ad utilizzare delle figure gonfiabili prodotte dalla Good Year, il primo baloon fu quello di Felix the Cat.
Gonfiati ad elio per farli galleggiare in aria, questi enormi baloon sono il simbolo stesso della parata: nel 1928 vennero rilasciati per la prima volta in aria a fine parata, ma, inaspettatamente, esplosero dopo pochi minuti.
Venne così studiato un sistema specifico di valvole che consentissero ai palloni di volare per giorni dopo la fine della parata. Al tempo stesso ogni pallone riporta l'indirizzo a cui riconsegnarlo, in cambio di un regalo di Macy's, se ritrovato a terra sgonfio.
Nel 1933 si arrivò ad un milione di persone e nel 1934 arrivò un certo Mickey Mouse tra i personaggi volanti della parata.
Un video della parata del 1954: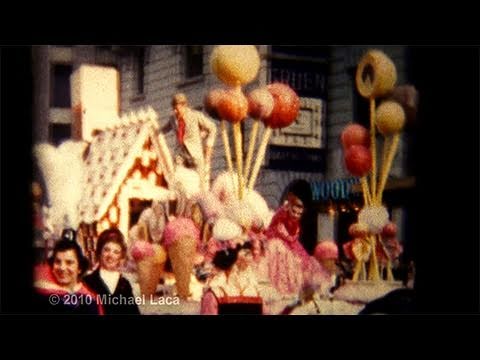 Ecco la lista sotto approfondimento di tutti i personaggi che hanno sfilato nella parata sotto forma di gonfiabili enormi:
[more]
2011: Sonic the Hedgehog (second version), Paul Frank's "Julius," Tim Burton's "B"[12]
2010: Greg Heffley, Po from Kung Fu Panda, Virginia O'Hanlon
2009: Pillsbury Doughboy, Sailor Mickey Mouse (4th version), Ronald McDonald (3rd version), Spider-Man (2nd version)[13]
2008: Horton the Elephant, Buzz Lightyear, Smurf
2007: Shrek, Hello Kitty, Abby Cadabby
2006: Pikachu with Poké Ball (2nd version), Energizer Bunny, Flying Ace Snoopy (6th version)
2005: Dora the Explorer, Scooby-Doo, Healthy Mr. Potato Head, JoJo
2004: SpongeBob SquarePants (character), M&M's, Chicken Little
2003: (Strike up the Band)Barney (2nd version), Super Grover, Garfield (2nd version)
2002: Kermit the Frog (2nd version), Little Bill, Rich Uncle Pennybags, Charlie Brown
2001: Curious George, Big Bird (2nd version), Jimmy Neutron, Pikachu, Cheesasaurus Rex,
2000: Bandleader Mickey Mouse (3rd version), Ronald McDonald (2nd version), Jeeves, Cassie Dragon Tales
1999: Millennium Snoopy (5th version), Honey Nut Cheerios Bee, Blue's Clues, Petulia Pig
1998: Babe the Pig, Wild Thing, Dexter
1997: Arthur, Rugrats, Bumpé
1996: Rocky and Bullwinkle (2nd version), Peter Rabbit
1995: Dudley the Dragon, SkyDancer, Eben Bear
1994: Barney the Dinosaur, The Cat in the Hat.
1993: Beethoven (dog), Rex, Sonic the Hedgehog (first video game character in parade history), Izzy
1992: Santa Goofy
1991: Babar the Elephant
1990: Clifford the Big Red Dog, Bart Simpson
1989: Bugs Bunny
1988: Big Bird, Pink Panther, Snoopy (4th version) with Woodstock.
1987: Spider-Man,[13] Ronald McDonald, Snuggle Bear, Skating Snoopy (3rd version), Ice Cream Cone Novelty Balloon
1986: Baby Shamu, Humpty Dumpty, Nestlé Quik Bunny
1985: Betty Boop, Ornament Novelty Balloons
1984: Garfield, Raggedy Ann
1983: Yogi Bear
1982: Olive Oyl with Sweetpea (first female character in parade history), Woody Woodpecker,
1980: Superman (3rd version, largest balloon to appear in parade)
1977: Kermit the Frog
1975: Weeble
1972: Smile (Happy Face), Mickey Mouse (2nd version), Astronaut Snoopy (2nd version, a tribute to Apollo 11)
1968: Aviator Snoopy
1966: Smokey Bear, Superman (2nd version)
1965: Underdog
1964: Linus the Lionhearted
1963: Sinclair Oil Dinosaur, Elsie the Cow
1962: Donald Duck
1961: Bullwinkle J. Moose
1960: Happy Dragon
1957: Popeye
1954: [Spaceman]
1951: Lucky Pup, Mighty Mouse, Flying fish
1949: Toy soldier
1948: Harold the Fireman (4th version)
1947: Artie The Pirate, Gnome, Harold the Police Officer (3rd version)
1946: Harold the Baseball Player (2nd version)
1945: Harold the Clown (1st version)
1940: Eddie Cantor, one of only two balloons based on a living person or people,[14] The Tin Man
1939: Superman
1938: Uncle Sam
1935: The Marx Brothers (after Zeppo Marx's departure)
1934: Mickey Mouse
1931: Mama, Papa and Baby
1927: Felix the Cat
[/more]
Ma ovviamente la lista è infinita e comprende anche i Falloon (palloni ), i Balloonicle, decine di spettacoli, performance e altro.
Ed ecco un po' di foto da quest'anno, la 85a edizione, a cui si stima abbiano partecipato per le vie di New York 3,5 milioni di persone… impressive!
[nggallery id=236]
Photo Credits: 1 – 2 – 3 | Macy's Thanksgiving Day Parade (Wikipedia)