Guinness World Records Gamer's Edition 2011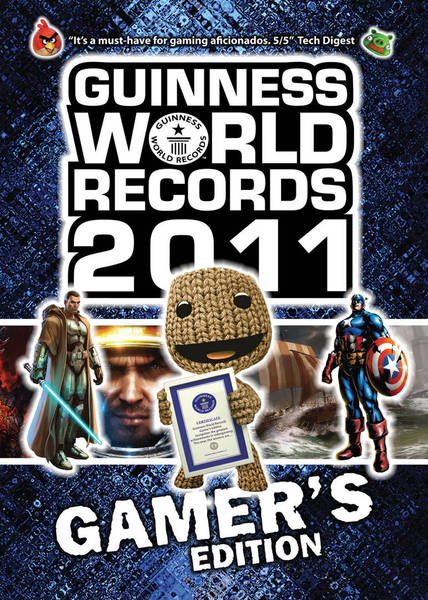 L'edizione 2011 del
Guinness World Records Gamer's Edition
contiene al solito una devastante sequenza di record del mondo dei giochi e videogames, dai più estremi ai più demenziali.
Wired riporta 10 tra i più interessanti, vedi sotto nell'approfondimento (l'ultimo merita):
[more]


First Game to Have an Officially Recognized Day

Winner: Sid Meier's Civilization V

How it won: Maryland Gov. Martin O'Malley declared Sept. 21, 2010, "Sid Meier's Civilization V Day" to honor the game's release and celebrate the strength of the game-development industry in his state, which developer Firaxis calls home. I say we take it one step further and just call it "Sid Meier's Day."

First Public Official Fired for Playing FarmVille

Winner: Dimitar Kerin

How he won: By playing FarmVille during government discussions. Kerin, who was part of the Plovdiv (Bulgaria) Municipal Committee, lost his job (and won this record) by "using council-owned laptops to 'milk virtual cows' during important meetings," according to Guinness. The committee immediately voted to give him the boot.

Longest Survival on a 6-Star Wanted Level in Grand Theft Auto IV

Winner: Henrik Lindholm

How he won: The Danish native survived for 16 minutes, 16 seconds at the Copenhagen eSport Challenge on April 13, 2009. He fought against cops, snipers and a massive helicopter gunship while achieving this feat. This may seem really impressive, but I'm willing to bet he couldn't do it in real life.

Most Lines of Commentary in an NFL Videogame

Winner: Madden NFL 2011

How it won: The most recent installment in the Madden series features more than 90,000 lines of commentary by Gus Johnson, Cris Collinsworth and other assorted voice actors. Unfortunately, EA Sports couldn't snag any classic Rex Ryan soundbites.

Since EA owns the exclusive NFL license for videogames, no one but EA will be able to break this record.

Largest Collection of Pokémon Memorabilia

Winner: Lisa Courtney

How she won: Courtney's horde of Pokémon treasure consists of a whopping 14,410 different collectibles, including objects from Europe, the United States and Japan. Not included: actual Pokémon.

First Facebook Game to Cause a Lawsuit

Winner: Scrabulous

How it won: When at its peak back in 2007, Facebook Scrabble clone Scrabulous was drawing in $25,000 a month from its 2.4 million users. Since Scrabble owners Mattel and Hasbro weren't seeing any of this profit, they decided to sue Scrabulous for copyright infringement. Several months later, Scrabulous received a cease-and-desist order. (It's now known as Lexulous.)

Most "F" Words in a Videogame

Winner: Mafia II

How it won: While 2K's mob-themed action-adventure game didn't snag any 2010 Game of the Year awards, it is the front-runner for Most Obscene Script. Mafia II can drop up to 397 F-bombs in an average 12-hour play-through. That's 33 per hour, or an average of one every two minutes.

Most Prolific Cooking Mama Record-Breaker

Winner: William Willemstyn III

How he won: U.S. resident Willemstyn holds nine different records on the original DS version of Cooking Mama, including the titles for cracking eggs, peeling shrimp and stuffing cabbages. Eat your heart out, Bobby Flay.

Widest Variety of Player-Death Animations

Winner: Resident Evil 4

How it won: Capcom's horror-action game features 47 unique death animations for protagonist Leon Kennedy, including decapitation, drowning and stabbing. This includes one of my favorite scenes in any videogame — shooting the lake.

Most Expensive Virtual Property

Winner: Crystal Palace Spec Station

How it won: This space station is part of Entropia Universe, a massive multiplayer online game that allows for currency transactions based on real money. U.S. player Erik Novak paid 3.3 million in-game dollars, the equivalent of $330,000, for the Crystal Palace Spec Station.

$330,000.

He spent $330,000 on a piece of digital real estate.

Shoot me in the head.

[/more]