The Fuck List: An education beyond the classroom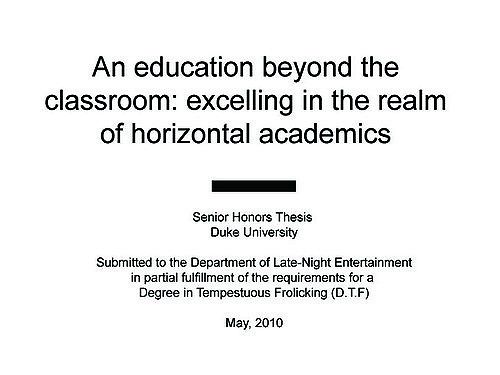 Tutto ha inizio quando Karen, studentessa della prestigiosa Duke University, ha la bella pensata di raccogliere in un Power Point, in forma di tesi, la valutazione delle performance sessuali di 13 suoi amanti e colleghi di studio.
Titolo: "An education beyond the classroom: excelling in the realm of horizontal academics."
Fa un bel lavoro, con taglio scientifico, usando eufemismi vari ("volontari" al posto di partner, "raccolta dati" al posto di sesso, voto finale su scala 1-10 etc), impacchetta il tutto e lo manda a 3 amici per farsi due risate.
Poi, come era ovvio, le slide arrivano al popolare blog Jezebel e alla fine fanno il giro del mondo.
E la povera Karen si trova costretta a pubbliche scuse nei confronti dei 13 partner…
Il migliore:

E il peggiore:
Morale della favola: tromba chi vuoi ma tienilo per te, the net is vast and infinite!