Beretta m92f sword cutlass: Le pistole di Revy (Black Lagoon)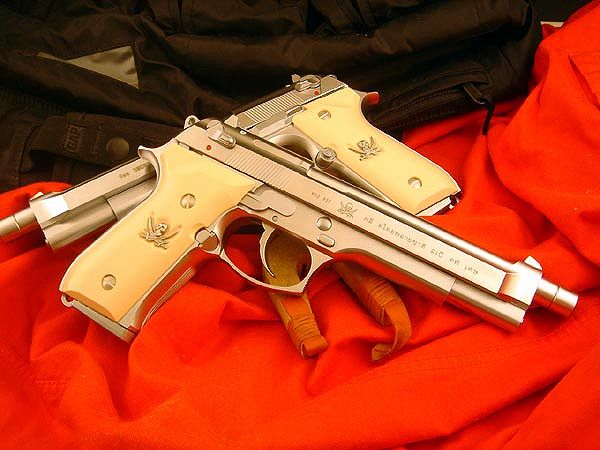 The CQB Master is the newest line of Gas Blowback pistols by WE made exclusively for High End Airsoft players. This pistol is inspired by the Beretta used by the character Revy in the anime Black Lagoon (ブラック ラグーン). Starting with the internal upgrades, the CQB Master product line focuses on performance first. Anyone who fires a CQB Master pistol will immediately recognize a sharper snap to the recoil and a smoother cycling action when compared to other off-the-shelf pistols. What would cost more in aftermarket upgrades comes standard with all CQB Master pistols.
Dimension: N/A
Magazine Capacity: 25 rounds. This pistol use all Tokyo Marui, WE, KJW M9 compatible magazines. Recommend WE / CQB Master M9 Series Mag for best compatibility.
System: Gas Blowback w/ adjustable hopup system.
Muzzle Velocity: 280~320 fps
Package Includes: Gun, Manual, magazine.
Manufacturer: CQB Master (RT)
OEM: WE-Tech / WETTI
BB: 6mm Airsoft High Grade bbs. (Recommend 0.23g Matrix or heavier due to high FPS)

Features :
– Enhanced Accuracy (Longer barrel)
– Enhanced Power (High FPS)
– Full Metal Silver Color Metal Long Slide
– Full Metal Silver Color Metal Frame
– Full Metal Silver Color Long Outer Barrel
– Custom Pirate Skull and Crossed Bones "Jolly Roger" Grip
– Custom Laser Engraved Markings
– Realistic Blowback hard kick action.

– On Frame Safety.
– Slide Stops when magazine empties. Working slide release.
– On Frame magazine release button simulating real M9!
Bella vero? soprattutto per la pheega manga che la "tiene in mano", occhio all'incauto acquisto per 135,00 $