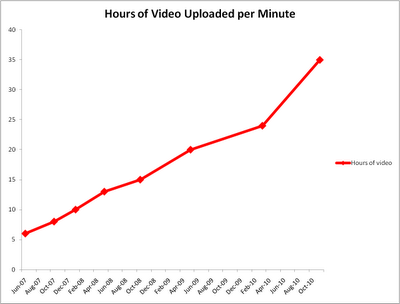 Youtube è stata una delle tante rivoluzioni di internet e non smette ancora di stupire! Secondo le ultime notizie divulgate dal blog ufficiale, attualmente vengono uploadate 35 ore di materiale al minuto.
Già a marzo, quando era uscita la notizia delle famose 24 ore di upload ogni minuto, sembrava che youtube fosse a dei livelli di crescita incredibili e soprattutto insostenibili per molto tempo. Invece ci ritroviamo con questo, e a quanto pare le ambizioni sono di arrivare a 48 ore di upload al minuto.
C'è anche da dire che la crescita è stata influenzata da vari fattori…

-The time limit for videos uploaded by users increased by 50% from 10 to 15 minutes.
-The upload file size increased over the last few years by more than 10x to 2GB via our standard uploader.
-Mobile phones have improved dramatically in how quickly and easily they upload videos to YouTube.
-More companies integrating our APIs to support upload from outside of YouTube.com (Activision's Call of Duty Black Ops. as one very cool example where you can record and share video footage from within the game).
ma comunque ci troviamo davanti a cifre impressionanti.
Fonte: The official YouTube Blog
Voi che ne pensate? Io ultimamente appena penso a YouTube ripenso alle batoste che sta subendo Flash, visto che il sito lo sta eliminando, lasciando spazio al sempre più popolare HTML5. Se poi ci aggiungiamo pure la campagna della Apple…