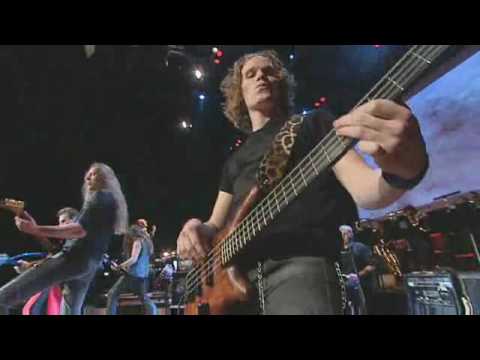 Nel video Hell March 3 soundtrack di Command & Conquer Red Alert 3.
Dopo aver letto l'articolo di bilebue sul video mashup della korea del nord non ho potuto resistere, ho dovuto fare una skirmish a Red Alert dopodiché ho cercato qualche info. :)
Hell March (la prima), soundtrack di tutta la serie Command & Conquer. Creata da Frank Klepacki nel lontano 1994. Frank ha una lista di sondtrack per videogame (e che videogame!) da far esclamare "BIOPARCO" anche ai più fedeli.
Frank Klepacki … … He scored several games there, including the Lands of Lore series, Westwood Studios' Dune games, the The Legend of Kyrandia series, Blade Runner, and the Command & Conquer series. His work in Command & Conquer: Red Alert won two awards.

Klepacki is currently the audio director of Petroglyph games, where he scored Star Wars: Empire at War.[4] Frank Klepacki was contacted to score Command & Conquer 3: Tiberium Wars, but was too busy with Petroglyph to take the project, and declined to mention the offer.[5][6] Klepacki most recently composed three songs, including "Hell March 3", for Command & Conquer: Red Alert 3 by Electronic Arts Los Angeles. His most recent solo CD is entitled Viratia, packaged with a comic he helped produce.
da wiki
Nello spoiler Hell March (prima versione di C&C Red Alert) e Hell March 2 ( di C&C Red Alert 2) e un imperdibile versione con chitarra elettrica e basso +1 !