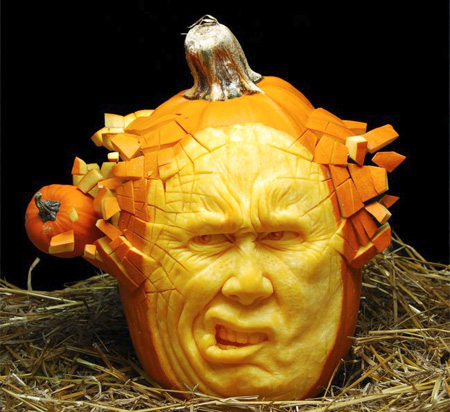 Aldilà di quella patriottica di Lega Nerd, queste sono le zucche più pheeghe che io abbia visto fin'ora, sono davvero un capolavoro.
Pensate di essere bravi abbastanza? A questo indirizzo troverete un simpatico ed illustratissimo tutorial su come costruire la vostra opera d'arte zuccosa.
Ma chi è Ray Villafane?
Born March 5, 1969 in Queens, New York

Received a BFA in Illustration and Education from the School of Visual Arts in NYC.
Relocated in 1993 to Northern Michigan where he lives with his wife and 6 children.
Has had work published in Society of Illustrators Annual of American Illustration, HOW Magazine, Reflex Magazine, Problems & Solutions, and Upper and Lower Case Periodical.
Has had pieces shown at the New York Art Directors Club, Society of Illustrators Musuem of American Illustration,Spaces Gallery and Jordan River Arts Gallery.
Clients include Sideshow Collectibles, Reflex Publications, DC Direct, McFarlane Toys, and Bowen Designs.
(citando le parole di Gabburger)

Villafane ha iniziato come insegnante d'arte prima di scoprire la sua passione per le sculture delle zucche. Successivamente ha iniziato a scolpire anche statue ispirate a personaggi dei fumetti o film celebri (gallery sul suo sito) tanto da arrivare a firmare un contratto con la DC Comics nel 2006. Dal 2008 si occupa anche di sculture di sabbia e nel 2009 ha partecipato al Festival internazionale delle sculture di sabbia a Jesolo con questa opera* ispirata all'Inferno di Dante.
*l'opera in questione nello spoiler.