ORIGINALS
Il Trono del Re: Undiscovered Country, Mao, Record Of Ragnarok, Dracula, Il Batman Che Ride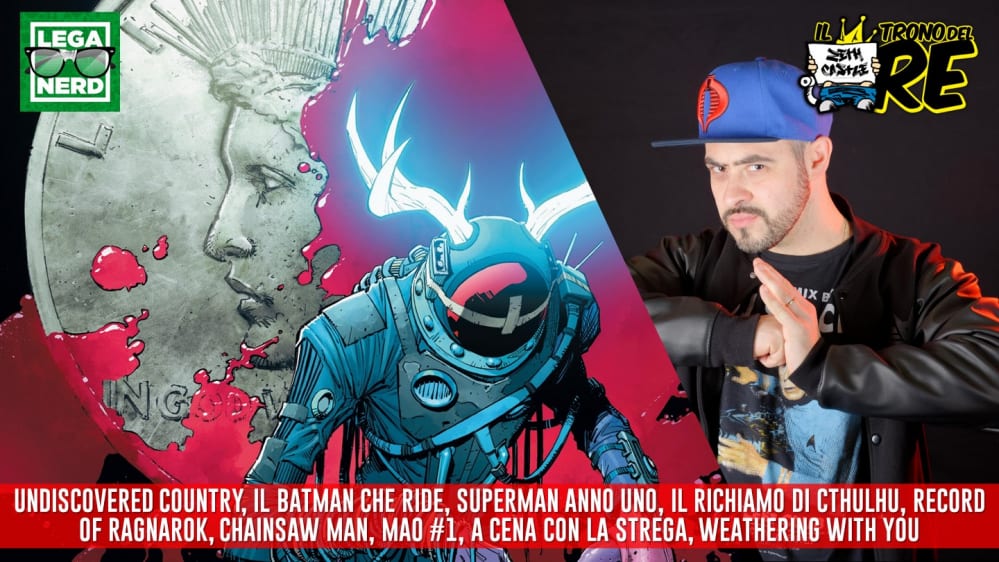 A Il Trono del Re arrivano Undiscovered Country, i nuovi manga di Rumiko Takahashi, Record of Ragnarok, Il Batman che Ride, Chainsaw Man, Weathering With You e molto altro ancora.
Grande carrellata di recensioni a Il Trono del Re, con il meglio delle uscite a fumetti recenti.
Si parte con il piatto forte, Undiscovered Country, la serie Image dell'anno di Scott Snyder, Charles Soule e Giuseppe Cammo Camuncoli di cui potete leggere la recensione qui.
Inoltre arrivano anche:
Il Batman che ride di Scott Snyder, James Tynion IV, Jock, Eduardo Risso (DC Comics – Panini);
Il Richiamo di Cthulhu di Gou Tanabe (J-Pop);
Superman Anno Uno di F. Miller e J. Romita Jr (DC Comics Panini);
Rosso Profondo di T. Seeley e C. Howell (saldaPress);
Dracula di Bram Stoker trasporto da Georges Bess (Magic Press);
Faithless Vol. 1 di B. Azzarello, Maria Llovet (Panini Comics);
Hellboy & BPRD La Bestia di Vargu e altre storie (Magic Press);
Chainsaw Man di Tatsuki Fujimoto (Planet Manga);
Mao #1 di Rumiko Takahashi (Star Comics);
A Cena con la Strega di Rumiko Takahashi (Star Comics);
Weathering with you di Makoto Shinkai e Wataru Kubota (Star Comics);
Record of Ragnarok di Takumi Fukui, Shinya Umemura (Star Comics);
La Taverna di Mezzanotte di Yao Abe (Bao Publishing – Aiken)