BYGGLEK: annunciata ufficialmente la linea di prodotti LEGO IKEA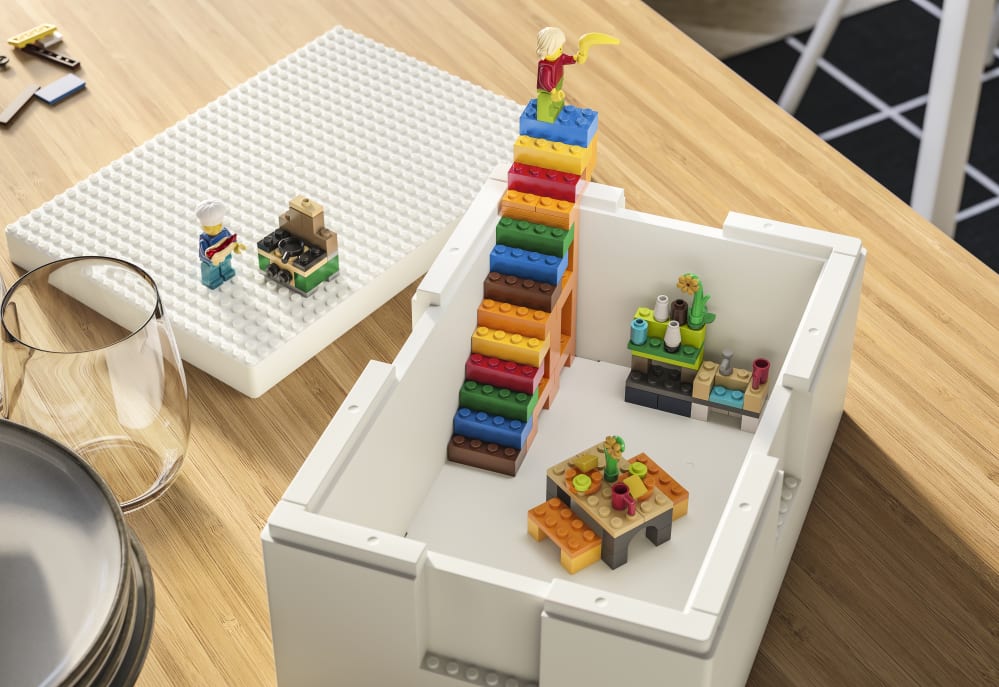 Annunciata ufficialmente da pochi minuti la linea di prodotti per la casa BYGGLEK nata dalla collaborazione del colosso svedese IKEA e LEGO.
Era agosto 2018 quando veniva annunciata da LEGO la nascita della collaborazione con IKEA per una linea di prodotti compatibili con i mattoncini.

Un anno fa scoprivamo il nome di questa nuova linea, BYGGLEK ma ancora non vi erano immagini del prodotto finale.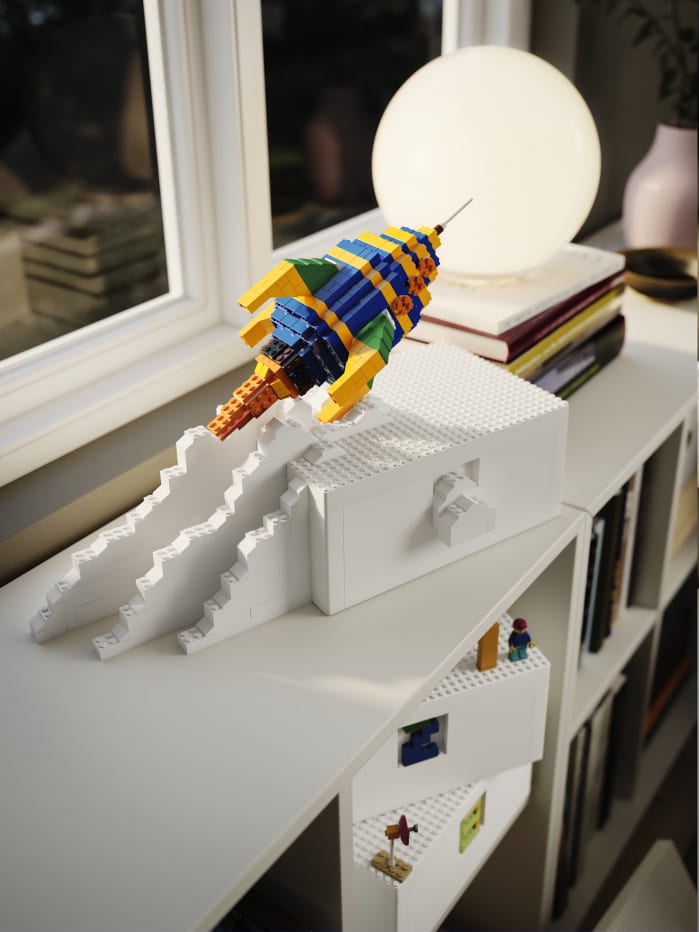 In luglio invece, grazie ad uno store tedesco abbiamo visto in anteprima i prodotti BYGGLEK, erroneamente messi in vendita prima del tempo ed oggi finalmente abbiamo l'annuncio ufficiale di LEGO.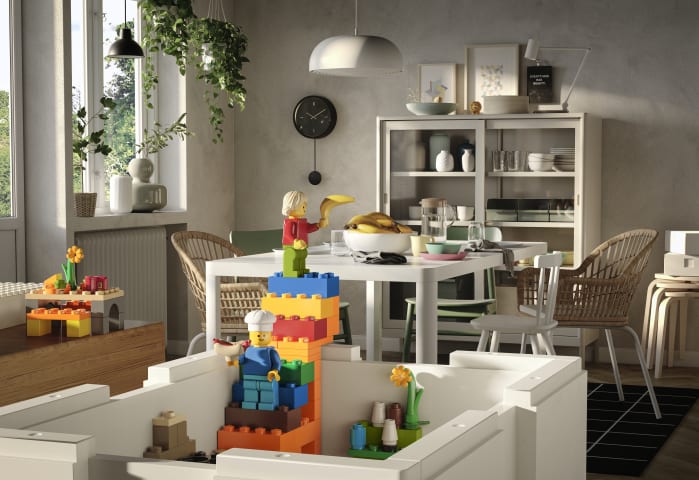 I prodotti saranno in vendita nei negozi IKEA di tutto il mondo da ottobre e, come anticipato a luglio, si tratterà di quattro differenti confezioni:
un set di tre scatole piccole
una scatola di medie dimensioni
una scatola di grandi dimensioni
un set LEGO (40357) contenente pezzi e minifigure per iniziare a dare vita ai vari contenitori IKEA
Anche in Italia i prodotti si troveranno sugli scaffali dal 2 ottobre 2020.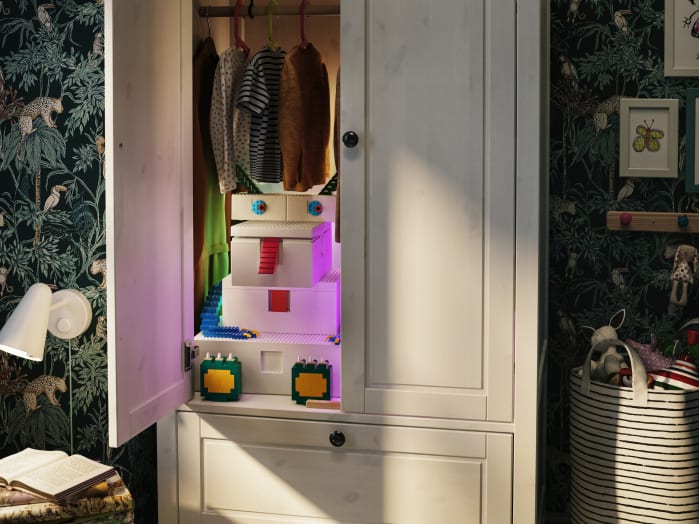 Di seguito l'annuncio ufficiale LEGO.
August 27, 2020: Today, IKEA of Sweden AB and the LEGO Group reveal the long-awaited outcome of their collaboration. The two brands have joined forces to create a playful storage solution called BYGGLEK. Consisting of a series of storage boxes with LEGO® studs and a special LEGO brick set, the new BYGGLEK collection aims to encourage play and infuse more fun into storage around the home. The BYGGLEK collection will start to be available in existing IKEA retail channels throughout Europe (except Russia) and North America from October 1. The global roll-out will happen in 2020. (Check online for local availability).
With a strong belief that play makes both the home and the world a better place, IKEA of Sweden AB and the LEGO Group set out to remove barriers to play in daily life, whilst creating a practical yet playful experience that children and adults could enjoy together.
Play is the most intuitive and powerful way for children to learn and grow. However, children and adults sometimes have different views when it comes to play and creativity at home. Where adults often have a need to create structure and organize, children see a stimulating and creative environment in which they naturally want to play, pause and then replay.*
BYGGLE on a bookshelf in a living room
In tidying up and reorganizing children's creative space during playtime, we not only disrupt their play but also their creative expression and growth. Therefore, we wanted to create a storage solution that itself offers a fun playful experience. As the BYGGLEK boxes are equipped with LEGO studs on the top and the front, kids can integrate the storage boxes as part of their LEGO builds. They can store their stories inside them, and proudly display their creations on top of them.
"At IKEA, we always believe in the power of play. Play lets us explore, experiment, dream and discover." said Andreas Fredriksson, designer at IKEA of Sweden, "Where adults often see mess, children see a stimulating creative environment, and BYGGLEK will help bridge the gap between these two views to ensure more creative play in homes around the world. Plus, the BYGGLEK collection match perfectly with other IKEA products, making it possible to have your children's creativity becoming a nice and unique piece of decoration at home."
LEGO monster made from the BYGGLEK components
Speaking about the creative solution Rasmus Buch Løgstrup, designer at the LEGO Group said "BYGGLEK is more than boxes. It is storage and play intertwined. BYGGLEK provides families with a product range that helps create space for more play in their everyday – fuelling creativity, making it possible to have more fun together. It's a possibility to play, display the cool creations and return to it to replay, remake, recreate or start over. BYGGLEK is all about endless possibilities, just like the LEGO System in Play."
The BYGGLEK range consists of 4 different products – one set of 3 small boxes, and two sets of bigger boxes and one set of LEGO bricks to kick-start the playful experience. BYGGLEK can be used with any existing and future LEGO elements, as the studs used on the lid and front are part of the LEGO system in play. The LEGO System in play enables children to build and rebuild their own stories and through this process develop essential 21st century skills – with BYGGLEK we hope to extend the LEGO play experience in providing fun creative storage solutions that are just as playable as they are functional.