I migliori pesci d'aprile 2019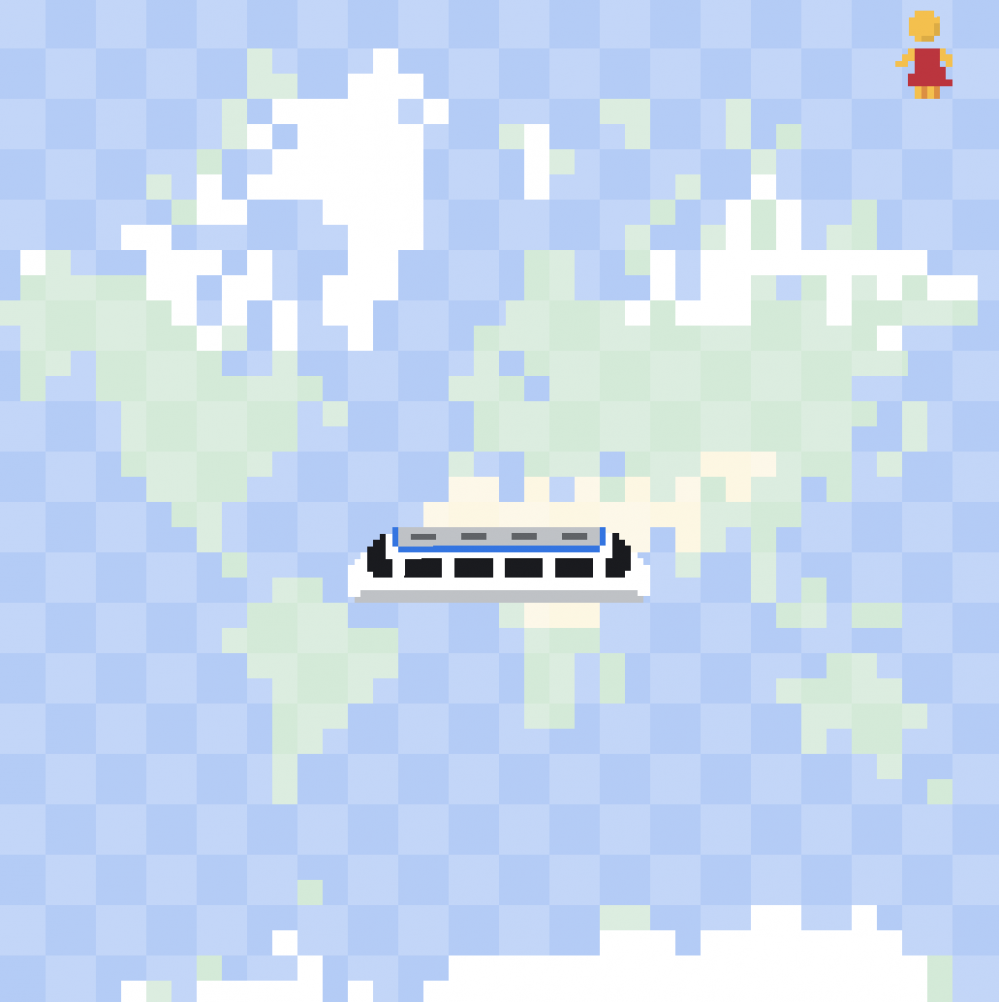 Come tutti gli anni, ecco un riassunto ovviamente non esaustivo dei migliori pesci d'aprile 2019, buon divertimento.
L'articolo è in aggiornamento, segnalateci altri pesci d'aprile nei commenti, grazie.
Google Maps Snake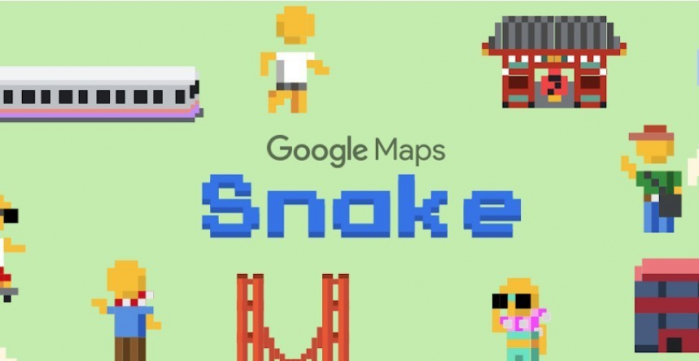 Ancora una volta Google si diverte a nascondere piccoli easter egg in Maps, quest'anno è il turno del classico Snake.
Google Maps shows you how to get around on foot, car, train and bicycle, and now, you can ssslither to your destination too. Starting today, you can play a twist on the snake game in different locations across the world—including Cairo, London, San Francisco, São Paulo, Sydney and Tokyo–right from Google Maps.
Per giocare a Snake in Maps vi basta aprire il menu principale del sito e scegliere "Play Snake". Google non sembra però aver attivato il gioco (ancora) nella versione italiana del sito, quindi vi rimandiamo al sito dedicato che rimarrà attivo anche da domani in poi.
Google File App: pulisce lo smartphone dentro e fuori
L'app File di Google promette di ripulire il vostro smartphone dai file non utilizzati liberando spazio… ma da oggi lo pulisce anche fuori, funzione davvero molto utile!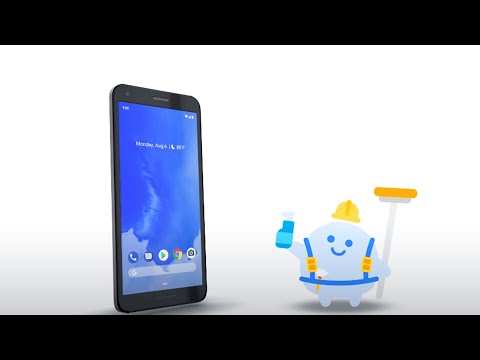 Google Assistant da oggi parla il tulipanese
Da oggi grazie alla Neural Machine Translation, Google è in grado di parlare alle piante tramite il suo Google Assistant. Il primo linguaggio supportato è il tulipanese e basterà comprarsi un Google Tulip per accedere a questi grandi vantaggi.
The ability to speak with tulips comes with great environmental and societal benefits. Tulips now have a way to indicate to humans that they're in need of water, light or simply some more space. As their needs are expressed more clearly, they are able to live a happier and healthier life.

Socially, it turns out that plants, and particularly tulips, are very chatty, and make for great friends. Tulips are excellent listeners and when listened to carefully, give sound advice.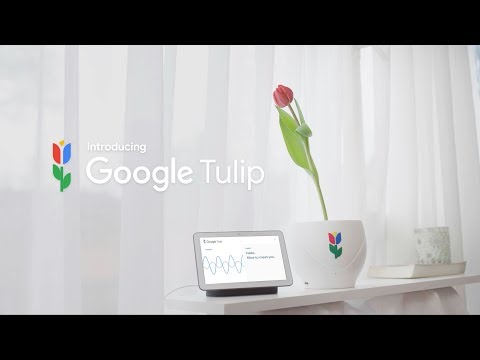 Newegg iBrite
La prima CPU RGB arriva sul mercato ed è bellissima!
With the iBrite, Newegg has introduced the world's first CPU with built-in RGB capabilities. Our marketing team has racked their brains searching for the right words to describe the aesthetic qualities of the iBrite. Opulent. Grandiose. Ostentatious. Eye-meltingly shiny.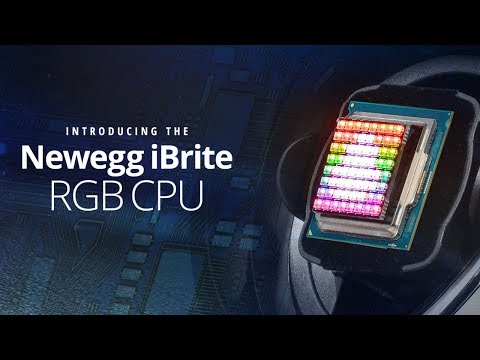 OnePlus Warp Car
OnePlus presenta la sua prima auto elettrica, stampata completamente in 3D grazie alla tecnologia SLS 3D e ABS 3D e con innovativi controlli via gesture:
In-car control is done via gestures on your smartphone, making previously complicated concepts like steering very simple – swipe left to turn left, swipe right to turn right – you get the idea – swipe up to go forward, and swipe down to reverse, and in the first OTA we'll introduce airplane mode for driving mode so you won't ever again suffer from dismissing a notification and accidentally turning the car.

Light comes from a clever system of light tunnels and mirrors, simply turn your smartphone's torch on and slide it into the phone holder, to provide both internal and external lights.
Inoltre si ricarica in soli 20 minuti…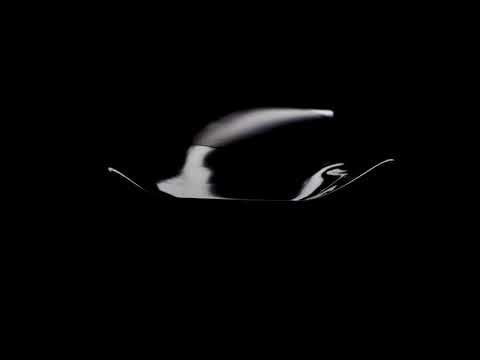 Spotify Discocover Weekly
La famosa playlist Discover Weekly di Spotify diventa oggi "Discocover Weekly" e si concentra sul genere disco: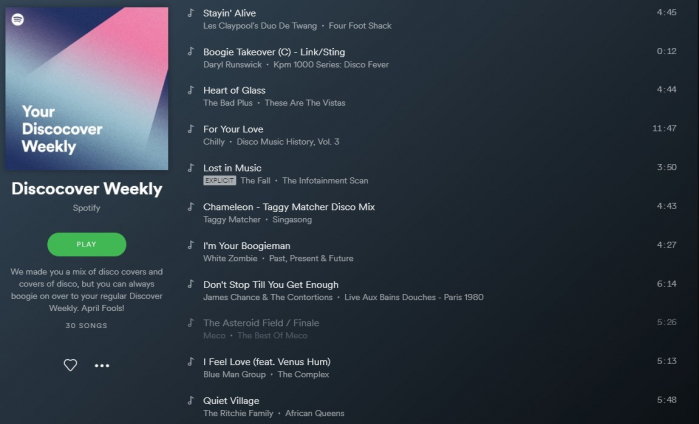 Razer Ping
Parlare nella vita reale è scomodo ed inefficiente: Razer introduce oggi Ping, una nuova tecnologia che risolverà il problema una volta per tutte…
Talking's for chumps–you say it best, when you say nothing at all. Why flap your gums when you could be taking names? Kill leaders make the most out of every second they have, and by using Razer Ping!, you can increase your productivity by an average of 1337%–according to math.
Simply point your camera at any object and Razer Ping! will contextualize it into a notification sent to users in the vicinity, or to selected friends.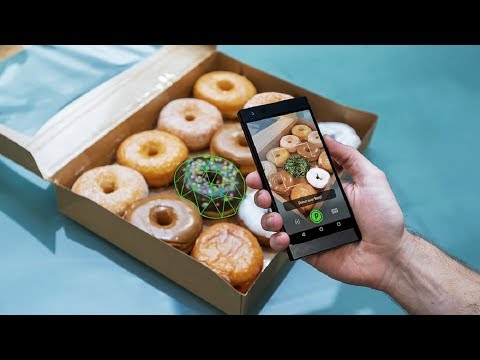 Nvidia R.O.N.
R.O.N. è il nuovo assistente olografico di Nvidia che vi aggiorna sulle ultime news dal mondo del gaming e grazie alle tecnologie RageConverter e TrollDestroyer vi aiuta nelle situazioni più delicate di gioco…
Have anger issues? R.O.N. uses all-new adaptive RageConverter technology to translate any questionable language into supportive messages for your team. You'll avoid punishment, see better squad performance, and appear cool and collected in even the most challenging gaming situations.

Haters got you feeling down on Reddit or Twitch? Don't stress. Just enable R.O.N.'s cutting-edge TrollDestroyer capabilities to effortlessly wear down their stamina with a limitless supply of AI arguments, backed up by the endless wealth of information available on the Internet.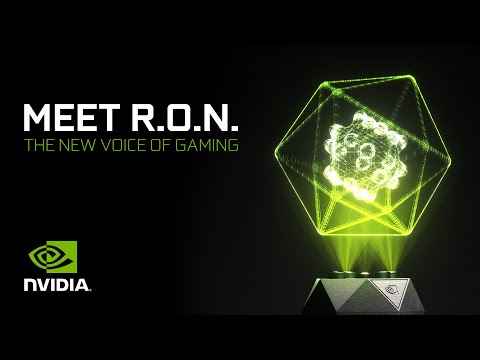 T-Mobile BoothE
Una cabina completamente insonorizzata che offre la privacy definitiva…
Launching in NYC, Washington DC and Seattle (T-Mobile's hometown) today, the Phone BoothE is a groundbreaking soundproof cube that allows T-Mobile customers to take and make calls or browse their smartphone in peace – in some of the loudest public spaces in the country.
Sir Oscar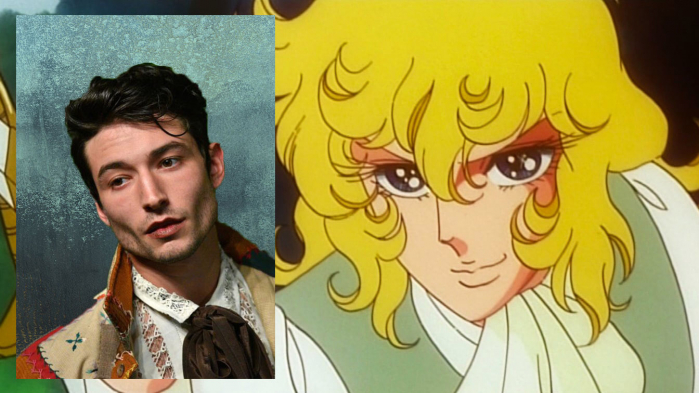 Anche noi ci siamo divertiti oggi con questa news che annuncia l'inizio della produzione di un live action di Lady Oscar.. al maschile.
Stack Overflow 90s CSS
Stack Overflow oggi ha implementato un CSS in stile anni '90 per farci fare un bel tuffo nel passato, il risultato è esilarante, aprite una domanda qualunque.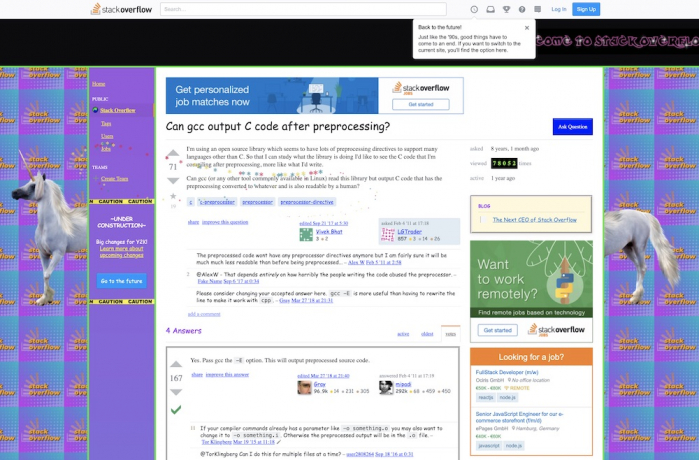 Diletta Leotta su Netflix con un documentario sulle usanze sessuali nel mondo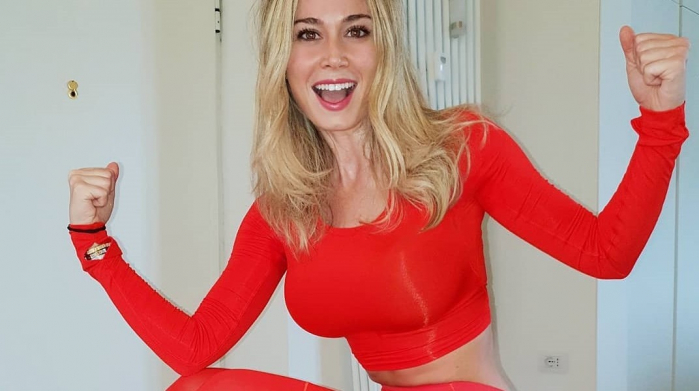 Anche i nostri cugini di Movieplayer oggi si sono divertiti con due news, la prima è questa su un fantomatico documentario diretto da Diletta Leotta e dedicato alle usanze sessuali nel mondo…
Netflix punta su Diletta Leotta per un nuovo documentario sexy incentrato sulle usanze sessuali nel mondo che, se confermato, potrebbe rivelarsi un altro fenomeno di successo per la popolare piattaforma streaming.
Fortnite: su Netflix l'episodio di Black Mirror ispirato al videogioco?
… e la seconda è questa su un nuovo episodio di Black Mirror ispirato a Fortnite.
Fortnite starebbe per trasformarsi in un episodio di Black Mirror, con Netflix pronta a lanciare una particolare e distopica avventura ambientata nell'universo videoludico di Epic Games.
Lego Find My Brick
Lego pubblica su Twitter la pubblicità di una fantomatica applicazione che permette di trovare un mattoncino in particolare semplicemente inquadrando con la camera… sarebbe davvero bello…
The long search is finally over… ? #FindMyBrick pic.twitter.com/3yBIPJ2OPk

— LEGO (@LEGO_Group) April 1, 2019
Elon Musk: R.I.P. Harambe
Elon Musk ha registrato un pezzo rap dedicato ad Harambe, il gorilla abbattuto nel 2016 nello zoo di Cincinnati.
Sneaker Freaker: Kanye's 'Yandhi' Album
La leggendaria rivista dedicata alla sneaker culture oggi riporta il ritrovamento di una chiavetta USB all'interno della suola di un paio di Yeezy 700… al suo interno il nuovo album di Kanye West…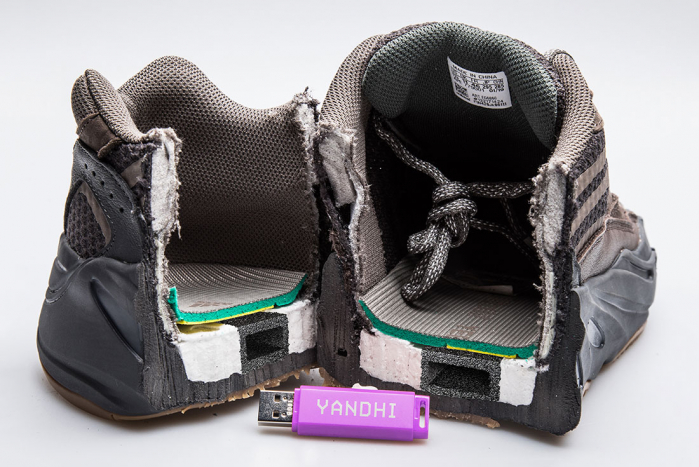 Le prime lettere dei titoli delle canzoni del nuovo album compongono la frase "APRIL FOOLS"… ma immaginiamo che qualcuno abbia avuto il coraggio di tagliare le proprie scarpe oggi credendo a questo evidente scherzo.
In Aggiornamento…