The Deadly 720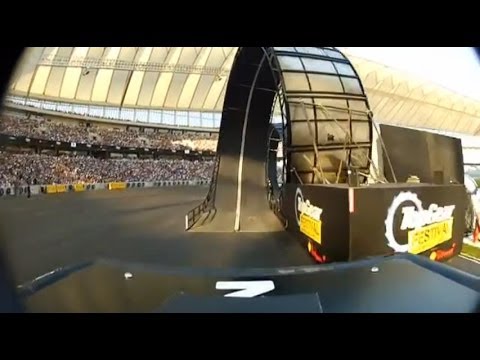 The Top Gear Live Stunt Team has set a new world record by becoming the first to complete a spectacular double loop-the-loop on four wheels!! The ground-breaking feat — dubbed Deadly 720 — was the amazing finale to the first of four Top Gear Festival shows staged in front of a sell-out 15,000+ live audience at the Moses Mabhida Stadium, Durban, South Africa (June 16-17).

#Deadly720 is the biggest, boldest and most technically challenging stunt ever performed by the record breaking Top Gear Live Stunt Team who will be coming to Birmingham's NEC later this year (Oct 25-28) with even more audacious performances hosted by Jeremy Clarkson, James May, Richard Hammond, The Stig and, of course, the Top Gear Live daredevil stunt team.
Torno a postare in questo tristo giorno in cui vengo a sapere mio malgrado che a causa delle olimpiadi di Londra 2012 (che a questo punto odio profondamente), la stagione estiva di Top Gear non andrà in onda. Appuntamento quindi al Top Gear Christmas Special + Stagione a gennaio 2013 (Sempre se cia arriviamo).
Durante il periodo off-air il Team di Top Gear gira il mondo presentando spettacoli Live. In questi spettacoli succede un po' tutto quello che succede durante le puntate di Top Gear, eccetto per il fatto che le prformance sono Live e non c'è spazio per l'edit e gli errori.
Durante la tappa Sudafricana di Durban il Team ha piazzato un World Record: Double loop-the-loop, ovvero una sequenza di 2 loop rinominata Deadly 720 (360+360=720).
EPIC
Via FinalGear