HoodieBuddie: la musica a portata di felpa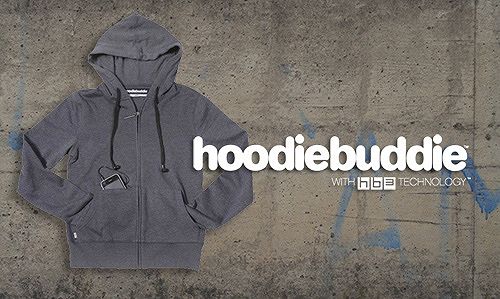 Using patent-pending HB3Technology™, the HoodieBuddie contains a standard headphone jack in the front pocket that plugs into any headphone-compatible device, like an mp3 player, iPod or iPhone, or other mobile device.
Once plugged into the device of your choice, the audio travels through embedded cables within the HoodieBuddie to the headphones, which are built in to the ends of the drawstrings. The HoodieBuddie's drawstring earphones are always available, free of Tanglitis and sound great with rich, full sound.
Best of all, the entire Hoodie is machine washable (even the headphones).
Plug in to your HoodieBuddie wherever you go—at the gym, on your way to work or on the plane. Your headphones are always ready to rock and tangle-free because they're built in.

Ho scoperto questa linea di abbigliamento su indicazione della mia cara mamma che lo ha notato facendo shopping nel negozio sotto casa il quale, fieramente, esponeva questa felpa con auricolari integrati. Il capo di vestiario è integrato con tecnologia HB3 (a me sembrano dei normali auricolari ma fa nerd dire che hai un hoodie con tecnologia integrata HB3).
[more]
HB3 Technology isthe revolutionary product that allows headphones to be fully integrated into hooded garments. The patent-pending technology allows for an electronic update to a wide variety of garments. HB3 Technology is a standard headphone jack located in the garment's pocket that is compatible with most MP3 players and offers dynamic sound quality. The earbuds are located at the end of the garment's drawstrings. The entire component is 100% machine washable. HB3 Technology can be found in some of the world's most recognized brands and is featured in HoodieBuddie and Insound garments.
[/more]
Ovviamente l'incauto è avvenuto 10 secondi dopo aver visto la felpa. Sul sito del produttore potete trovare la collezione completa per lui e per lei.
Fonti: HoodieBuddie, HB3
Bazinga privato di mia mamma!