Wonder Ffffuuuu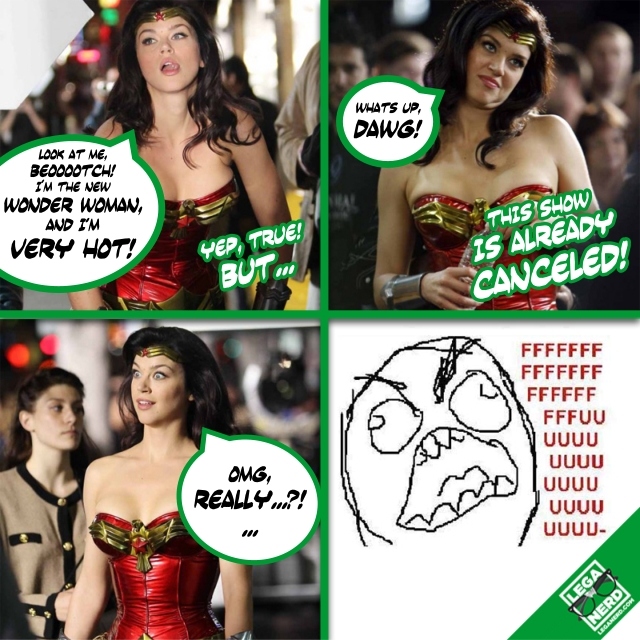 The Wonder Woman 2011 pilot and series on NBC have been canceled. David E. Kelley/Adrianne Palicki's Wonder Woman NBC re-imagining met with instant criticism both for the dubious elements in its script and Wonder Woman's costume. The Wonder Woman 2011 series was going to be "a reinvention of the iconic DC Comics title in which Wonder Woman – a.k.a. Diana Prince – is a vigilante crime fighter in Los Angeles but also a successful corporate executive and a modern woman trying to balance all of the elements of her extraordinary life." Wonder Woman (2011) cast included Elizabeth Hurley, Tracie Thoms, Justin Bruenin, Cary Elwes, Pedro Pascal, Kelly Galindo, Joseph Gatt, and Brett Tucker. I would love to see that pilot episode. It can't be worse than The Cape, well actually it can be since The Cape actually aired. Witchblade got two seasons and Wonder Woman was not even good enough to have its pilot aired? That must have been some pilot.
From Entertainment Weekly:
This will no doubt draw some knowingly rueful chuckles from execs at other networks, all of which passed on the chance to even produce the pilot. Warner Bros. could conceivably try to shop the pilot elsewhere, but given that no one seemed to want it in the first place, the chances of it being picked up seem slim.
Why did the 'ol girl fail to pass muster?
NBC isn't saying for now but scuttlebutt reveals the pilot earned mixed reviews at test screenings. And then there was all the online blow back about the costume – which seemed to de-emphasize the patriotism and play up the comic's Greek mythology. Ultimately, the wardrobe department went back to the drawing board but that didn't seem to save the project.
Entertainment Weekly reason's against Wonder Woman (2011):
–Test screenings had mixed-to-negative buzz.
–Fans seemed to dislike the costume. Was someone in wardrobe obsessed with copying Sandy's pants from Grease?
–The cheese factor: Modern audiences take their superheroes seriously, and the ultra-kitschy Wonder Woman — a golden lasso? Bullet-stopping bracelets? — is a tough sell nowadays.
–Decades ago, when the concept of feminism was still a national debate, the idea of a "Wonder Woman" — a tough female action hero — was a novel idea. Since then we've seen Buffy, Ripley, Sarah Connor and a gazillion other girls kicking butt. Who needs a babe in blue go-go boots?
–With this season's Hawaii Five-0 and Syfy's Battlestar Galactica standing as notable exceptions, TV remakes have a rough track record (see: Bionic Woman, Knight Rider, Melrose Place, etc).
A partial review of the pilot episode of Wonder Woman (2011) from a test screening at Universal Studios (no spoilers…like it matters anymore though):
The violence in the pilot is "over-the-top": "Wonder Woman would kill people without even blinking an eye."
Fight scenes are "adequate," and involve a lot of lassoing and wire work.
Adrianne Palicki (Wonder Woman) and Tracie Thoms (Wonder Woman's assistant) acquit themselves well, or about as well as they could given the "not very good" script.
Justin Bruening (Steve Trevor), on the other hand, isn't quite up to par: "It's like watching a cardboard standout."
There are two different Wonder Woman costumes — the "velvety" "pants-suit" (I assume he means this one) and a more classic bikini bottom suit that we haven't seen before. According to Carelli, the latter is "a million times better."
"Diana Prince," the ordinary-girl alter ego of Wonder Woman, sits around her apartment watching The Notebook, eating popcorn, and cuddling with her cat.
Perhaps most damning of all, Carelli reports that the pilot "doesn't even feel like Wonder Woman… it feels like a David E. Kelley show."
The full audio review can be found here. For more Wonder Woman photos, videos, and information, check out our Wonder Woman Page. What do you think of NBC not picking up the Wonder Woman (2011) pilot episode or the series?
E' notizia fresca fresca che il nuovo serial remake di Wonder Woman (se n'era parlato qui e qui), sia stato cancellato già dal primo pilot!
Di seguito un altro leak durante le riprese…
Neanche il tempo di vederla in mutandine… :(
News tratta da The Superficial.