Una rock band senza umani: Bit-52's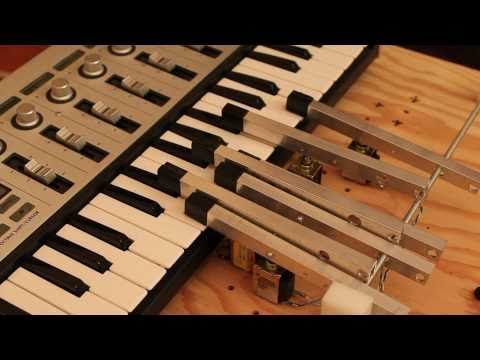 The Bit-52's consist of:
Fred's Vocals – TI99/4a computer, speech synthesizer and terminal emulator ii module.
Kate and Cindy's Vocals – Two HP Scanjet 3C scanners (Not Printers), UBunto and sjetplay written by NuGanjaTron.
The Guitar, Keyboard, Cow Bell, Cymbal and Tambourine are all controlled by various types of push/pull solenoinds for a total of 23.
The Solenoids are powered by four ULN2803 darlington drivers and everything is controlled by two PIC16F84A microcontrollers.
I Bit-52's sono la prima band composta unicamente da parti di robots e retro computer.
Il creatore (manager :D) è il canadese James Cochrane.
L'impresa si fa veramente epica se si pensa che gli strumenti, sono costruiti per umani, ovvero non tengono conto del tempo di risposta.
Quindi per "farli andare a tempo", James ha dovuto tenere conto di tutti i fattori che influenzano la tempistica delle risposte di ogni dispositivo meccanico come la temperatura, il campo magnetico e la resistenza ai pistoni.
Io credo proprio che i Bit-52's si meritino una NT… io invece voglio assolutamente una maglietta dei Bit-52's!!!
Nello spoiler la cover dei Queen "Bohemian Rhapsody" =) già pubblicata qui

Spoiler