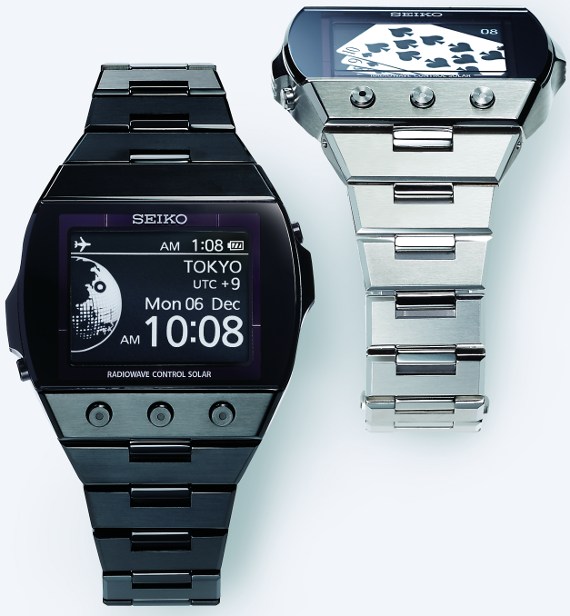 The digital watch is back. Seiko's new Active Matrix EPD watch will get you excited about non analog quartz timepieces once again. Digital has been here all along you say? Yea, that is true, but no self-respecting watch lover would wear one unless doing the laundry, mowing the lawn, or engaging in some other highly pedestrian activity. Go to any country that is "watch civilized" (sorry fellow Americans, that doesn't include the US at this point), and wear a digital watch in a business meeting or with a suit. Sure that was OK in the 1980s, but that was 20-30 years ago. This new product from Seiko reintroduces you the hassle free lifestyle of the digital watch in a polished, and highly functional little package. The holy trinity here is a great display, always accurate time, and a battery that does not need changing.
OMFG! fighissimo! comprare per forza, già messo nella wishlist del prossimo anno.
Ha uno schermo e-ink a consumo strabasso, tutto attorno allo schermo si vede un contorno di celle solari (!!!) che ricaricano l'orologio di continuo. Oltre a questo è radio-settato percui non bisogna mai impostare l'ora.
Un orologio che non ha bisogno di batterie e che non va mai impostato? grazie cazzo.

Radio Controlled Active Matrix EPD Worldtimer
Caliber S770 movement
-Time indication for hour, minute and second
-Calendar indication for year, month, date and day of the week
-Perpetual calendar up to December 31, 2060
-World time function for 32 cities with daylight saving time capability
-Dual time function
-3-channel daily / single-time alarm function
-Sound demonstration function
-Automatic radio wave reception function with manual reception capability
-Automatic time correction function
-Battery level indicator
-Power reserve: 9 months (41 months in 'sleep' mode)
-Overcharge prevention function
-Power save function
-LED bulb
-Accuracy: 15 seconds per month (when not receiving the radio signal)
-Movement dimensions: 30.9 x 32.9 mm, thickness: 5.7 mm (excluding solar cells)
-Case and band: Stainless steel (SDGL001J)
-Stainless steel with gold-tone hard coating (SDGL002J)
-Stainless steel with black hard coating (SDGL003J)
-Clasp type: Three-fold with push button release
-Glass: Sapphire crystal with anti-reflective coating
-Water resistance: 10bar
-Case dimensions: 45.5 x 46.0 mm, thickness: 9.5 mm

Più info su ablogtoread.com