Annunciata ufficialmente la data di apertura di LEGOLAND New York Resort

Annunciato esattamente due anni fa, ad ottobre 2017, il nuovo parco tematico LEGO denominato LEGOLAND New York Resort, aprirà le porte il giorno dell'Indipendenza, il 4 luglio 2020 a Goshen, comune dello stato di New York.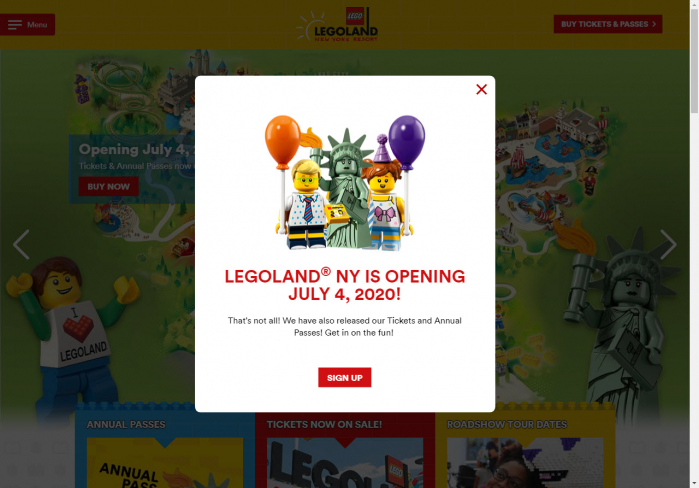 Il parco, che dista 1 ora di macchina da Manhattan, ospiterà più di 50 fra attrazioni, coaster e show divisi in sette temi differenti su un'area di 60 ettari.
Il biglietto giornaliero costerà 63 dollari mentre il pass annuale 120 dollari.
Di seguito la press release ufficiale.
GOSHEN, NY (October 2, 2019) – Wave the stars and stripes and start counting down to the fireworks! LEGOLAND® New York Resort will hold its bricktastic Grand Opening celebration on July 4, 2020, theme park officials announced today.
"The Fourth of July means family," said LEGOLAND New York Public Relations Manager Matt Besterman, "and at LEGOLAND theme parks, families can ride, climb, play, learn and build together. At the same time, kids can celebrate their own independence by riding their first roller coaster, the Dragon, or driving their first car at LEGOLAND Driving School. We're thrilled to invite families across the northeast, the country and the world to make our theme park a tradition for summer fun."
"Our Park is in high gear and we're on track for opening," said LEGOLAND New York Senior Divisional Director John Ussher. "Buildings are going up, concrete is being poured and construction is buzzing across our site. Ride components, such as the track for our Dragon coaster, are arriving in Goshen to be installed. Our LEGO® models – more than 15,000 of them – are being shipped to our site from Merlin Magic Making workshops all over the world. This is truly a global effort, with thousands of people working together to build the ultimate LEGO theme park destination here in the Hudson Valley."
LEGOLAND New York Resort will be the largest LEGOLAND theme park Merlin Entertainments has ever built, with more than 50 rides, shows and attractions across seven themed "lands" on 150 acres.
The theme park also announced that its three tiers of Annual Passes are on sale starting at $119.99, along with single-day tickets starting as low as $62.99. All are available for purchase on LEGOLAND New York's website: www.LEGOLAND.com/New-York.
Details about Grand Opening celebrations will be announced in 2020, Besterman said. "The opening of the first major theme park in the northeast in decades is a once-in-a-lifetime event, and you can be sure we'll throw a star-spangled party to celebrate it!"