Annunciato ufficialmente il set LEGO Ideas 21316 The Flintstones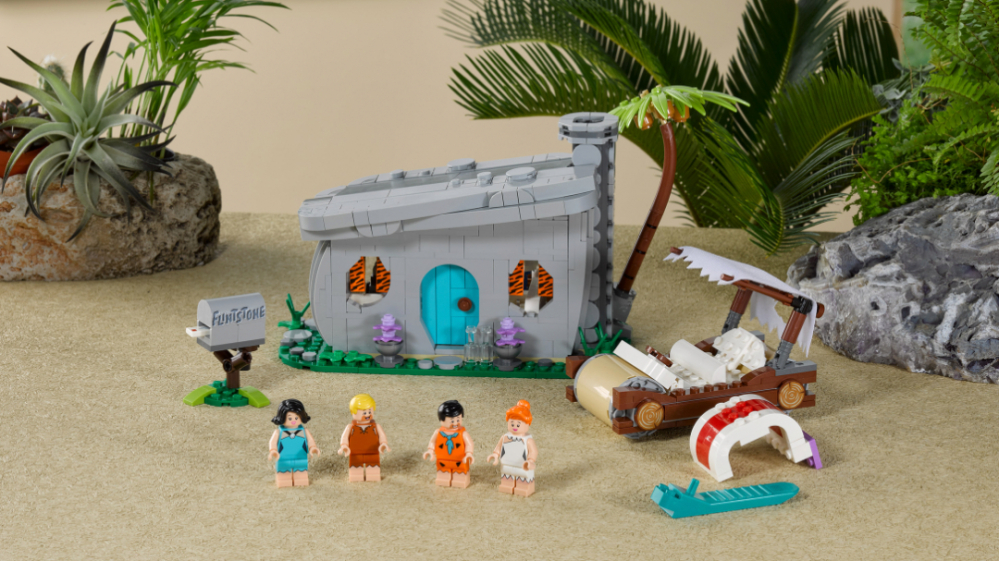 Dopo il breve video teaser di qualche giorno fa sui canali di LEGO® arriva oggi l'annuncio ufficiale con foto, prezzo e data d'uscita del set LEGO Ideas dedicato al cartone animato di Hanna e Barbera, 21316 – The Flintstones.
Andrew Clark segue le orme di Jason Allemann vincendo due volte la review di LEGO Ideas. Ricordiamo infatti che in precedenza aveva trionfato con il set [amazon_textlink asin='B00ZSJMBHS' text='21304 Dr. Who' template='ProductLink' store='lnwow-21′ marketplace='IT' link_id='6f56382c-b901-4d61-8cd3-34d89906b9f9′].
Il set dei Flintstones sarà in vendita inizialmente dal 20 febbraio per i soli clienti VIP sul LEGO Shop online al prezzo di 59,99 EUR e conterrà 748 pezzi e 4 minifigure.
Purtroppo la versione originale, di cui vedete alcune foto qui sotto, è stata alleggerita, da parte dei designers LEGO, di alcune parti non presenti nella versione definitiva quali la strada sotto all'auto, le minifigure dei bambini, le valigie sul tettuccio e l'insegna di BedRock City. Resta invece disponibile il gigantesco pezzo di carne da agganciare all'auto nella famosa scena del Drive-In.
Di seguito la press release ufficiale tratta da The Brothers Brick.
21316 The Flintstones
748 pieces | Available starting February 20
US $59.99 | CA $79.99 | DE €59.99 | UK £54.99 | FR €59.99 | DK 549 DKK | AU $99.99 AUD
Have a yabba dabba doo time at Fred Flintstone's home!
Enjoy modern Stone Age suburban life in Bedrock with this LEGO Ideas 21316 The Flintstones collectible toy! A wonderfully nostalgic building toy, it features The Flintstones house and their iconic family car. The detailed house has a removable roof for easy play, an opening front door, sofa, TV, coffee table, bowling ball and bowling pin elements, plus a green garden baseplate with a buildable palm tree. Build your own Flintstones vehicle that seats 4 minifigures and features a new-for-March-2019 fabric car roof element and an attachable dinosaur rib for creative play. The first animated TV series ever to be aired in a prime-time slot, The Flintstones cartoon was first broadcast in America in 1960 and has become an enduring family favorite around the world. Recreate hilarious scenes with the included cartoon character minifigures of Fred Flintstone, wife Wilma Flintstone and their friends Barney and Betty Rubble, or simply build and display this instant classic LEGO Ideas model.
This LEGO Ideas building toy includes 4 new-for-March-2019 The Flintstones cartoon character minifigures: Fred Flintstone, Wilma Flintstone, Barney Rubble and Betty Rubble.
The Flintstones home features a removable roof for easy play, an opening front door, curtains and curtain rails, sofa, TV with aerial, kitchen sink, table and phone, fireplace, painting element on the wall, coffee table with fruit bowl and fruit elements, buildable floor lamp and lampshade, crate with a bowling ball and 3 bowling pin elements, plus a green garden baseplate with a buildable palm tree, 2 flower pots, flowers, plants and 2 milk bottle elements.
Includes a buildable postbox with printed 'Flintstones' decoration, plus a letter element.
The LEGO brick-built Flintstones car features 4 minifigure seats, 2 steamroller wheels, a new-for-March-2019 fabric car roof element, plus an attachable dinosaur rib.
This creative toy building set comes with a booklet with building instructions, fun facts about The Flintstones, and information about this awesome retro set's fan creator and LEGO designers.
Build and display this collectible construction toy or recreate your favorite scenes from the classic American animated sitcom The Flintstones.
The Flintstones Bedrock home measures over 4" (12cm) high, 6" (16cm) wide and 4" (12cm) deep.
The Flintstones car measures over 2" (6cm) high, 4" (11cm) long and 2" (7cm) wide.
Available exclusively to LEGO VIP's directly through LEGO from Wednesday, February 20th via shop.LEGO.com and LEGO Stores.