Dopo il Mini NES, arriva il Mini Mega Drive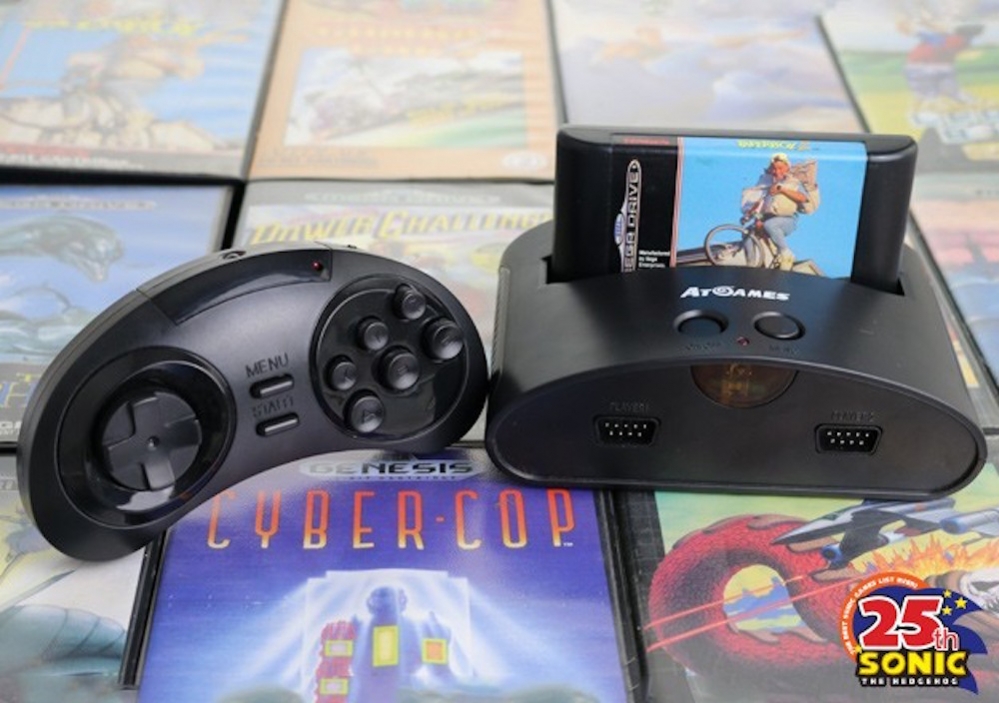 Dopo il Nintendo Classic Mini anche la console Sega Mega Drive torna sul mercato in una versione tributo per celebrare il 25° anniversario di Sonic.
FunstockRetro festeggia i 25 anni di Sonic con due versioni di Mega Drive.
Il retrogaming sembra essere tornato parecchio di moda. Dopo il successo avuto con l'annuncio del Nintendo Classic Mini, il portale FunstockRetro ha pensato di festeggiare i 25 anni del porcospino Sonic con due versioni della console Mega Drive.
Prodotte da AtGames, la prima è una versione di dimensioni ridotte della console con 80 giochi inclusi. Tra le caratteristiche vi è la possibilità di leggere le cartucce originali. La seconda edizione è invece una versione portatile della console, sempre con 80 giochi inclusi.
L'elenco completo dei videogiochi inclusi
Alex Kidd in the Enchanted Castle
Alien Storm
Altered Beast
Arrow Flash
Bonanza Bros.
Chakan: The Forever Man
Columns
Columns III
ComixZone
Crack Down
DecapAttack
Dr. Robotnik'sMean Bean Machine
ESWAT: City Under Siege
Eternal Champions
Fatal Labyrinth
Flicky
Gain Ground
Golden Axe
Golden Axe II
Golden Axe III
Jewel Master
Kid Chameleon
Phantasy Star 2
Phantasy Star 3
Ristar
Shadow Dancer: The Secret of Shinobi
Shinobi III: Return of the Ninja Master
Sonic & Knuckles
Sonic Spinball
Sonic the Hedgehog
Sonic the Hedgehog II
Sonic 3D Blast
Sword of Varmilion
The Ooze
Vectorman
VectormanII
Mortal KombatI
Mortal KombatII
Mortal KombatIII
Adventure in the Park
Cross the road
Jack's Pea
Jewel Magic
Curling 2010
Plumbing Contest
Wall-Breaking
Bubble Master
Break a Fireline
Mahjong Solitaire
Warehouse Keeper
Chess
Memory
Snake
Air Hockey
Spider
Naval Power
Mr. Balls
Cannon
Fight or Lose
Bottle Taps Race
Bomber
Checker
Hexagonos
Whack-A-Wolf
Mirror Mirror
Panic Lift
Black Sheep
Flash Memory
Brain Switch
Mega Brain Switch
Hidden Agenda
Dominant Amber
Hide and Seek
Jura Formula
Lost World Sudoku
Meatloaf Rotation
Mya Master Mind
Skeleton Scale
T-Rex Memory Match
Yawning Triceratops
Uscita ottobre 2016 a 49,99£ ciascuna.