Lego 76042 – Marvel Super Heroes SHIELD Helicarrier UCS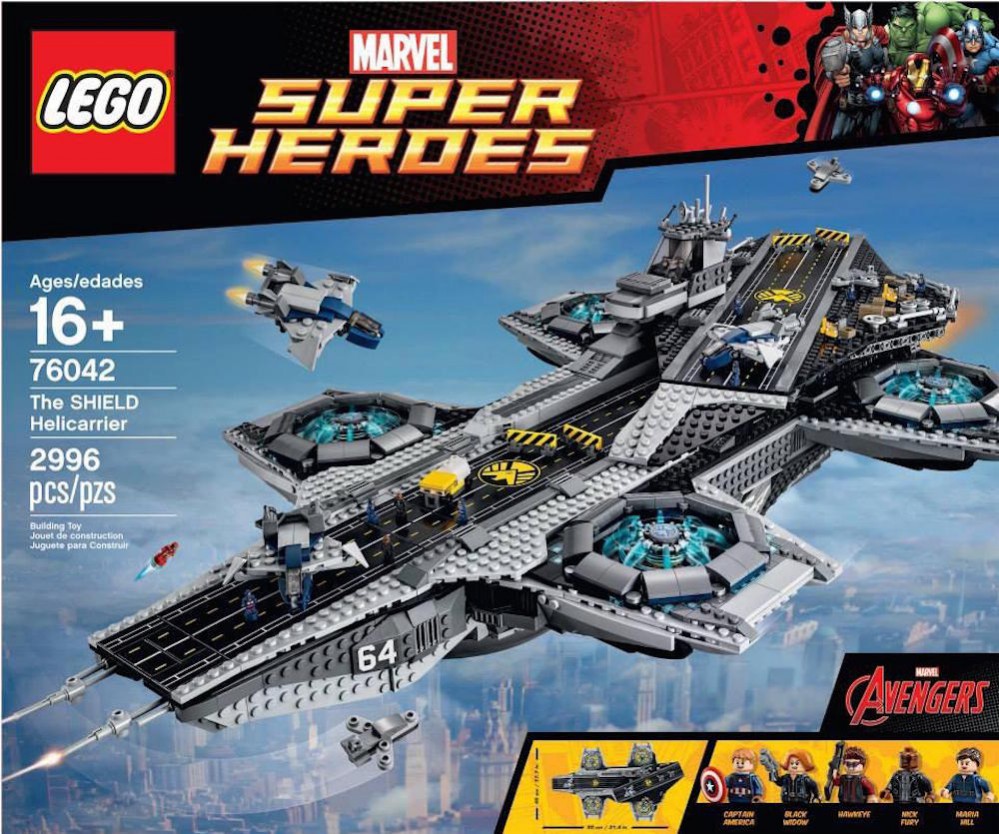 Verrà annunciata ufficialmente durante il prossimo fine settimana al Toy Fair di Norimberga, ma in anteprima possiamo svelarvi tutte le info su questo attesissimo set LEGO.
Il set Lego 76042 si chiamerà
Marvel Super Heroes Ultimate Collector Series SHIELD Helicarrier
e sarà composta da:
Includes 5 minifigures: Nick Fury, Black Widow, Captain America, Hawkeye and Maria Hill, plus an iconic SHIELD eagle stand to display them on.
Features 3 microscale Quinjets, 3 fighter jets, a gasoline truck, 2 forklift trucks, 2 runways, 4 road blockades, armored exterior with translucent elements, detailed interior, plus 12 microfigures (Nick Fury, Hawkeye, Captain America, Iron Man and 8 SHIELD agents).
Also includes a detailed runway.
Weapons include Hawkeye's bow, Black Widow's gun and Captain America's shield.
SHIELD Agent Maria Hill minifigure is new for spring 2015!
Includes a plaque with facts about The SHIELD Helicarrier.
Add lights and spinning rotors to the Helicarrier with the #88000, #8883and #8870 LEGO Power Functions sets (sold separately).
Rotors can also be turned manually.
Includes a display stand.
Helicarrier measures over 29cm high, 80cm long and 45cm wide.
Each Quinjet measures over 3cm high, 7cm long and 7cm wide
Minifigure stand measures over 12cm high, and 6cm deep) and 16cm wide
Ages 16+
2,996 pieces
Un set da 350€ in uscita dal 1 Marzo 2015 su Lego Shop ufficiale.
Update 
Ecco il video ufficiale Lego sul set: