The Amazing Wozniak's Backpack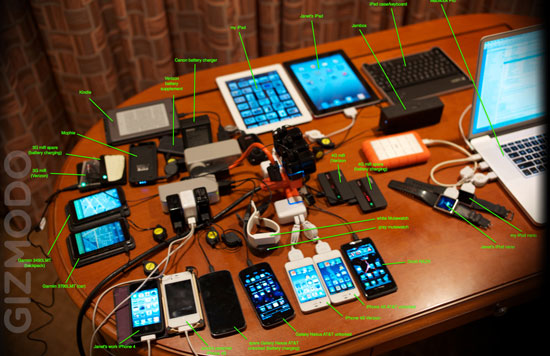 Apro Gizmodo e trovo un articolo sullo zaino da viaggio di quel pazzo di Wozniak.
Perchè pazzo?
Perchè quella che vedete nell'immagine è tutta la roba che si porta dietro, come dice lui, in viaggio.
Ed ecco la lista della roba nello zaino:

• one Belkin AC tripler with dual USB I carry in my suitcase
• one dual USB adapter is from Janet's travel stuff
• Canon battery charger is carried in the camera bag
• firewire HD I carry in my suitcase
• Verizon 3G mifi adapter (standard micro USB screws up this mifi, have to use their awkward connecter)

Che sarebbe la base portante della borsa di Wozniak, quella che tiene in carica QUESTO.
Ovvero:
• 2 ipad + 1 cover con keyboard
• 4 iphone
• 2 ipod nano con cinturino
• 2 Galaxy Nexus
• 1 Droid Razr
• 2 Navigatori Garmin
• 1 Kindle
• 1 Macbook Pro
Ed altra roba tra hard disk e accessori.
Mostra Approfondimento ∨
Ovviamente io mi accontenterei di avere anche solo metà della lista appena citata, ma Wozniak esagera ed aggiunge:
Infine:

I'm sure that I'm shorter now than before and I don't walk as fast.
Come si evince dalla frase, se avete un amico nano, tenetevelo stretto, potrebbe avere uno zaino pieno di questa roba. :rotfl:
– Source